This isn't your traditional British pork pie made with hot water crust pastry. It's kind of like a Shepherd's pie but not quite. This is a Greek ground meat pie, also known as kimadopita. Inside this pie is a delicious filling made of veggies, ground pork, dark malty beer and cheese. Outside there are crispy layers of phyllo dough. Together they make one heck of a pork pie that you can't have enough.
There are two things that I absolutely love about this pie, besides it being delicious and comforting. Firstly, it doesn't feel nearly as heavy as a pie made with traditional pie crust or potatoes.
Secondly, it's very easy to make.  So easy, in fact, that it's hardly possible to mess it up. The most difficult part for me is to prepare all the veggies and grate the cheese. That's where the difficult part ends. Needless to say, this is one of my favorite dishes that I make quite regularly. My family loves it.
If you bake with phyllo dough often enough you probably know that the secret to crispy, beautifully colored sheets of dough is to use convection, that is baking with a fan on in the oven. At least that's been my experience. You will still get a great pork pie without convection, but I find that the crust turns out just a tad less crispy and not as deep golden brown. So, if your oven has a convection mode, use it.
To make the filling out-of-this-world delicious you need to use good beer. You want to use dark, malty beer. Taste it before using it. If the beer tastes so-so, or has an unpleasant after taste, it will impart that taste on the filling. I use my favorite homemade cream stout and it has been perfect for cooking as well.
It's common for Greek kimadopita recipes to use Kasseri cheese which is made from sheep's milk. Hence, it has a distinct, somewhat sharp taste. If you can't find it or you are not a big fan sheep's milk cheese, try Provolone or Muenster cheese. They are considered to be good substitutes for Kasseri cheese.
When the pie is done baking it will be so tempting to dig right in, but let it cool down for about 10 minutes. This rest time will allow the filling to set and it won't be running off on you when cutting and serving.
Enjoy!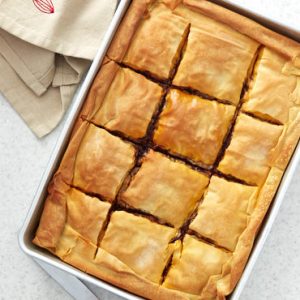 Pork Pie with Beer and Crispy Phyllo Crust
Ingredients
2

lbs

ground pork

3

Tbsp

extra virgin olive oil

1

large red onion

chopped into 1/2-inch pieces

2

medium size carrots

cut in half lengthwise and chopped into 1/2-inch pieces

3

celery stalks

chopped into 1/2-inch pieces

1

large red bell pepper

chopped into 1/2-inch pieces

3

garlic cloves

thinly sliced

1

beef bouillon cube

6-

oz

180 ml can tomato paste

1

bottle

11 oz / 330 ml dark, malty beer (I recommend cream stout)

2

tsp

fresh parsley

finely chopped

1

tsp

fresh rosemary

finely chopped

1

tsp

fresh thyme

finely chopped

2

cups

about 7 oz / 200 g shredded Kasseri cheese (can also use Provolone or Muenster)

1

egg

1 1/2

tsp

kosher salt

1/2

tsp

freshly ground black pepper

1

package phyllo dough

2/3

cups

olive oil

for brushing phyllo sheets
Instructions
Preheat oven to 350F convection, or 375F without convection.

Preheat olive oil in a large cast iron pan or a saute pan. Add onions, garlic, carrots, celery and bell pepper. Saute the vegetables over high heat for about 5 minutes, until nicely caramelized and golden brown.

Add the ground pork and continue sauteing for another 4-5 minutes, frequently stirring and breaking up meat clumps into small pieces.

Add the tomato paste and saute for another 1-2 minutes, stirring constantly.

Turn the heat to medium low, add the beef bouillon cube and the beer. Simmer for about 20 minutes, stirring every 5 minutes or so, or until most of the liquid has evaporated.

Remove the filling from heat and let it cool for a few minutes. Add the chopped greens, shredded cheese, egg, salt and pepper. Stir well and set aside.

Generously brush a 9x15-inch baking pan with olive oil. Layer half of the phyllo sheets on the bottom of the pan, drizzling olive oil all over each sheet, including the sides. Add the filling and spread evenly. Fold the sides of the phyllo sheets over the filling and drizzle with olive oil.

Layer the remaining sheets of phyllo dough in the same manner, drizzling each sheet with olive oil. Roll the sides of the phyllo inward. Generously drizzle some olive oil all over the top of the pie and gently spread it with a brush.

Score the pie in to 12 pieces. Do not cut too deep and all the way to the sides.

Bake on top rack for 45 minutes, or until deep golden brown and crispy.

Remove from the oven and allow the pie to cool for 10 minutes before cutting and serving.