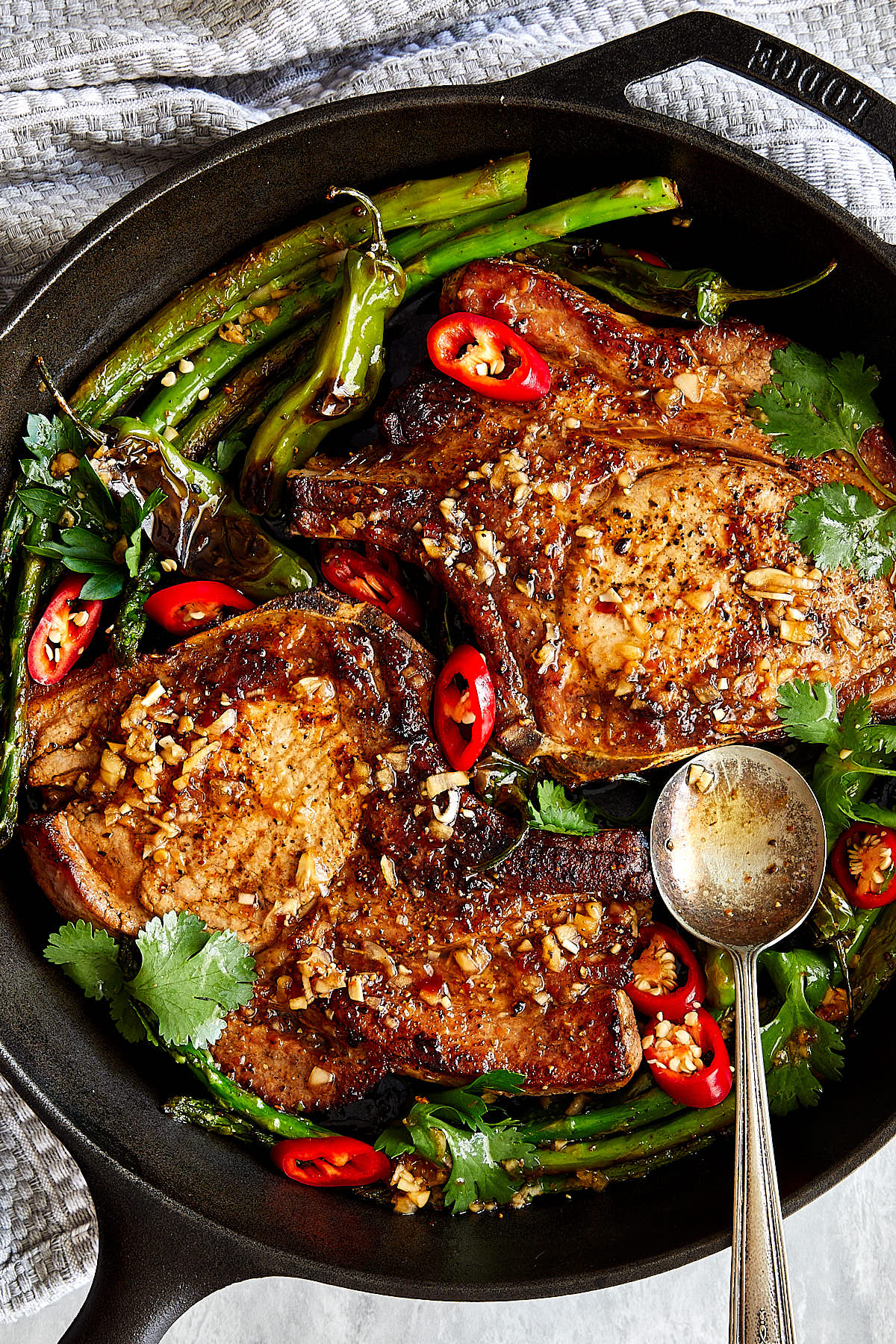 Pan-fried pork chops glazed with maple lime vinaigrette are insanely good. Who would have thought that vinaigrette is not just for vegetables and works like magic on pork chops? I sure didn't. I love this combination and it's our family's new favorite. The best part, it takes less than half an hour to prepare this delicious weekday dinner.
Pan-fried pork chops can't be beat – they are quick to cook, lean and tasty. Because they are lean, the best way to cook pork chops is to quickly fry them over high heat. I know, I've mentioned this a number of times on my blog. One of my all-time favorite dinner recipes is the 10-Minute Fried Boneless Pork Chops – plain salt and pepper pork chops quickly fried in bacon fat. Those pork chops are simple yet delicious and are big on flavor thanks to bacon fat. Don't get me wrong, you can employ other cooking methods and get amazingly delicious pork chops like these Broiled pork chops or Smothered Pork Chops, or Smoked Pork Chops, but it takes a bit more time and effort, and the flavor profiles are quite different.
In this post, however, I'd like to talk about my new favorite way of cooking pork chops. It's still pan-frying, but there is more to it.  In this recipe, fried pork chops are served glazed with a zesty and sweet maple lime vinaigrette. Pork chops benefit from brining, but if you pull them at 140F internal and drizzle them with this vinaigrette, you will have the juiciest and some of the most delicious pork chops that you will never think they needed brining. To be honest, the vinaigrette was intended for the vegetables at first,  but it worked so well on the chops that I would use it even without the vegetables.
I like adding pan-roasted vegetables to pork chops and fresh herbs too. Perfectly seared, flavorful pork chops, asparagus, peppers, fresh herbs, all covered with bright, sweet and tart sauce – the feeling I get eating these pork chops is hard to describe in words. It really is quite something to experience.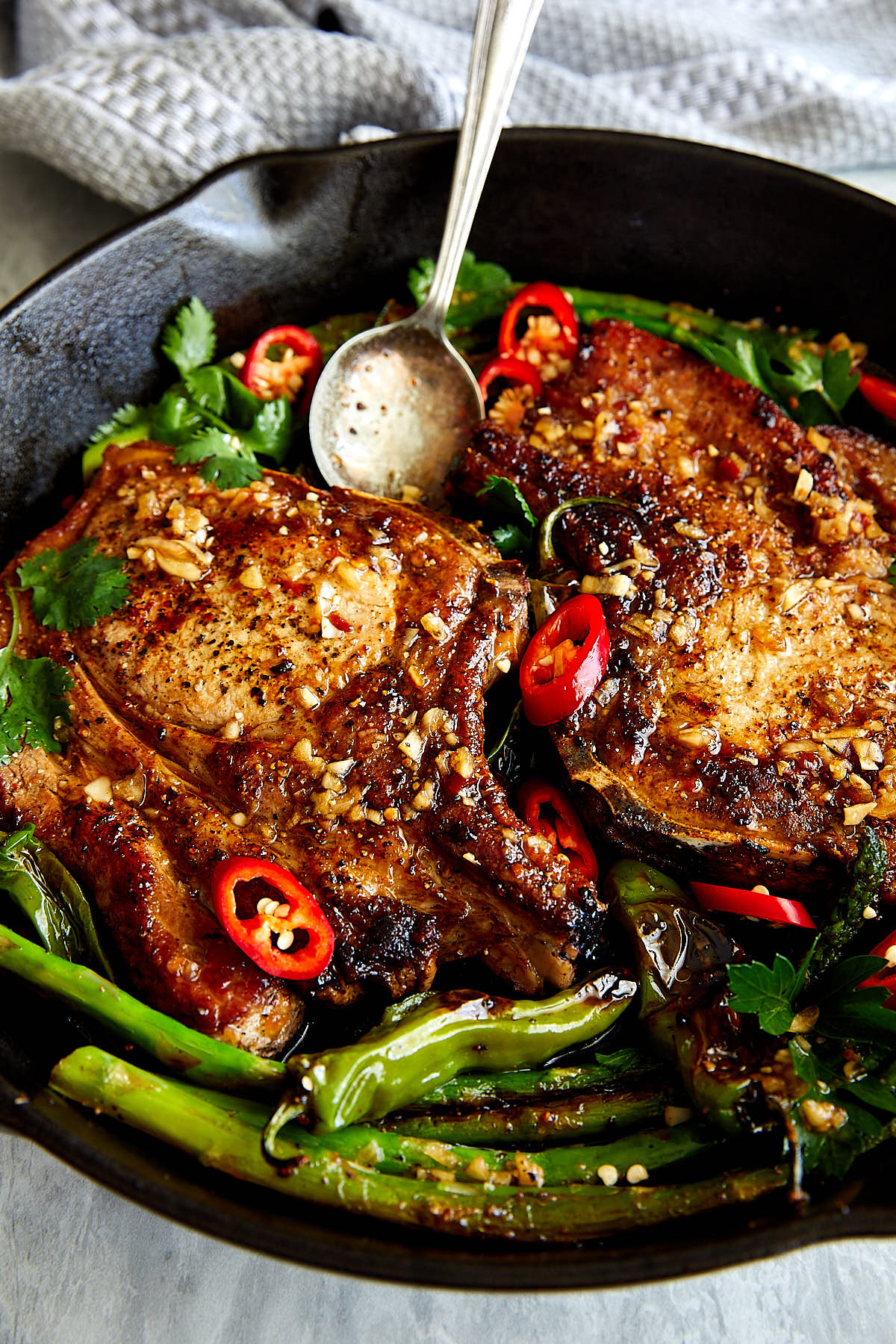 What pork chop types are best for this recipe?
Bone-in rib chops and loin chops work best for this recipe, but most importantly, they need to be cut thick. The thicker they are, the more searing they can take, and the more caramelized and flavorful they will be. Having a bone inside meat will add more flavor and will protect the meat inside from losing moisture too quickly.
That said, boneless loin chops will work just as well, as long as they are cut at least 1 1/4 inches thick.
What side dishes to serve with pan-fried pork chops?
This is the question I ask myself all the time no matter what protein I cook, and I know many others do too. If you want a little more than pan-roasted vegetables, pork chops and potatoes work the best. Mashed or roasted potatoes work the best. If you have a little more time to spare, here are my favorites:
Enjoy!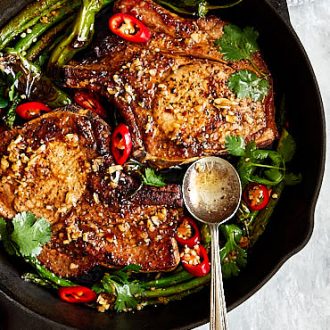 Pan-Fried Pork Chops with Maple Lime Vinaigrette
Print
Pin
Rate
Ingredients
For the pork chops:
2

pork chops

(large, bone-in rib or loin chops, thick)

2

Tbsp

bacon fat

(or butter)
Vegetables:
Asparagus, peppers, green beans, etc.

(to taste)
For the vinaigrette:
1

large shallot

finely chopped

1/4

cup

fresh lime juice

(one large lime)

2

Tbsp

maple syrup

(or honey)

1

Tbsp

low sodium soy sauce

2

Tbsp

sesame oil

2

Tbsp

canola oil

1

tsp

grainy mustard

A

pinch of kosher salt

(plus more to taste)

A

pinch of freshly ground pepper

(plus more to taste)

1

red chili pepper

(sliced on the diagonal)
For garnish:
Fresh herbs (parsley, coriander, etc.)
Instructions
To prepare the vinaigrette:
Combine all of the ingredients, except the sliced chili peppers, in a small bowl and whisk vigorously until well combined. Let the vinaigrette sit for 15 minutes to let the flavors blend. Whisk again, add the sliced chili peppers and stir.
To prepare the pork chops:
Heat bacon fat or butter in a large cast iron pan over medium-high heat. When the fat starts to smoke, add the chops and sear for two minutes on each side. Lower the temperature to medium and continue frying, flipping every minute or so, until the internal temperature has reached 145F. Let the chops rest of at least 3 minutes.
To prepare vegetables:
If your pan is large enough, you can add the vegetables to the pan after the chops are seared and cook them in the same pan with the chops. An easier way would be to cook them separately, in another pan, while you are cooking your pork chops. Just heat a tablespoon of oil in a separate pan over medium-high heat, add the vegetables and cook for about 5-10 minutes, tossing once or twice, until the desired doneness. Season with salt and pepper to taste once done cooking.
To serve:
Place the pork chops and the vegetables on a serving platter, garnish with fresh herbs, drizzle with the vinaigrette and serve.
Nutrition
Calories:
333
kcal
|
Carbohydrates:
10
g
|
Protein:
15
g
|
Fat:
25
g
|
Saturated Fat:
5
g
|
Cholesterol:
51
mg
|
Sodium:
193
mg
|
Potassium:
347
mg
|
Fiber:
0
g
|
Sugar:
7
g
|
Vitamin A:
2.1
%
|
Vitamin C:
25.7
%
|
Calcium:
1.6
%
|
Iron:
3.4
%