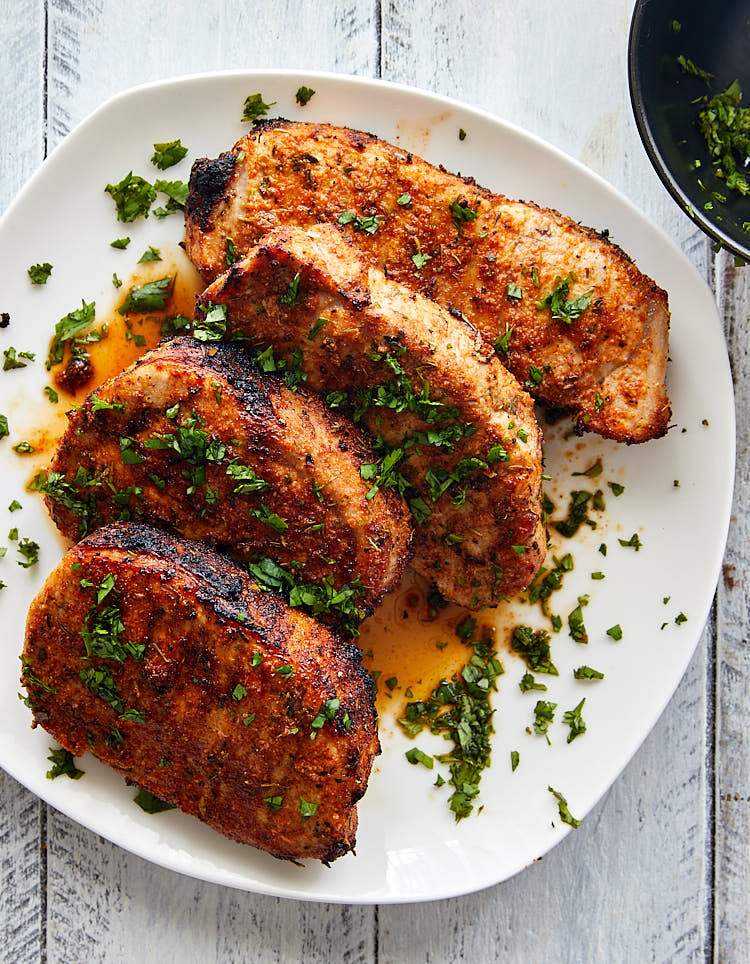 From start to finish, Creole broiled pork chops is one of the easiest and tastiest pork chop recipes in the world. Pork chops are usually best when cooked fast over high heat. This recipe is exactly that – a quick broil under high heat that takes just a few minutes per chop side, resulting in tender and very juicy meat. But that's just a part of it. What makes these broiled pork chops very special is the Creole seasoning that adds a ton of flavor and a bright, eye-catching color.
I did not really plan this recipe, it sort of just happened. On my way home after work, I stopped by a local supermarket to pick up some groceries and saw a pack of great looking, nicely-marbled, thickly cut pork chops. I like it when pork chops are thick, about an inch to 1 1/4 inches. This allows the chops to get a beautifully caramelized crust before the inside gets overcooked.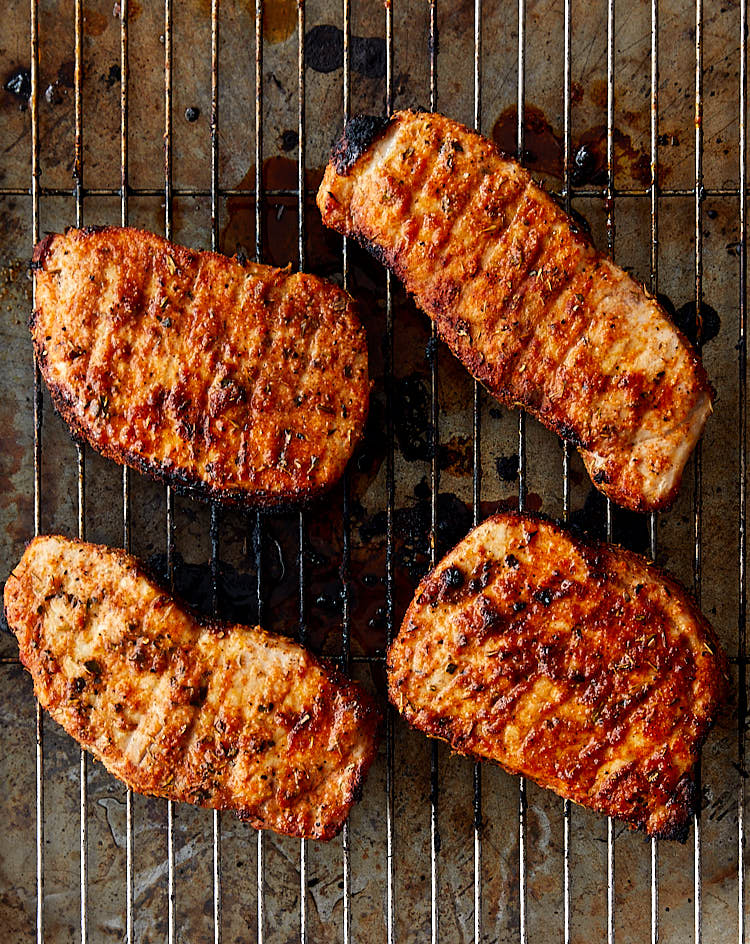 To season the meat I used homemade Creole seasoning mix which is great with just about anything. I had half a spice jar of it sitting on the counter top after using in another recipe the day before and I immediately thought of using it. I never tried it on pork chops so I actually got pretty excited at the opportunity. Well, it paid off nicely and then some. The color of the finished meat was outstanding and the flavors were amazing. A little kick from cayenne pepper was a great touch as I love food to have a touch of heat.
When the pork chops came out of the oven I immediately took a few pictures as they looked fabulous. When I tasted them, I knew this pork chop recipe was a keeper and would go on my blog. A combination of broiling and the bold seasoning made the chops taste so good that it was hard to stop eating them.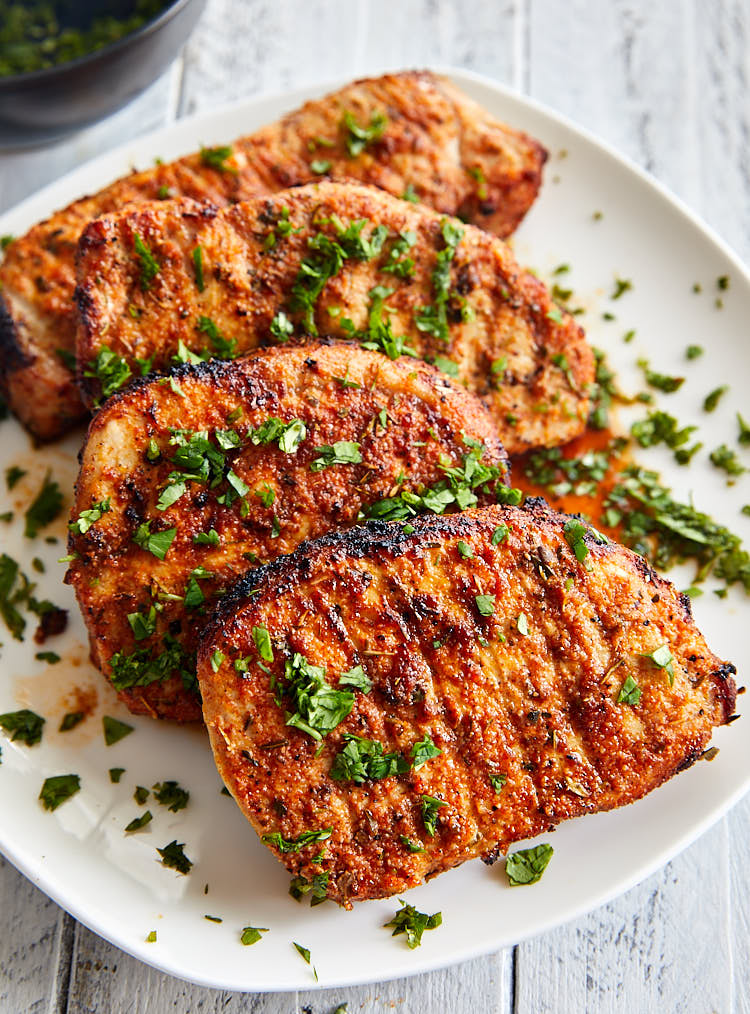 When broiling thicker meat like these pork chops I like using a cooling rack fitted on top of a baking sheet. Keeping the meet away from the baking sheet allows it to heat up really well and evaporate any dripping meat juices instantly. This really helps with browning of the meat. You don't want the meat to be cooking on own juices. Lining the baking sheet with aluminum is also a good idea as it saves on cleaning time afterwards.
Enjoy!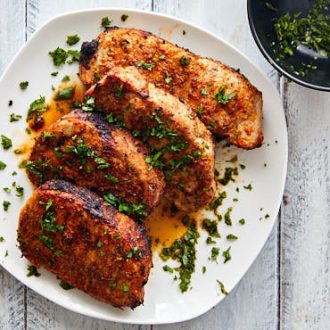 Creole Broiled Pork Chops
Ingredients
4

boneless pork chops

(1 to 1 1/4-inch thick)

4

tsp

spicy brown mustard

10

tsp

Creole seasoning

(see the recipe below)

1

Tbsp

finely chopped parsley or cilantro

(for garnish)
For the creole seasoning (about 1 1/4 cup yield, scale down if necessary):
1/4

cup

paprika

2

Tbsp

granulated onion

1

tsp

cayenne pepper

1 1/2

Tbsp

black pepper

1

tsp

white pepper

1/4

cup

granulated garlic

1 1/2

Tbsp

dried oregano

1 1/2

Tbsp

dried thyme

1

tsp

ground cumin

1

Tbsp

white sugar
Instructions
Preheat the oven on high broil for at least 15 minutes.

To prepare the Creole seasoning, combine all of the ingredients in a small bowl and mix well. If desired, grind larger spices like thyme and oregano in a mortar or a coffee grinder. Set aside.

The yield here is 1 1/4 cups. This is about 4-5 times more than this pork chop recipe requires. You have the option to scale down, of course, or make the full recipe and save the leftover seasoning mix for later. I can almost guarantee it, you will love it and will use it later with other meats. But, it's your choice.

Spread a large piece of plastic wrap (Saran wrap) on a table. This will make it easy to clean up afterwards. Place the pork chops on the plastic wrap. Spread one teaspoon of mustard all over each pork chop. Season each pork chop with about 2 1/2 teaspoons of Creole spice mix and pat down gently to make sure the seasoning sticks.

Place chops on a baking sheet fitted with a cooling rack. I've tried broiling pork chops directly on a baking sheet before and did not like the results - pork chops would release juices that wouldn't evaporate quickly enough, causing poor browning and watered down flavors. When broiled on a rack, the meat browns really well and any released moisture evaporates almost immediately as the baking dish gets much hotter in the absence of direct contact with meat.

You may also want to cover the baking sheet with foil to make it easier to clean after broiling.

Place the rack 5 inches from the top heating element, that's the second position from the top in my oven. Yours may be a little different. This will effectively place the meat about 4 inches from the heating element. The bottom line is, you want the meat 4 inches below the heating element.

Broil the pork chops for 6 minutes on one side, flip and broil for another 6 minutes, or until the internal temperature reaches 140F. The times will vary depending on the thickness of your pork chops, starting temperature of the meat and your oven, so it's best to use an instant read thermometer or a BBQ thermometer to check the temperature. Or broil until the juices run clear and the meat inside is no longer pink.

Keep in mind that once you remove the meat from the oven the temperature will rise by about 10 degrees Fahrenheit. I pulled my broiled pork chops at exactly 140F and they finished at 151F. USDA recommends cooking solid pork meat to a minimum of 145F.

Remove the chops from the oven, transfer to a serving platter and let rest for 5 minutes before serving. Garnish with chopped cilantro or parsley and serve.
Nutrition Facts
Creole Broiled Pork Chops
Amount Per Serving
Calories 189
Calories from Fat 45
% Daily Value*
Total Fat 5g 8%
Cholesterol 88mg 29%
Sodium 123mg 5%
Potassium 619mg 18%
Total Carbohydrates 3g 1%
Protein 30g 60%
* Percent Daily Values are based on a 2000 calorie diet.
© 2018 i Food Blogger. All rights reserved. All images and content on this website are copyright protected. Please do not use my images, as is or modified, without an explicit permission. If you wish to republish this recipe or post content, please rewrite it in your own unique words and link back to this post, or to ifoodblogger.com. Thank you!