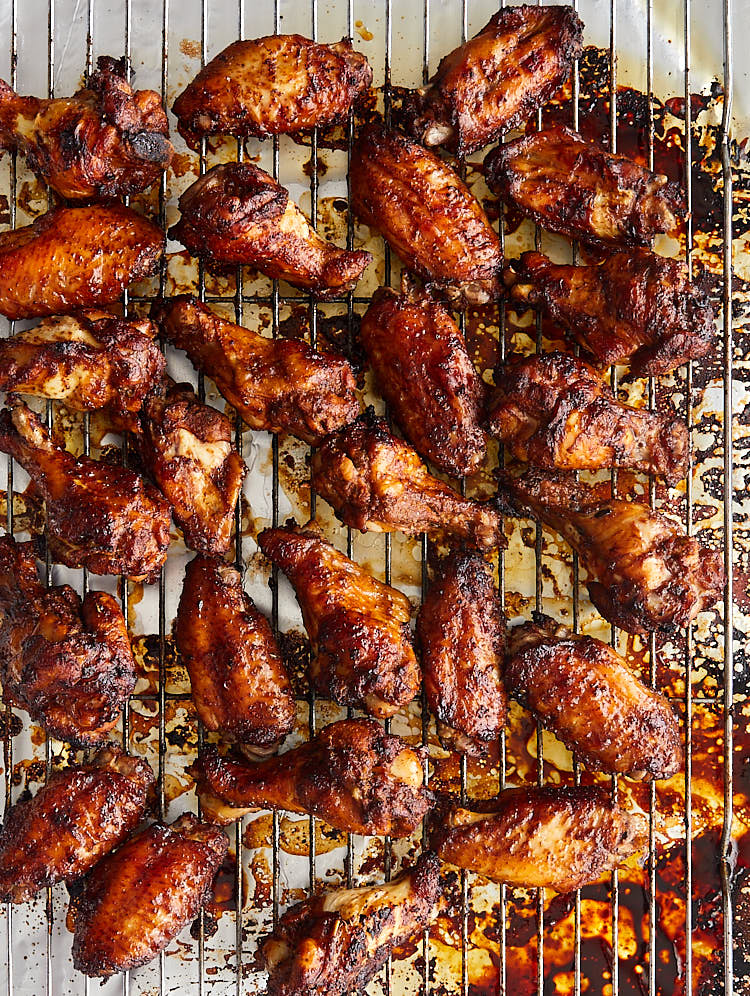 These broiled chicken wings kick ass! You can't even compare them to baked wings – they are different and are in a league of their own. They strongly resemble grilled wings only without the smoky flavor. If you are tired of baked wings and want to try a different indoor cooking method, you've got to try broiling.
When cooking chicken wings in the oven we most of the time think of baking instead of broiling. No doubt, it's because we think that baking is simpler, easier and less messy. At least that's what I used to think. It's partially true – broiling can be a little messy especially if the technique is a little off. And it requires a little more tending. But once you get a hang of it, it becomes just as easy as baking.
After experiencing a great success with Broiled Chicken Breasts which tasted heavenly, I decided to experiment and see how broiled chicken wings would turn out. It's a good thing that I started off with just a few wings as I immediately realized that wings behave quite differently under a broiler so adjustments were necessary. After a number of trials I came up with the setup that worked exceptionally well for me. Not surprisingly, it reminds me of my charcoal grill only upside down. I mean, you've got a rounded source of radiating heat (broiler heat element), you've got a grill grate (cooling rack) and the distance between the wings and the source of heat is about 10 inches.
This worked like magic and the wings came out nicely crisped up on the outside and succulent and tender on the inside. I don't know if I'd ever want to go back to baked wings… well, unless they are my insanely popular Extra Crispy Baked Chicken Wings which at the moment I think are the best oven-baked wings, period.
In this recipe I marinated the wings before broiling which definitely gave them a nice flavor boost. However, this is not mandatory and you can skip this step if pressed for time.
Looking for more great broiling recipes? Check these out: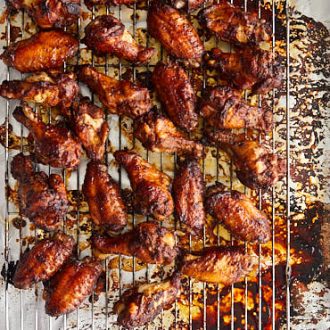 Ingredients
2

lbs

chicken wings

(about 2 dozen chicken wingettes and drumettes)
For the marinade:
1/3

cup

olive oil

(or vegetable oil)

1 1/2

Tbsp

white vinegar

3

Tbsp

low sodium soy sauce

2

tsp

powdered onion

1

tsp

powdered garlic

1

tsp

dried oregano

1/2

tsp

black pepper

1

tsp

kosher salt

1/2

tsp

cayenne pepper

(optional if you don't want the wings to have a little spiciness, or add more for more heat)
Instructions
Combine all of the ingredients for the marinade in a medium bowl. Add the wings and mix well until they are nicely coated all over. Cover the bowl and let sit in a fridge overnight and up to 24 hours. There is no need to worry that the wings will come out too salty, there is just enough sodium there and it will not make the wings too salty even after 48 hours.If pressed for time, give the wings 30 minutes of marination while the oven is pre-heating. Even that should give the wings a boost in flavor.

Position the rack about 10 inches from the broiler heating element. In my electric oven I place it in the fourth position from the top. Make note of the width and depth of the heating element, you will need that in a later step.Preheat oven on high broil. If you put the wings in while it's preheating they may burn so it's always a good idea to let the oven pre-heat first for about 20 minutes or so.

In the meantime, line a large baking sheet with aluminum foil, then place a cooling rack on top. You don't have to use aluminum foil but if you do, it will save a lot of cleaning time afterwards.

Remove the wings from the fridge and transfer from the bowl to a large platter. For better browning, gently pat dry the wings dry with a paper towel. You want to remove the excess liquid form the surface of the wings but leave the seasonings. Flip them and pat dry the other side as well. Alternatively, you can transfer the wings to the cooling rack and dry them directly on the cooling rack.

Spread the chicken wings on the cooling rack inside the baking sheet such that they would be positioned directly under the heating element when in the oven. When broiling, we want direct heat over all wings for even cooking.

Throw the wings in the oven and let them broil for 10 minutes. Do not open the oven during this time as every time you open the oven you will lose heat and the heating element will be heating and getting very hot which may cause the wings brown too fast.Check the wings after 10 minutes. They should be starting to brown very nicely but not nearly at a point where they are burning. Let me broil for another 5 minutes. They now should nicely browned.

Carefully remove the wings from the oven and close the oven door. Flip the wings to the other side and put them back in the oven. Broil for another 15 minutes, checking the browning after 10 minutes.In essence, 15 minutes per side will give a perfect browning of the skin and a tender, juicy interior. If you wings brown too quickly, move them down to the next rack position. If not browning enough, move them up. Everyone's oven bakes a little differently so the first time you bake them keep a note of what's happening and make necessary adjustments.

Remove the wings from the oven, transfer to a serving platter and serve immediately.
© 2018 i Food Blogger. All rights reserved. All images and content on this website are copyright protected. Please do not use my images, as is or modified, without an explicit permission. If you wish to republish this recipe or post content, please rewrite it in your own unique words and link back to this post, or to ifoodblogger.com. Thank you!