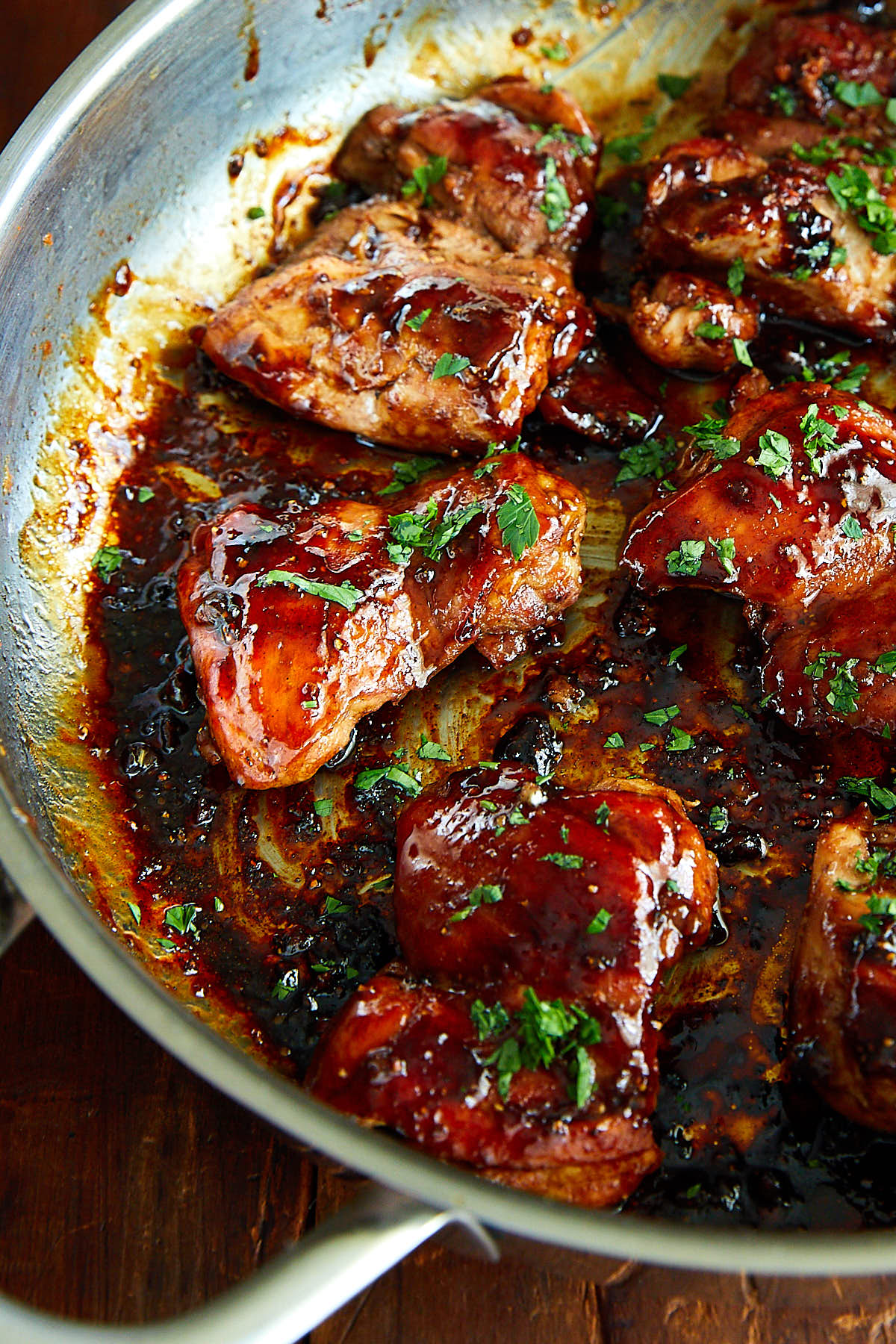 I made these chicken thighs for dinner last night and they became an instant hit. My kids ran for seconds, begging for more. I wasn't surprised. This chicken is absolutely fabulous! It's one of the best I've ever tried. It's as good as my crazy-popular marinated chicken chicken thighs, or the family favorite pan-fried boneless chicken thighs. The flavor of the chicken is bold, with sweet, salty, savory and tangy notes. It reminds me of other sweet and tangy chicken recipes that use honey and vinegar, or honey and lime. But this recipe is different. Instead, it combines pomegranate juice, pomegranate molasses and honey to get that wonderful sweet and tangy taste that many of us love on chicken. The idea of using pomegranates with chicken may sound unusual at first, but I urge you to try it, you will see how well they go together.
In our family, we love chicken and eat it almost daily. Our favorites are skinless breasts and thighs. I constantly try to change things up and come up with or use new recipes and flavors. While browsing though a stack of old recipe books, I  stumbled upon a Middle-Eastern honey-pomegranate lamb and chicken kebab recipe in Marinades, Rubs, Brines, Cures and Glazes book. What a find! I will certainly try it on grilled kebabs but this time around I used it, with a few tweaks, as a glaze for my pan-fried boneless chicken thighs. I am sure any part of the chicken will benefit from this delicious glaze, but skinless chicken thighs are just a perfect match.
You may wonder where to get pomegranate molasses. Don't fret, pretty much every health store, or spice store, or middle-eastern food market sells it. If you still can't find it, try Amazon. Better yet, make it yourself using this excellent recipe from Healthy Nibbles and Bits. I now have a bottle in my fridge, but when I was making my Roasted Cauliflower with Tahini and Pomegranate Molasses, that's the recipe I used to make one. It's super simple.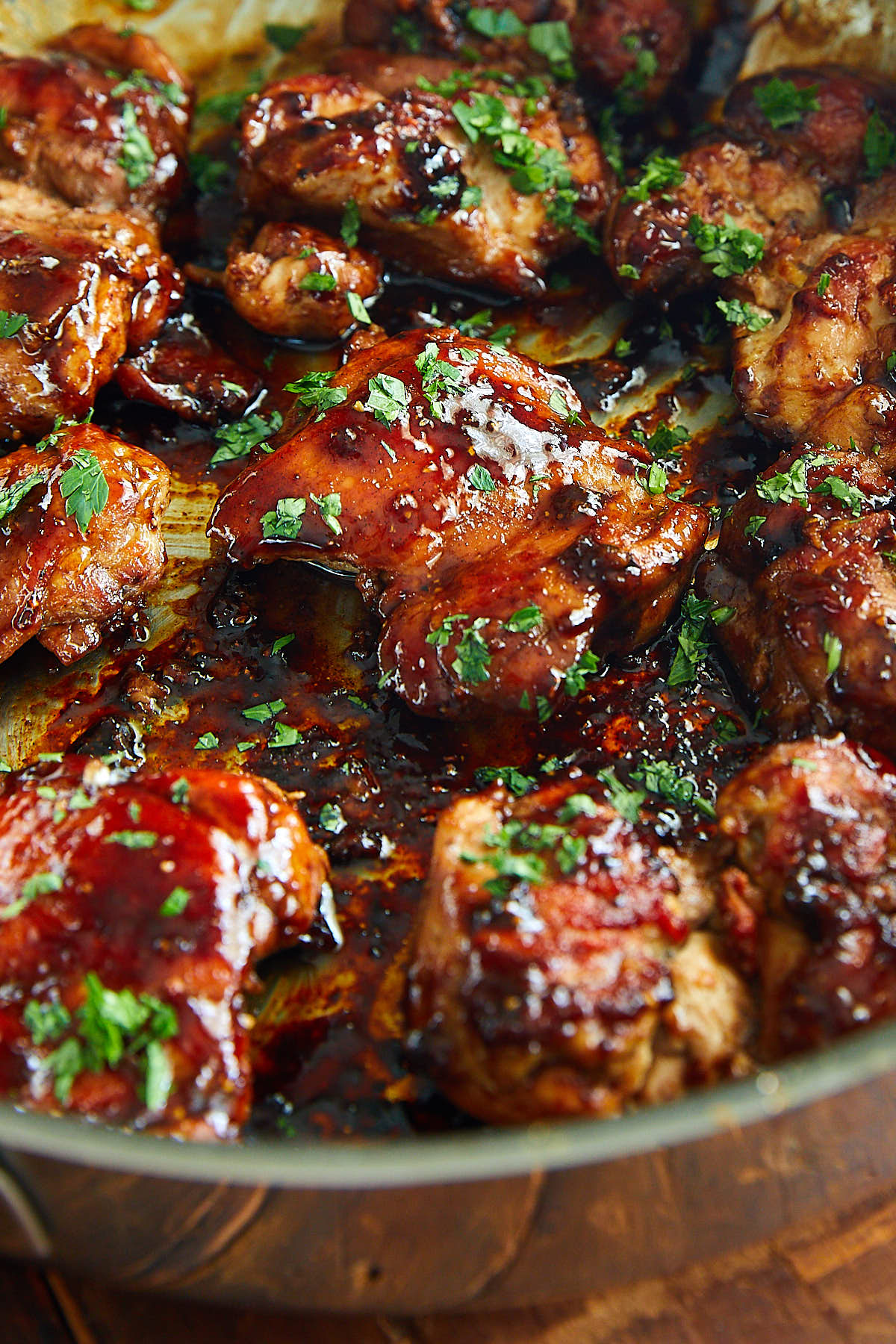 I find that skinless thighs are best at when cooked to 160F and rested for a few minutes, unlike the skin-on, bone-in thighs that taste better when cooked to 185F. Now, the glaze initially is very watery and needs to be boiled down to the right consistency. It would be practically impossible to bring both the chicken and the glaze to perfect doneness at the same time. So I did what you'd do when making Chicken Francese – I removed the chicken when it was perfectly done and let it rest, while thickening the glaze in the pan. It worked wonderfully and the chicken was perfectly cooked, and tender and moist inside.
Looking for more great skinless, boneless chicken thigh recipes? Check these out: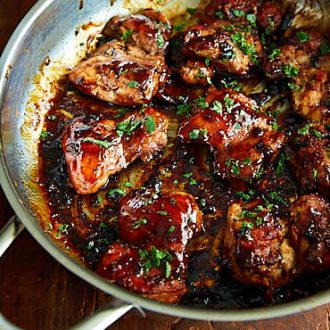 Ingredients
8

skinless chicken thighs

olive oil

(for frying and rubbing on the chicken)

Salt

(to taste)

Pepper

(to taste)

1

Tbsp

finely chopped fresh cilantro

(for garnish)
For the chicken glaze:
2

cloves

garlic

(minced)

1

tsp

ground cardamom

2

Tbsp

pomegranate molasses

½

cup

pomegranate juice

(fresh or bottled)

1

Tbsp

honey

1/2

tsp

kosher salt

(plus more to taste, keeping in mind that chicken also has some salt on it)

1

tsp

freshly cracked black peppercorns

1/3

cup

olive oil
Instructions
Combine all of the ingredients for the glaze in a medium bowl and whisk together until well blended. You use a blender for this but it's not absolutely necessary. Set aside.

Heat about 2 tablespoons of olive oil in a large non-stick pan over medium-high heat.

Rub chicken thighs with about 2 teaspoons of olive oil. Sprinkle with a little bit of salt and pepper on both sides.

Once the oil in the pan is hot, add the chicken thighs and fry for about 4 minutes per side, or until the internal temperature has reached 160F. Remove the chicken from the pan and set aside.

Pour the pomegranate glaze in the pan, bring to a boil, lower the heat to medium0low and cook, frequently stirring until the glaze has thickened to the consistency of a BBQ sauce, about 3-5 minutes.

Add the chicken back to the pan and stir well, until the chicken is well coated with the glaze. Serve immediately, with rice,

roasted vegetables

or other favorite side dish.
Nutrition
Calories:
247
kcal
|
Carbohydrates:
8
g
|
Protein:
21
g
|
Fat:
13
g
|
Saturated Fat:
2
g
|
Cholesterol:
107
mg
|
Sodium:
394
mg
|
Potassium:
317
mg
|
Fiber:
0
g
|
Sugar:
6
g
|
Vitamin A:
0.5
%
|
Vitamin C:
0.3
%
|
Calcium:
1.6
%
|
Iron:
5.8
%