These boneless chicken thighs are crazy popular in our family, especially with the kids. It's one of my wife's signature chicken recipes. She came up with it a long time ago, and has since perfected it. So, my wife will be the chef today and I will be the photographer. The recipe is simple and very quick to execute, yet it produces a surprisingly flavorful and delicious dish.
As these boneless chicken thighs are being cooked, the smell of sesame oil and garlic makes makes you so hungry that you just can't wait till they are done. Thankfully, the cooking process is very quick.  The chicken thighs come out tender and succulent, and go well with a variety of side dishes and salads. We've also used leftovers to make quesadillas and panini with great results. We've always made these garlic sesame chicken thighs on the stove, but I keep wondering how they would turn out on a grill. I might try that.
The cooking process only takes about 9-10 minutes per batch. You should be able to prepare 2 1/2 pounds of chicken thighs in two batches on a large (12 inch) skillet. The seasonings in this boneless chicken thigh recipe are simple yet very flavorful, and make for an amazing thicken thigh marinade. If you have the time to marinade – do it! It's generally advisable that chicken thighs are marinated in a fridge for 30 minutes – this will let them get properly infused with salt and flavors. Thirty minutes is enough, but if you must keep them in the fridge longer, that will not be a problem at all. Actually, I find that the longer I marinate, within the reason of course, the better. Sometimes, when we are in a rush, we skip marination altogether – the chicken thighs still taste great, though, perhaps, come out a tad less flavorful.
Cook to internal temperature of 165 F. Do not overcook as chicken meat dries out quickly, though chicken thighs are more forgiving than chicken breasts. We use ThermoWorks Thermapen instant read cooking thermometer to check the temperature and highly recommend it. It's been serving us well for over 6 years now.
Enjoy!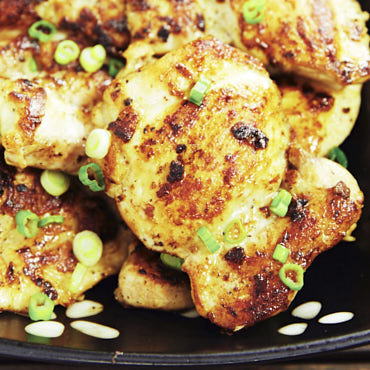 Famous Boneless Chicken Thigh Recipe
Ingredients
2

lbs

chicken thighs

boneless and skinless

1

Tbsp

low sodium soy sauce

1

Tbsp

sesame oil

4

cloves

garlic

pressed (or 1 Tbsp garlic powder)

1

tsp

salt

1

tsp

freshly ground black pepper

or more to taste

1/2

cup

green onions

cut into thin rounds (optional)

1/2

cup

Italian parsley

finely chopped (optional)
Instructions
Trim fat from chicken thighs

Place chicken thighs and the rest of the ingredients, except green onions, in a large bowl and mix thoroughly, making sure both sides of chicken thighs are covered with oil and spices

Cover bowl with plastic wrap and refrigerate for 30 minutes. If you are in a rush, you may skip this step, but the chicken will be more flavorful if you let it marinate in oil and spices

Preheat a large skillet

Place chicken thighs on a skillet, one at a time, making sure they are not folded and lay flat on the skillet. Sear chicken thighs 1 minute or so per side over high heat, until nicely browned. If you use the full recipe you will need to do the cooking in two batches

Reduce heat to medium and continue cooking for another 4 minutes, flipping chicken thighs twice during the process

Reduce heat to medium-low, cover skillet with a lid and continue cooking for another 3-4 minutes, until fully done (internal temperature 165 F)

Serve with your favorite side dish. Top with chopped green onions and Italian parsley (optional)
This recipe was updated on April 14, 2017
© 2018 i Food Blogger. All rights reserved. All images and content on this website are copyright protected. Please do not use my images, as is or modified, without an explicit permission. If you wish to republish this recipe or post content, please rewrite it in your own unique words and link back to this post, or to ifoodblogger.com. Thank you!