These zucchini and broccoli pancakes are ridiculously delicious, even my kids who don't normally eat zucchini love them. They are a great, healthy alternative to potato latkes and traditional pancakes.
In this recipe I shred the zucchini for a little texture, but chop broccoli, dill, garlic and pine nuts very finely in a food processor. You can skip the food processor and chop the ingredients by hand, but try to chop them as finely as possible. This will give the pancakes a softer, more airy texture.
Pine nuts lend the pancakes a subtle nutty flavor. You can increase the amount if you want to. If you don't have pine nuts on hand, you can substitute them for hazelnuts or other nuts that you like.
These pancakes pair wonderfully with Greek yogurt, which adds a little bit of acidity to the taste. You can substitute Greek yogurt for sour cream or creme fraiche, but for a healthier version with high protein content Greek yogurt is the way to go.
Enjoy!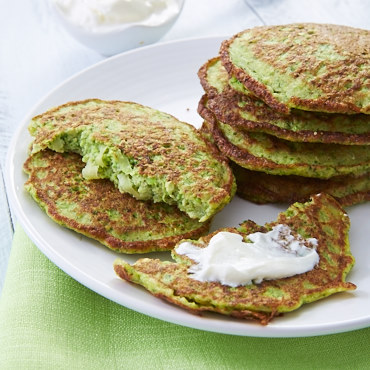 Zucchini and Broccoli Pancakes
Ingredients
1

large zucchini

300 g, peeled and shredded

4

large eggs

5

Tbsp

all-purpose flour

1

head of broccoli

200 g, chopped very finely

1

bunch fresh dill

chopped very finely

1/3

cup

pine nuts

toasted preferred

1

large garlic clove

1 1/4

tsp

Kosher salt

1/2

tsp

freshly ground black pepper

3

Tbsp

olive or vegetable oil for frying

Greek yogurt as needed
Instructions
Prepare the zucchini: trim the stem and root-end from the zucchini, peel and grate it on a box grater with large holes. You should end up with about 2 1/2 cups of shredded zucchini.

Squeeze the shredded zucchini: gather the zucchini in a clean kitchen towel or several layers of cheese cloth and squeeze to press out as much juice as possible. This will prevent sogginess and will help pancakes hold together when cooking.

Prepare the broccoli and fresh dill: slice straight through the broccoli stem as close to the crown as you can get. The crown should break into several large florets. Cut through the "trunk" of each floret to make about 1 inch pieces. Cut the dill into about 1 inch pieces.

Chop the broccoli, dill and pine nuts: place the broccoli, dill, garlic and pine nuts in food processor and pulse for about 10-15 seconds, until all the ingredients are finely chopped.

In a large mixing bowl, whisk the eggs with salt and ground black pepper until egg yolks and egg white are blended.

Mix in the chipped zucchini, broccoli, dill, garlic and pines nuts.Add the flour and mix until all ingredients are mixed together.

Preheat 2 tablespoons of oil in a large frying pan over medium heat. Ladle pancake batter to make 4 pancakes per batch. Fry for about 2 minutes per side, until the sides are starting to get golden brown.

Serve hot with Greek yogurt.
© 2018 i Food Blogger. All rights reserved. All images and content on this website are copyright protected. Please do not use my images, as is or modified, without an explicit permission. If you wish to republish this recipe or post content, please rewrite it in your own unique words and link back to this post, or to ifoodblogger.com. Thank you!