Are smoked baby back ribs the best ribs? I used to think so until I made these fall-off-the-bone oven baked Sticky Whiskey Baby Back Ribs. They turned out so amazingly good that I would be very surprised if even rib connoisseurs didn't like them. They say there is no substitute for smoke. I agree. Unless it's Jack Daniel's.
I've heard of people using whiskey to make BBQ sauces but never tried that myself. I've been seriously missing out! It took a few tries to get the sauce right but the end result was really good. Besides the whiskey flavor I wanted some sweetness as well as some heat, but not too much. After trying a number of sweet and savory chili sauces I went with my favorite Vietnamese chili garlic sauce as the base but on its own it was a bit too spicy. A 50/50 Heinz chili sauce and Vietnamese chili garlic sauce did the trick. This gave me the level of spiciness that even my kids would enjoy. I must admit, this simple 4-ingredient BBQ sauce turned out to be one of the best sauces I've ever tried on baby back ribs.
Smoking ribs is rewarding, no question about it, but baking baby back ribs in the oven has some huge benefits too. They are:
you don't need to worry about the weather
no need to tend to the grill/smoker
you can focus on doing other things and not worry about smoker temps, quality of smoker, etc.
In the spirit of keeping things very simple, I made the cooking process very simple as well:
wrap baby back ribs in foil and bake low-and-slow until fully cooked and fall-off-the-bone tender
cut into individual pieces – eliminates all that mess later and keeps the ribs presentable
cover with BBQ sauce and bake the ribs some more until the sauce has nicely thickened
This is it! Only 3 easy steps and your fall-off-the-bone, delicious back ribs are done.
When baking baby back ribs in the oven I like to start with well-trimmed ribs that have as little fat on top as possible. This way the ribs don't come out overly fatty. Removing the membrane from the back of the rib rack is a must – this way the fat will render better and the ribs will be enjoyable. Just lift the membrane with the back of a fork in one spot, then slowly work with your fingers to separate it from the rib rack.
For the first step of cooking I only use salt and pepper for seasoning. That's all you need, really. One teaspoon of kosher salt and half a teaspoon of black pepper per rack is enough per one smaller rack. For a larger rack I use 1 1/2 teaspoons of salt and a bit more pepper. If you like garlic, rub some freshly pressed garlic on the ribs. Granulated garlic is an option too but I find that I can always feel its grainy texture when eating ribs. I only season the meaty side. The other side is just bone, I really don't see a reason to season that side, though some do.
Next, wrap the rib racks in foil and put in a preheated oven for 3 hours. If you don't a large baking tray like mine (21″ x 15″), you will need to cut the racks into halves. I foiled the the baking tray as well in case of spills so I don't have to deal with cleaning later on.
Three hours at 250F is long enough to get baby back ribs fully cooked. When I pulled them out the temperature inside the meat read 202F. This is the temperature at which the meat can be fairly easily separated from the bone.
Now is a good time to cut your ribs racks into individual rib pieces. If you've had to cut up a hot rib rack with a sticky sauce on, you will appreciate this little trick. It so much easier to do this at this stage – no mess, no fuss and the ribs look perfect. Just make sure to use a sharp knife as the meat already is very tender.
While the baby backs are baking in the oven, let's prepare the sauce. It's super simple. All you have to do is combine four ingredients. That's it.
Place the cut up baby backs into a deep baking dish, pour the sauce over and bake at 400F for about 1 hour, basting the ribs in the sauce every 10-15 minutes. Depending on your oven and the size of the baking dish it may take a bit longer or a bit shorter for the sauce to thicken. The larger the surface, the faster the liquid will evaporate and the faster the sauce will thicken.
The sauce will thicken and coat the super tender ribs with a gorgeous, mouth-watering-delicious sticky whiskey BBQ sauce.
At this stage the meat is super tender and is literally falling off the bone.
I like serving these ribs with Roasted Red Potatoes and creamy Dinosaur BBQ Coleslaw.  The potatoes can be roasted together with the ribs which makes it very convenient.
Enjoy!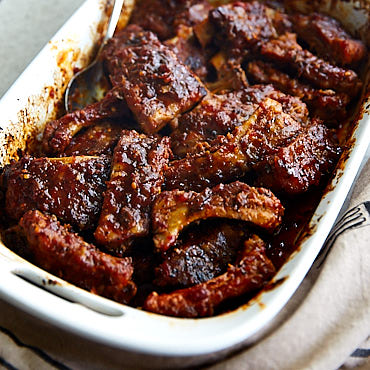 Sticky Whiskey Baby Back Ribs Cooked in Oven
Total Time
4
hours
15
minutes
Ingredients
2

full racks of baby back ribs

2

tsp

kosher salt

1

tsp

black pepper

For the sauce:

1

cup

Jack Daniel's whiskey

1/2

cup

Heinz Chili Sauce

1/2

cup

Asian Chili Garlic Sauce

1

cup

dark brown sugar

loosely packed
Instructions
Preheat oven to 250F.

Prepare the ribs by trimming off fat and seasoning with salt and pepper.

Wrap the ribs in foil and bake at 250F for 3 hours.

Meanwhile, prepare the BBQ sauce by combining the whiskey, brown sugar and the chili sauces together. Set aside.

Remove the ribs from the oven.

Preheat the oven to 400F.

Remove the ribs from foil, place on a cutting board and carefully cut into individual ribs with a sharp knife. The ribs will be very tender at this stage.

Place the ribs in a large deep baking dish. Pour the sauce over the ribs, making sure that all ribs are covered.

Bake the ribs uncovered for about 1 hour, turning them and basting in sauce every 10-15 minutes, until the sauce has thickened to your liking.

Remove from the oven and serve immediately.
© 2018 i Food Blogger. All rights reserved. All images and content on this website are copyright protected. Please do not use my images, as is or modified, without an explicit permission. If you wish to republish this recipe or post content, please rewrite it in your own unique words and link back to this post, or to ifoodblogger.com. Thank you!