Our family loves to travel by car. This month we took a trip to Siesta Key, Florida with an overnight stopover in Washington DC.  The last time I was in DC was over 20 years ago, while my wife and the kids have never  been there before. I thought they'd appreciate the idea of having a quick tour of the capital and we ended up having a blast.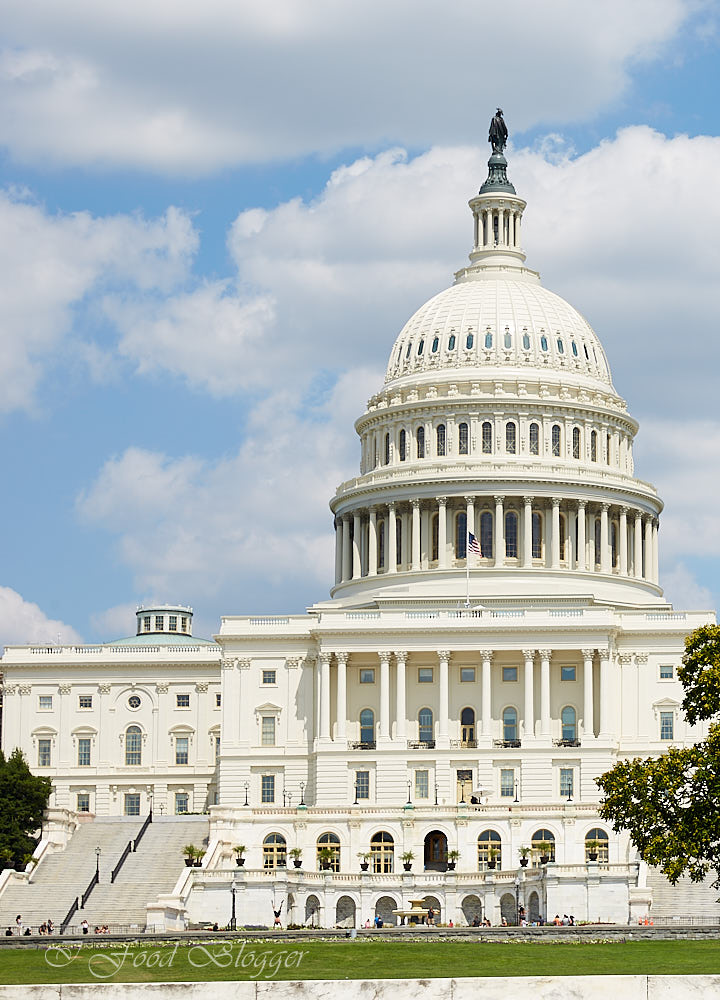 The trip from Toronto to DC took us mostly through rural roads of New York state and Pennsylvania. On a Saturday, there was very little traffic along the way, not counting a major accident in Pennsylvania that caused a road closure and forced us to take a detour. The weather was great and our route was full of beautiful scenery, idyllic fields and pastures filled with happy cows, horses and sheep.
I am not going to write about DC much, there's been written a lot about it already. I'll just say that if you visit there by car be prepared to feel the pain of finding and shelling out for parking. Most hotels in the heart of DC don't come with free parking, or any kind of parking. The best you can get is valet parking. We were lucky to get a room with free valet parking though. Street parking is by luck. On the bright side, parking on Sunday is free. At 10 am in the morning, we were able to find a spot about a 3-minute walking distance from the White House.
What I am going to write about in detail though is our dining experience in DC. After reading countless reviews, feedback and recommendations, our choice fell on Ambar, a Serbian restaurant that features Balkan food. We weren't sure what to expect going in, it could have been a typical tourist trap which we always actively avoid, but we ended up having one of the most amazing dinners in many years.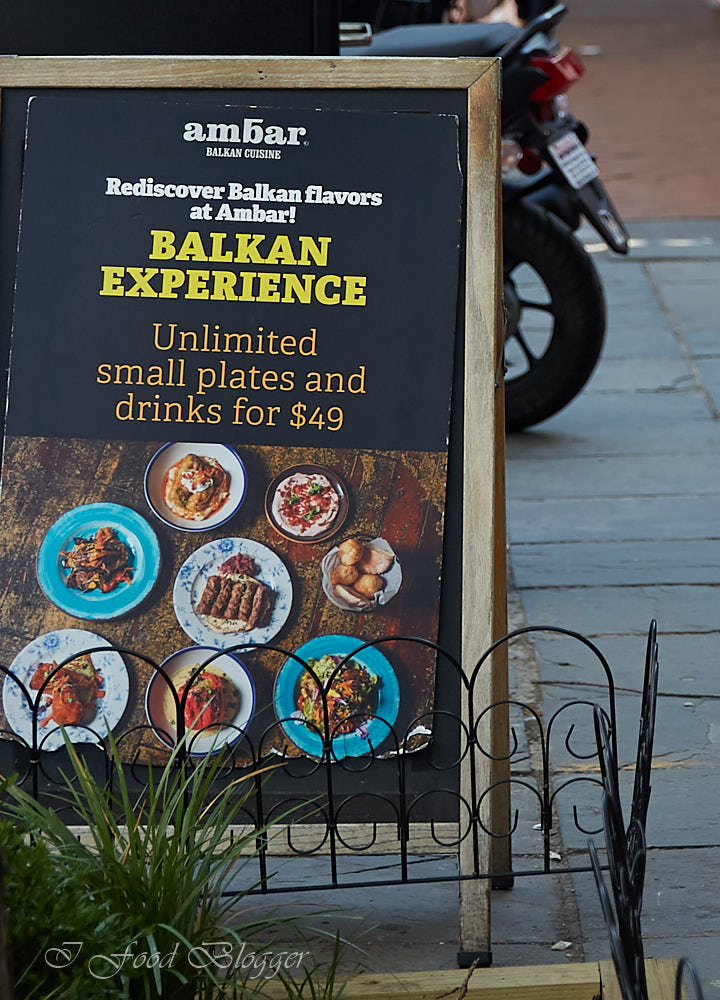 Ambar has a very interesting food serving method that I experienced there for the first time. You get to eat an unlimited amount of food, time bound to two hours, but you order your food through a waiter. The obvious benefits here are that you can ask the waiter for a recommendation, and that you get your food made to order as opposed to getting it from a huge tray sitting under a warming light.
This experience will cost you $49 per person, including alcoholic drinks, or $35 without. Kids pay less, we were charged $18 and $9 for our 13 and 7-year-olds respectively. Desserts and coffee were extra.
You can, of course, order a la carte and pay for each platter separately, but that makes little sense. Actually, that makes NO sense.
Ambar serves food in small, appetizer sized portions. This is actually a very good thing as it gives you the opportunity to try many different menu items without falling into a food coma. And the waste is brought down to a minimum.
When you order, the waiter will advise you to try two or three platters at a time. The wait is very short, about 5 minutes or so. When you get your food, you can then order your next round of platters.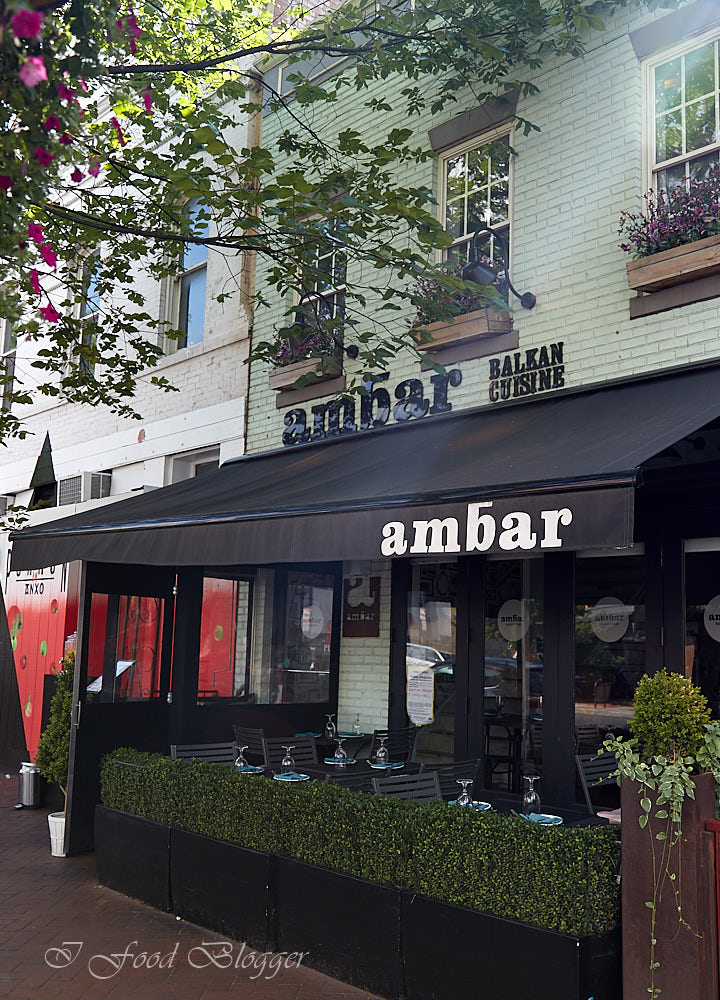 Being at this restaurant for the first time we initially relied on the recommendations of our our knowledgeable waiter. He started us off with cold meat and Balkan spread platters served with fresh warm bread. One type of bread was of deep-fried variety and it was ridiculously tasty. The cold cuts were top notch, but the spreads were the true stars here. They were flavorful and creamy, and together with the warm, chewy bread they tasted heavenly. We practically licked everything off the platters.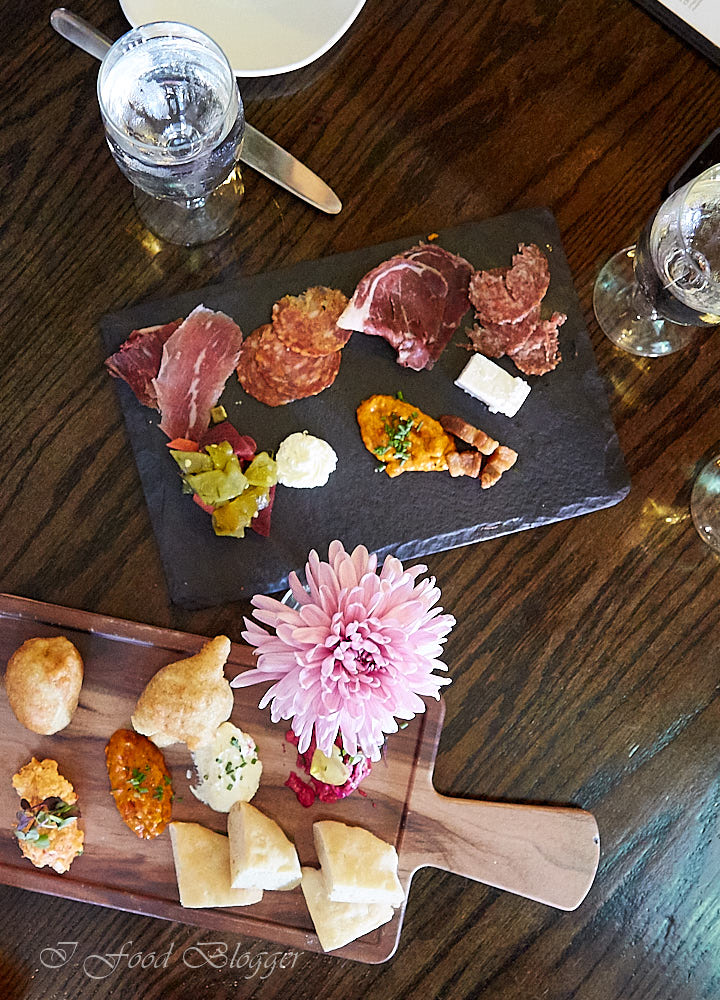 Next came, the hot out of the oven, mushroom pizza topped with arugula. It's made with a medley of shiitake, crimini, and button oyster mushrooms. Delicious!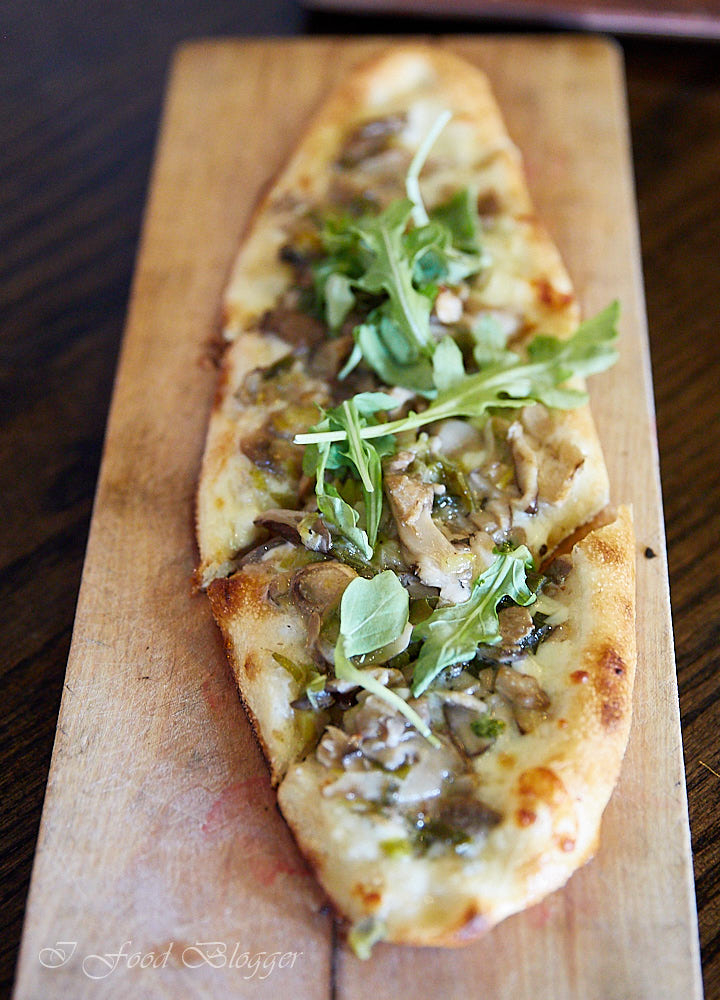 Roasted Brussels sprouts served with lemon and garlic yogurt and bacon, topped with faux saffron was out of this world delicious. No doubt, I need to replicate this dish at home. We had to order these once or twice again as the first platter was empty in a blink of an eye. If you are looking for perfectly roasted Brussels sprouts, a masterpiece, this dish is it without a question.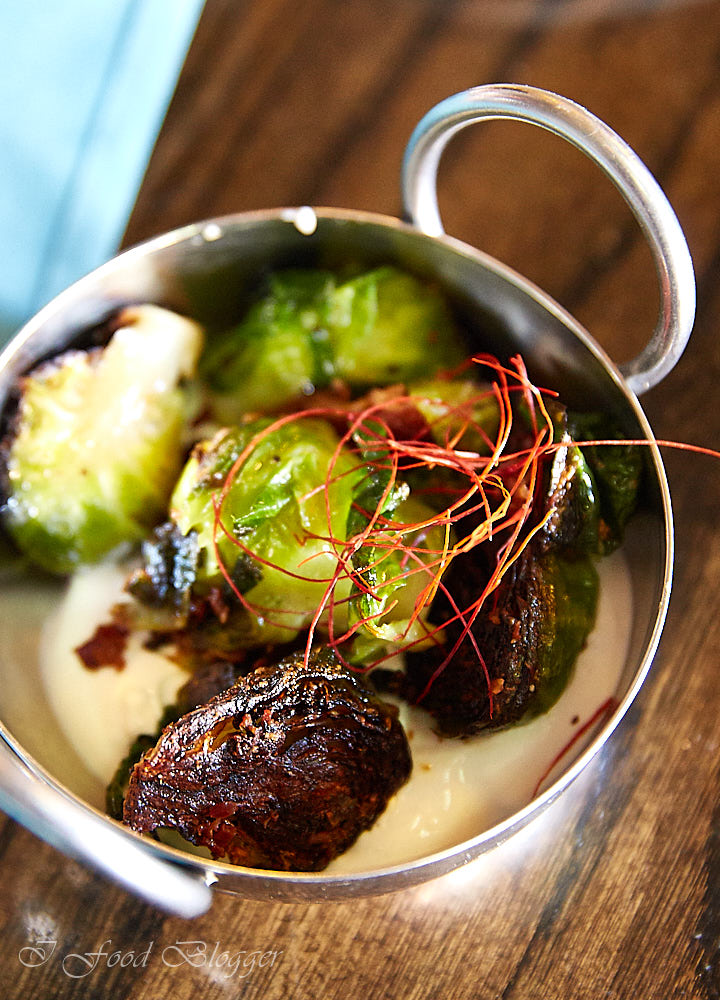 Mushroom risotto was perfectly executed and showed a great technique. Delicate, full of flavor, balanced and simply delicious.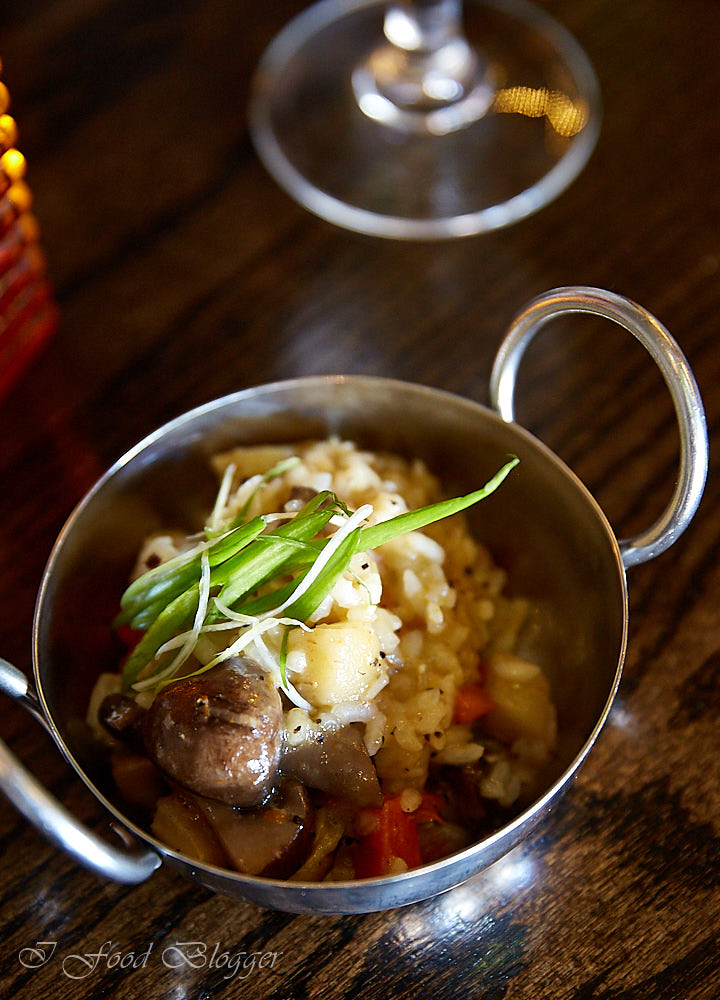 Balkan kebab, or cevapi, is one of my favorite dishes that I know very well living in a multicultural city. Sometimes it's made with the meat that has too much fat in it, resulting in a very greasy product. Traditionally served on a bun, grease is not a problem per se as it gets soaked in and is not much of a problem, but I like eating less fat when possible. Ambar's version was nearly perfect and did not taste fatty or greasy. I enjoyed the combination of cevapi, paprika and scallions.
The grilled asparagus served with veloute sauce, bits of crispy prosciutto, pumpkin and quail egg was executed flawlessly. Perfectly tender but not overcooked, it was full of flavor. The rest of the items on the plate really complemented it.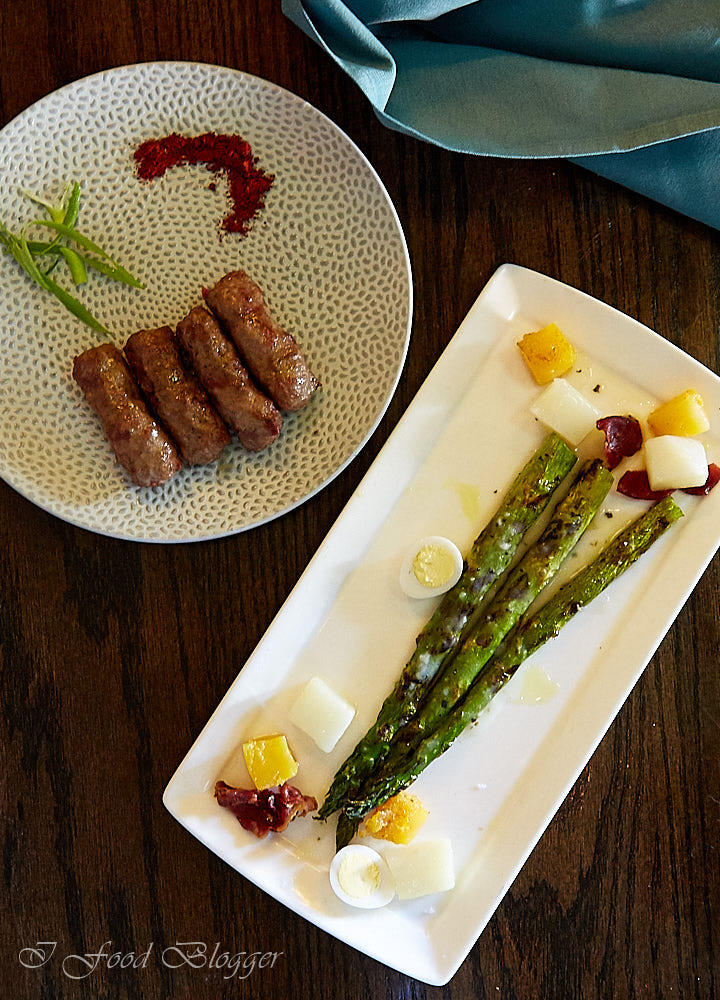 The shrimp skewer was no exception. The shrimp, cooked to perfection and served with prosciutto, asparagus, pepper and spicy sesame aioli, explodes in your mouth with complex flavors. Amazing!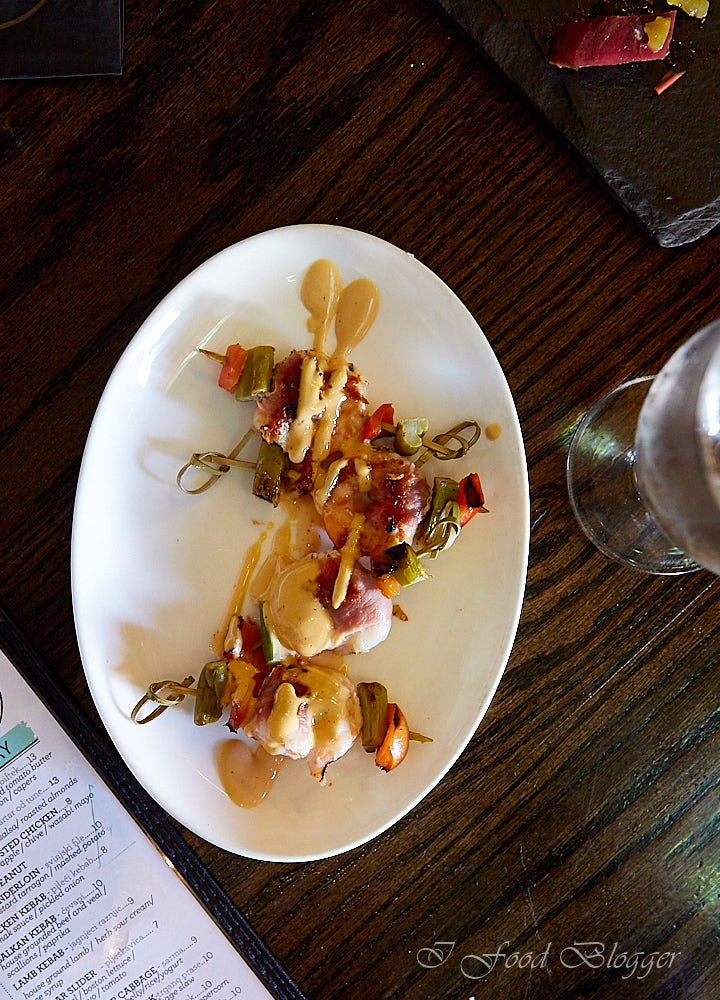 Roasted mushroom crepes – this is another dish that I am definitely going to try to replicate at home. If you have a recipe that sounds similar, please share. Served with red pepper emulsion, veloute sauce and melted gouda, this dish looks kind of plain at first sight. But once you try it, you will experience heaven in your mouth with amazing creaminess and flavor.
Lamb and veal sausage, served with red and yellow bell peppers, onion, garlic, eggplant, chili flakes and tomato. Delicious! Eating this dish was like having a flavor and taste carnival in your mouth. I don't think you can get fresh sausage to taste any more exciting than this.
Like spicy food? Try the spicy crab spread, made with ajvar, cilantro, chiles and topped with pickles. Spread it on that fresh, warm bread and enjoy. Delicious!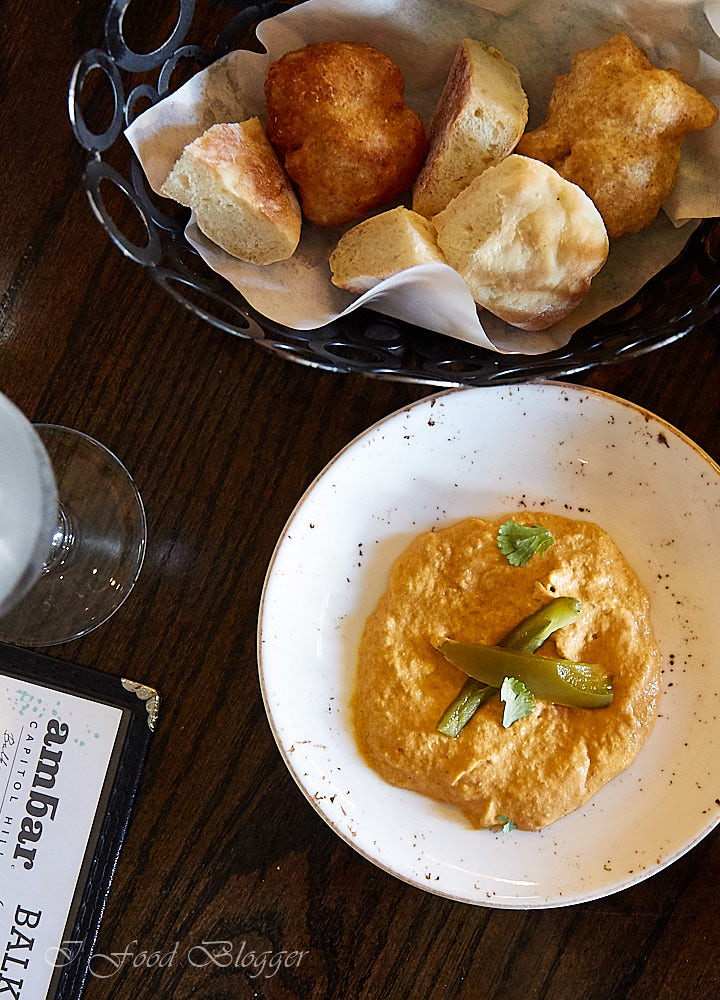 Cabbage casuela is made with braised sour cabbage, dry peppers and yogurt. Definitely not a main dish and should be enjoyed as a side with a meat dish, like cevapi. But, it had great flavors and tasted very good.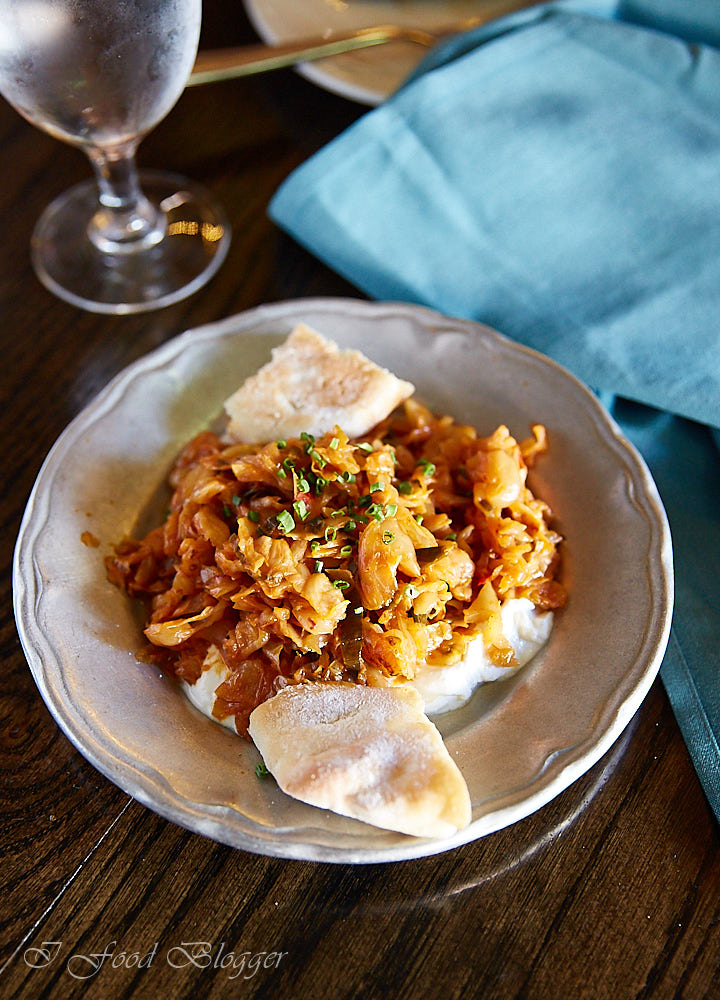 Tartare steak was very nicely executed. Served with pork "cracklins", sundried tomatoes, butter, pickled vegetables, onion and capers, the beef was well-seasoned and was full of complex flavors.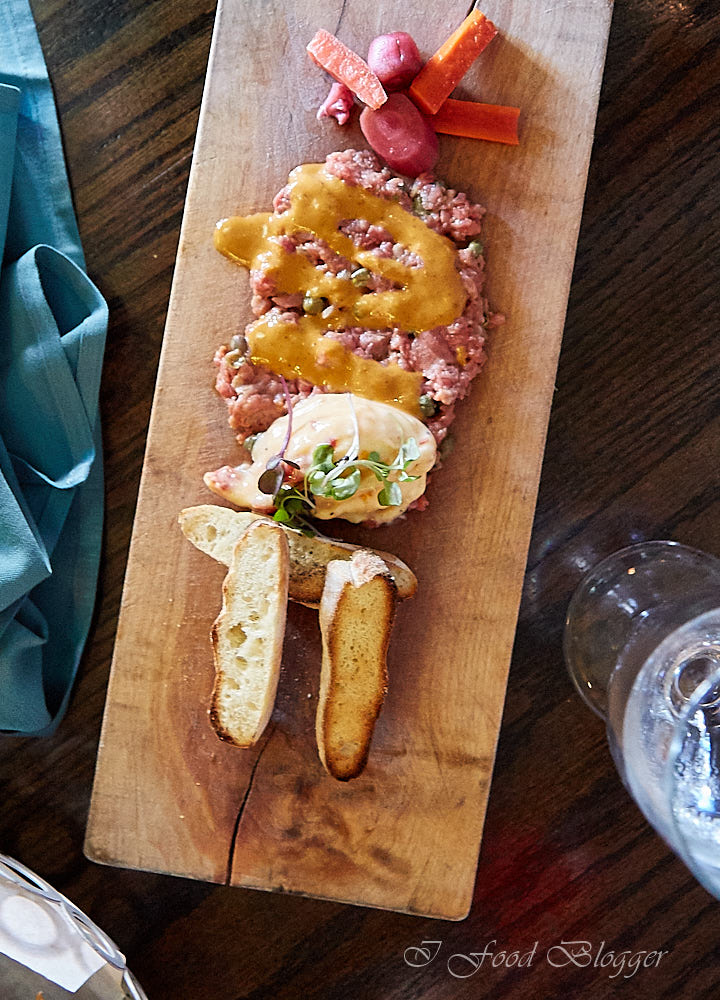 Bacon and peanut grilled pork tenderloin was nice, but tasted slightly tough and overcooked to me. Then again, I like my pork tenderloin cooked to 145F. Anything above that for me is considered overcooked. The miso-mustard tarragon mashed potatoes served with the pork were awesome.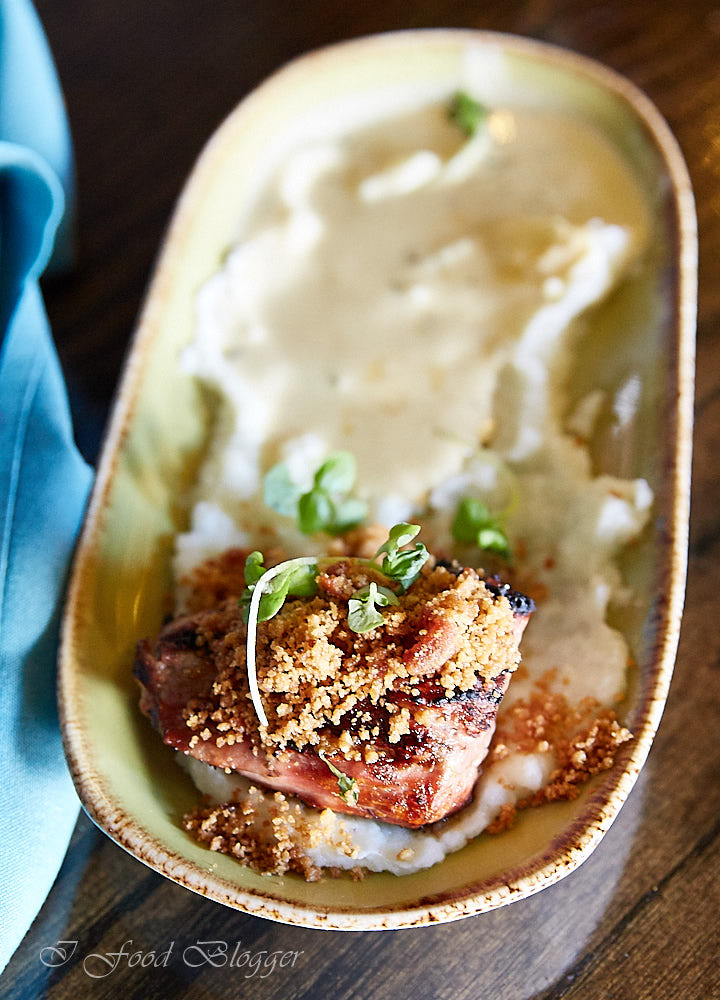 The lamb skewer made from house ground lamb and served with herb sour cream and rose syrup. Great taste, amazing flavors.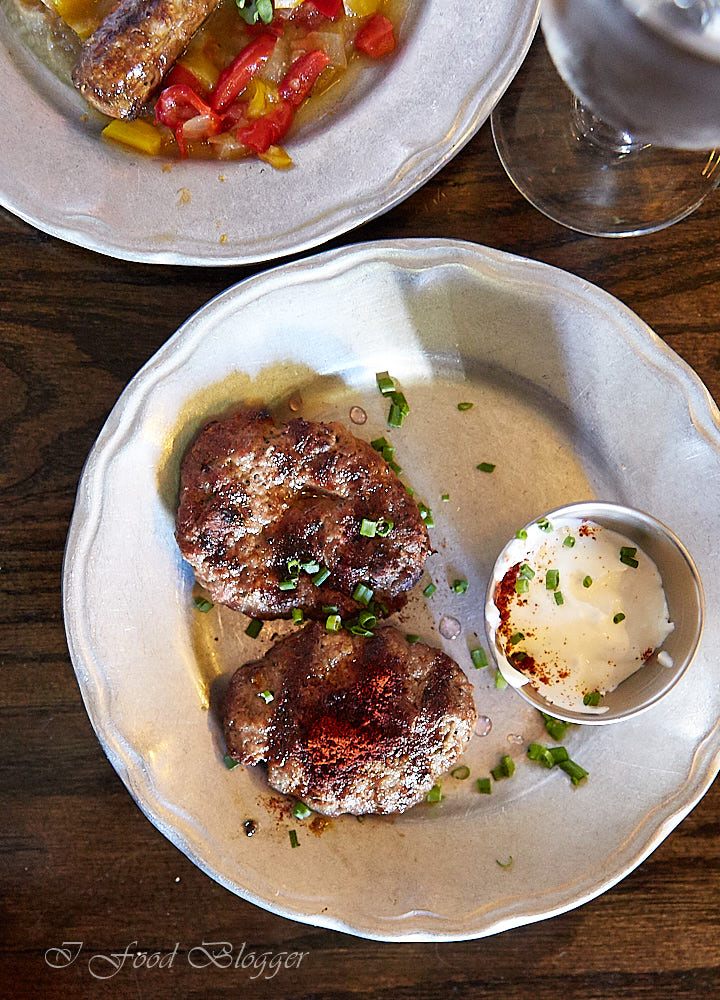 Finally, the dessert. This will cost you a little extra but I highly recommend it.
The first thing that should be tried is the panna cotta made with roseberry sorbet, peanut crumble, orange jelly and strawberry yogurt. It is served in a bowl and prior to all the ingredients being mixed up, it's a work of art. Unfortunately, our waiter poured heavy cream into the bowl and mixed the ingredients before I remembered to snap a shot. But it was gorgeous. After mixing, it started to look like a bowl of gray soupy porridge but it tasted just as awesome as it looked before mixing. A terrific dessert!
Below are forest gnocchi, Balkan cookies and Balkan apple pie served with almond crumble, vanilla ice cream and caramel mousse. It will take too long to describe all the pieces and all the flavors that were going on there. The desserts were outstanding, and so was my Americano and my wife's latte.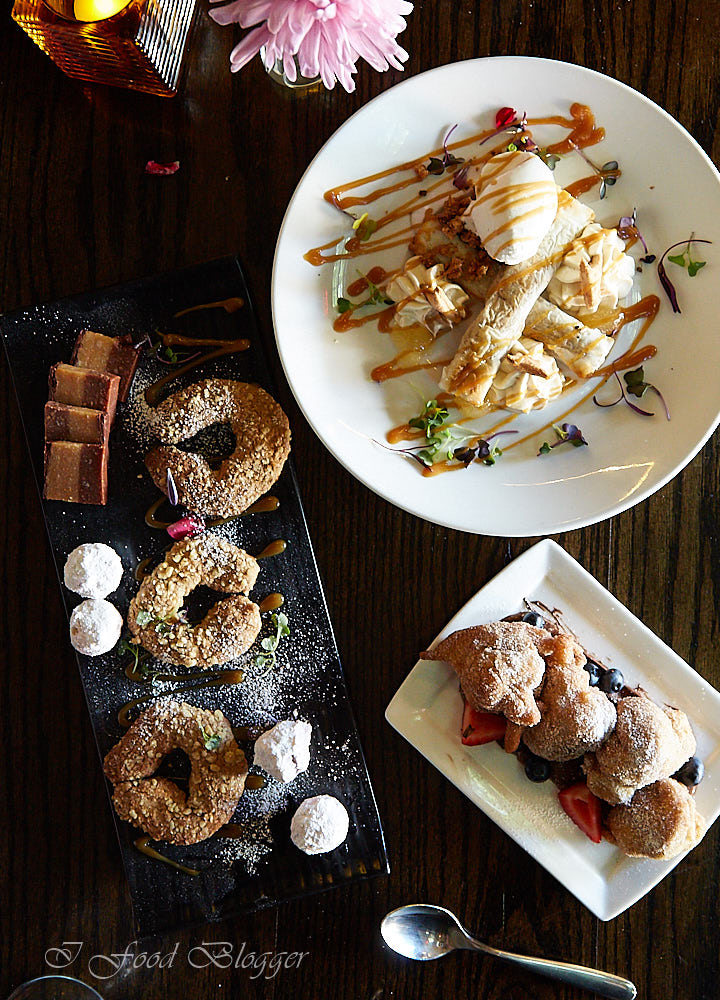 If you happen to visit Washington DC, this place gets my highest recommendation. Just make sure to make a reservation well in advance, like several days in advance. No kidding.