I remember years ago when I got my first grill I started browsing various grilling sites and online forums to learn more about how to grill and what to grill. It was then that I learned about ABTs – Atomic Buffalo Turds. It turned out that it was nothing more than grilled or smoked bacon wrapped jalapeno poppers. I have no idea who came up with such an unappetizing name, but let me tell you, once you try these little morsels you will be hooked forever. I was. Still am. I love smoked bacon wrapped jalapeno poppers both hot right off the grill and cold from the fridge. A good reason for me to make more so that I have enough leftovers to enjoy later.
I've cooked these jalapeno poppers in the oven, on the grill and in the smoker, and they always come out tasting really well. But if you want the ultimate bacon wrapped jalapeno poppers – smoke them. There is no substitution for smoke flavor and the color it gives to food. The good news is that you don't necessarily need to have a smoker to make smoked food. Here is a very good guide on how to smoke on a Weber Kettle Grill.  I've used my Weber Kettle Grill for many years for both grilling and smoking before I added a dedicated smoker to my arsenal.
Anyway, smoke your jalapenos if you can, you will love them. It will take about 1.5 – 2 hours at 225F – 250F temperature.
My preferred method of making smoked jalapenos is to stuff them just a smidgen of cream cheese, then add turkey stuffing with caramelized onions and mushrooms, and then wrap in bacon. From what I remember the original ABT recipe used only cream cheese and bacon. I tried that only once and immediately realized I had to modify that recipe – it was way too fatty for my taste. The next time I was making stuffed jalapenos I had some turkey stuffing left over, so I used it. The result was such a success with family and friends that this recipe stuck with me for good.
So, stuff your jalapeno peppers with cream cheese and turkey stuffing, wrap in bacon, then smoke to perfection and enjoy. You can use a full strip of bacon to wrap one jalapeno pepper, or cut in half. Both methods work really well and  you can't really tell the difference, as can be evidenced from the picture below. I now mostly use half strips – the poppers come out less fatty and are more cost effective without sacrificing the taste. Though, most fat will be rendered off during cooking anyway. It's your decision.
If you are concerned about spiciness, after cooking jalapeno peppers will be less spicy, much less than one would think. The bigger ones will be a bit more spicy, the smaller ones will be fairly mild as they will cook through more.
Tips
Tip #1: If you want all of your jalapeno poppers to be mild, cut the peppers in half, remove seeds and membranes and soak in cold water for about 30 minutes to an hour.
Tip #2: When I prepare jalapenos I keep them under water in a large bowl. This is after that one time when I cut and de-seeded about 30 jalapenos for a party, after which the whole kitchen and even adjacent rooms reeked of irritating fumes making everyone cough for a good hour.
Tip #3: Wearing food preparation gloves really helps too. Actually, it's a must if you want to avoid your hands, and any other part of your body you touch, burning for hours afterwards. Speaking from my own sad experience.
Tip #4: I am a big fan of cherry wood and use it most of the time. I gives the meat beautiful burgundy color and fruity smoke flavor.
Enjoy!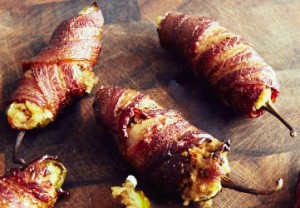 The Ultimate Bacon Wrapped Jalapeno Poppers
Print
Pin
Rate
Total Time:
2
hours
30
minutes
Ingredients
10

fresh jalapeno peppers

7-8

Tbsp

cream cheese

1

package

1 lb bacon, thinly sliced

1

cups

turkey stuffing with caramelized onions and mushrooms
Instructions
Cut jalapeno peppers in half, spooning out the white flesh and seeds. Do not remove stems. Soak in water for 30 minutes to 1 hour for a mildly hot taste.

Prepared turkey stuffing and caramelized onions and mushrooms. Mix all together.

Stuff jalapeno halves with a smidgen of cream cheese, about 1 tsp per one pepper half, followed by turkey stuffing. Then wrap in bacon. You may want to use toothpicks to help keep bacon tightly wrapped.

Place on a smoker / grill preheated to 225F-250F and smoke for 1.5 - 2 hours. Bacon wrapped jalapeno poppers are done when they acquire rich maroon/brown/burgundy color (depends on the wood you are using for smoking).
You may also like: