Are you fascinated by Donald Trump's elaborate hair style and flawless complexion? I am. As a tribute to his unorthodox do and religious dedication to tanning I created this basic yet delicious dish that I called Trump Yams. It involves some basic face carving, but you can skip that step without sacrificing the taste.
Step 1 – prepare the yams
Pick the largest yams you can, it will make carving faces much easier. Peel them and cut in half.
Step 2 – carve the faces
Mr. Trump does not shy away from freely expressing his emotions. I picked the three of his most commonly seen facial expressions.
The happy face
The annoyed face
And my favorite, the enraged/yelling face
Step 3 – cook the yams
There are many ways to cook yams, but roasted yams are my favorite and that's what I am using for this recipe. Of course, while roasting the yams will shrink and wrinkle, but I think that just adds to authenticity. Roast at 425F for about 40 minutes, until tender and perfectly tanned.
Step 4 – style the yams
Place a spoonful of pulled pork on each yam and style appropriately. The recipe presumes that you already have pulled pork ready. If not, start smoking a butt the day prior, or buy. There is no substitute for pulled pork in this recipe. It's the only way to go. You could use hay, or corn silk, but who would want to eat that?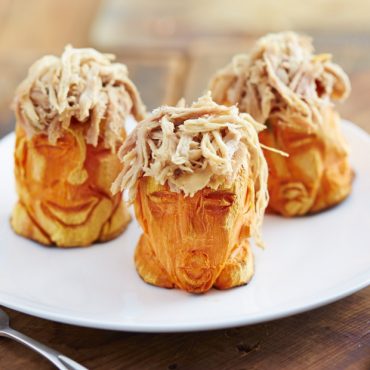 Trump Yams
Total Time
1
hour
40
minutes
Ingredients
3

large yams

1-2

cups

cooked pulled pork

Salt

pepper to taste
Instructions
Peel the yams. Cut each in half. Using a pairing knife or a wood carving knife, carve a face on each of the yam halves.

Preheat oven to 425F. Line a baking sheet with aluminum foil or parchment paper. Lightly spray with oil to prevent sticking. Prick each yam with a fork in a few places, except the face. Place yams on the baking sheet and bake for 40 minutes or until perfectly tanned and tender.

Remove yams from the oven. Style with prepared pulled pork. Serve immediately.
© 2018 i Food Blogger. All rights reserved. All images and content on this website are copyright protected. Please do not use my images, as is or modified, without an explicit permission. If you wish to republish this recipe or post content, please rewrite it in your own unique words and link back to this post, or to ifoodblogger.com. Thank you!