Sometimes things just don't go the way you want them to. My young, never-frozen, 10-pound turkey was supposed to become a gorgeous, crispy-skinned, rotisserie-roasted Thanksgiving turkey roulade (turkey roll) stuffed with fresh herbs and the most delicious turkey stuffing. Instead, I ended up with a mess that I was barely able to tie up to keep the insides from spilling out, let alone putting it on a rotisserie. Anything like that happened to you?
Not too long ago I made a wonderful chicken roulade seasoned with salt and pepper, stuffed with fresh garlic and herbs. It turned out exceptionally good. I especially liked how there there were no bones to mess with and the rich flavors that were added by fresh herbs. That chicken roll was great hot from the grill and just as good chilled overnight in the fridge (picture below). From that moment I knew what my Thanksgiving turkey will look like this year.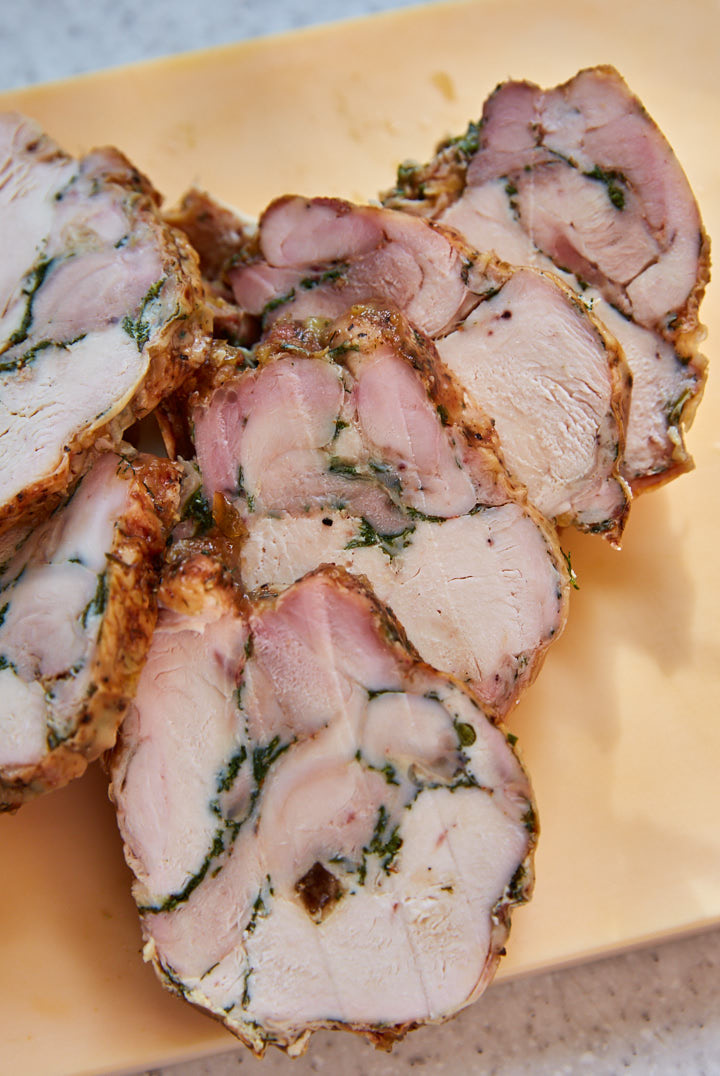 Thanksgiving purists will be throwing eggs at me, but roasting a turkey for Thanksgiving is so archaic. I mean, the bird looks great on the table but having to deal with all the carving, the bones… people fighting over who gets which part and the stuffing that disappears long before the meat… Let's be honest, it happens all the time.
Personally, I haven't roasted a whole turkey in a long while. I've done a few turduckens in the past, as well as some amazing roasted turkey breasts and other things for Thanksgiving dinners. My guests always seemed to appreciate the benefit of no-bones-to-deal-with types of turkey dishes. I felt like a turkey roulade stuffed with turkey stuffing and fresh herbs roasted over hot charcoal on a rotisserie would do the trick. Imagine the beautiful deep golden brown crispy skin, the succulent meat, the smoky flavor… I am salivating already.
Fast forward to the deboning part. A sharp knife is a as much a blessing as it is a curse. My knife slipped and I made a big gaping hole right in the middle of the skin. I thought I could still pull it off with a skillful tying job, but then another wrong cut happened and another hole appeared. By that time I lost all my motivation and just wanted to finish the job. I did, with a couple more holes.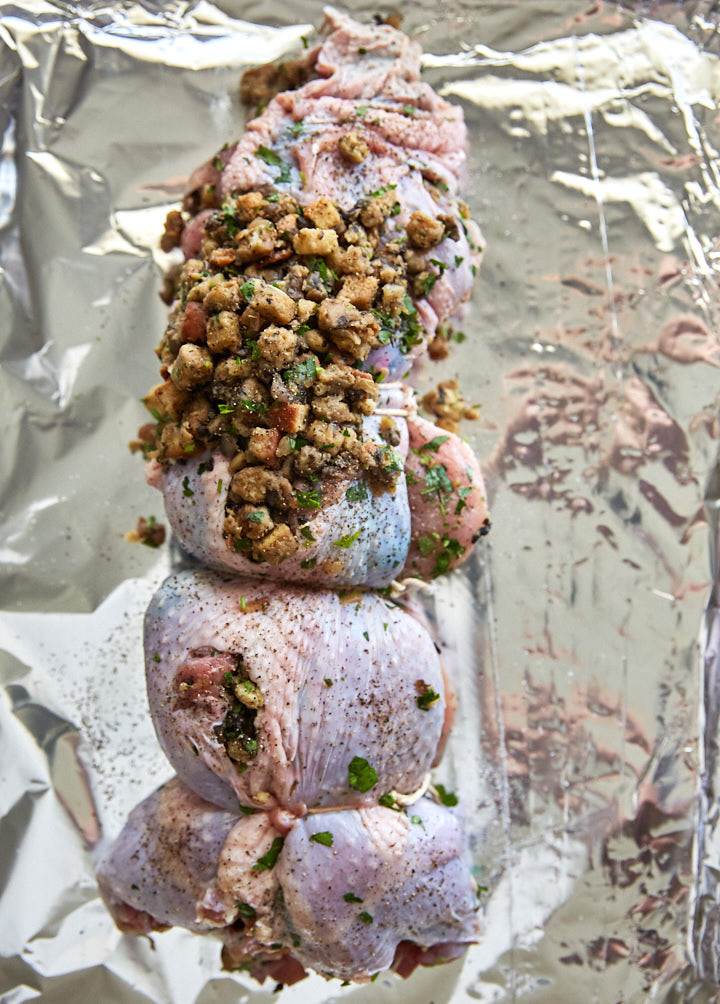 It took me longer to tie this beast than it did to do the deboning. The meat and the stuffing just kept falling out. I finished tying the roll but some stuffing was still out. In frustration, I collected the stuffing that fell out and just slapped it on top of the biggest hole. That turkey thing looked quite ridiculous. I would be too embarrassed to put this on the table in front of my guests. In my head I was already coming up with a plan 'B'.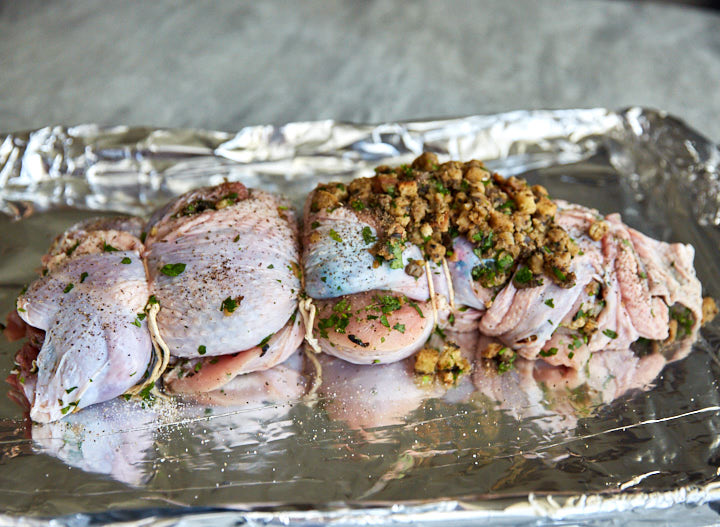 Surprisingly, when my failed Thanksgiving turkey roulade came out of the oven, it looked surprisingly good. I baked it on the upper rack and the skin crisped up very nicely. I didn't even need to turn on the broiler. What do you know. It looked beautiful, actually.
I pulled it out of the oven at 155F internal so as to not overcook the meat which came out perfectly tender and juicy. The turkey stuffing was evenly distributed throughout, with every slice containing a perfect amount of turkey stuffing to complement the meat. Well, let's make it 'almost' every slice.
The fresh herbs that were put in did their magic making the turkey smell like heaven. And no bones to deal with! It was a pleasure and a breeze to slice this turkey. With a bread knife that is. The first cut with a (sharp) carving knife made my heart sink – the roll started to fall apart under even the slightest pressure. But it took a serrated bread knife like a champ.
I have to tell you, this turned out to be one of the best tasting turkeys I've ever tried. The ugly duckling turned into a gorgeous swan Thanksgiving turkey roulade.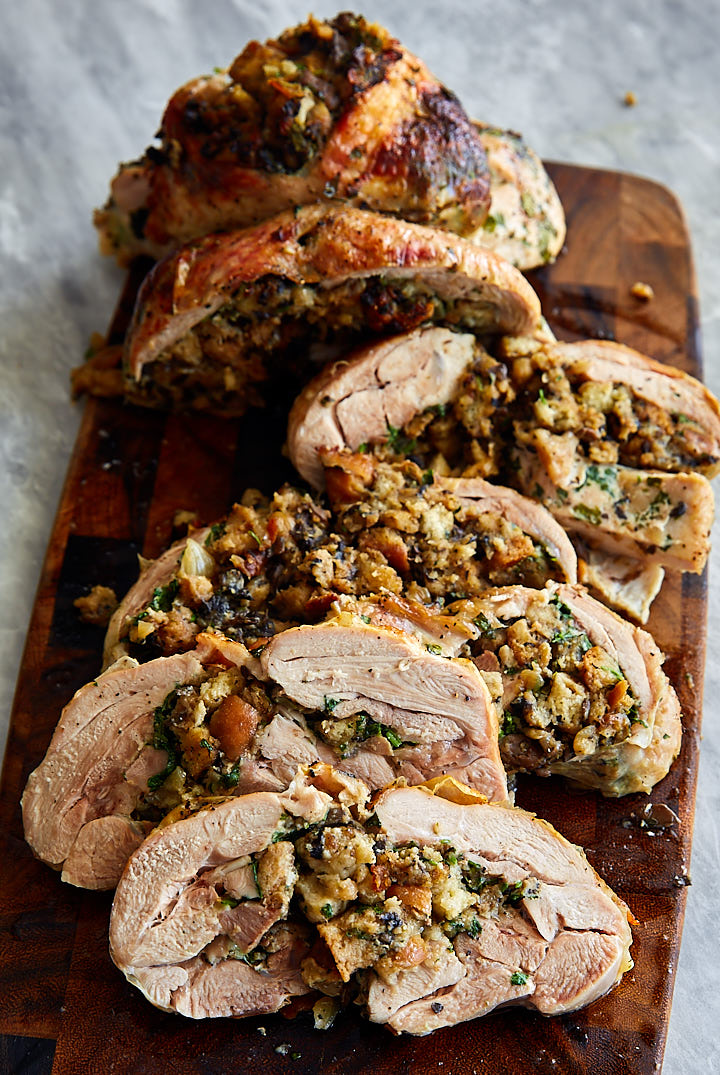 The best, or maybe the worst (;-), part about my Thanksgiving turkey roll was that it was all gone by the end of the dinner. You know how you get turkey leftovers and such, to make cool leftover turkey dishes the next few days? I had none of those. All gone. Granted, this wasn't the largest turkey by far, but still, I was flattered. I think it's a good reason to make this Thanksgiving turkey roll again soon. I am definitely making it again.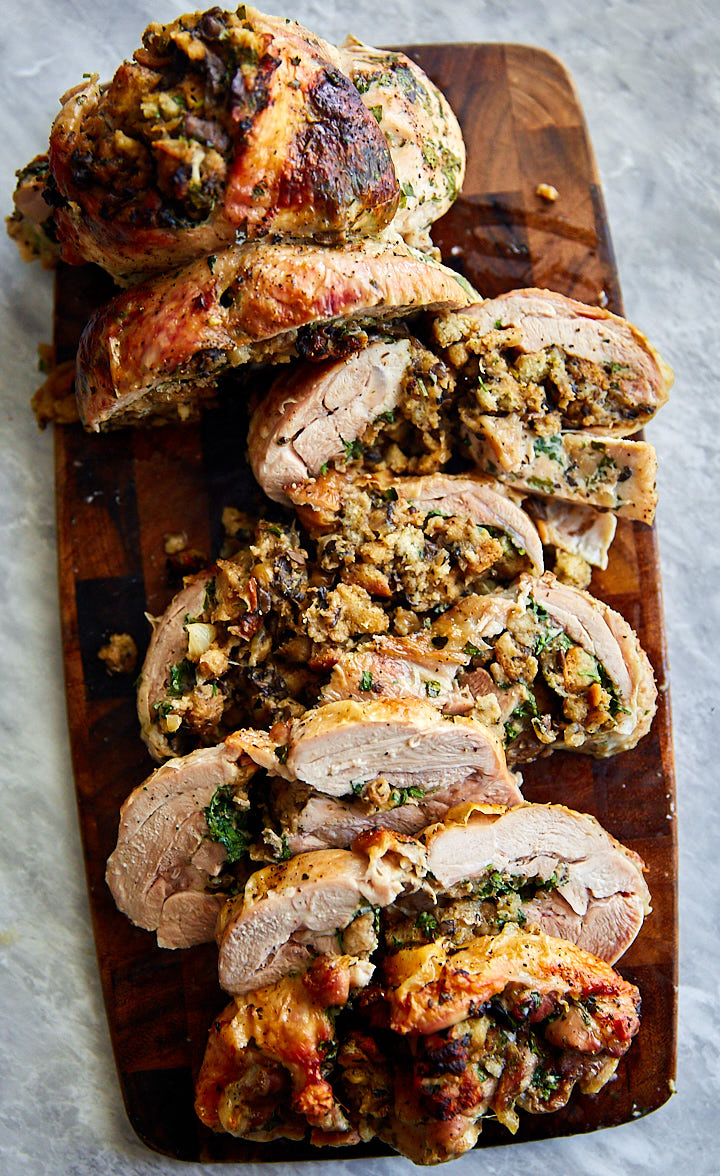 If you want to attempt to make my turkey roulade, here are a couple of links that I am sure will help you to do a great job deboning the turkey and tying butcher's knots.
Turkey deboning instructional video.
Turkey roll tying instructional video.
Roasting  the turkey so as to not overcook it is critical. Read this very informative article on what temperature to cook your bird to for best results. They talk about chicken but it applies to turkeys just as well. I like the texture of the meat cooked to 155F. Remember, the temperature will continue rising for up to 10 degrees after you remove the turkey from the oven. Use a reliable BBQ thermometer, like ThermoPro TP08 that will alert you when the target temperature has been reached. If you don't have one, start checking the turkey with an instant read thermometer at about 50 minutes.
Finally, here is the link to my favorite, the most delicious turkey stuffing recipe.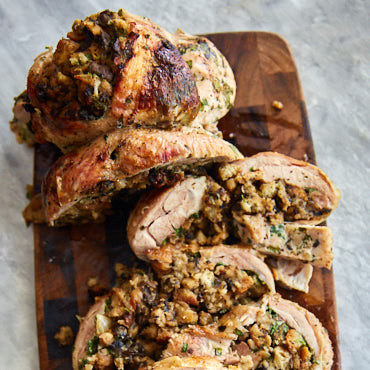 The Best Thanksgiving Turkey Roulade
Total Time
1
hour
30
minutes
Ingredients
1

recipe turkey stuffing

1

cup

chopped parsley

1/2

cup

chopped coriander

1

Tbsp

chopped fresh sage

salt and pepper to taste
Instructions
Preheat the oven to 425F, positioning the rack in the upper half of the oven.

Debone the turkey following the method that I linked in the post above.

Season the meat inside with salt and pepper.

Evenly sprinkle the chopped herbs, then spread the turkey stuffing on top.

Carefully bring the sides up together, making one side overlap the other and turn the roll over, positioning it seam side down. Massage the thicker parts to even out with the rest to make the roll uniform in thickness.

Using butcher's twine, tie the roll.

Bake at 425F for about 1 hour, until the temperature inside the turkey roulade reaches 155F. Remove from the oven and let rest for 10 minutes before slicing and serving.
© 2018 i Food Blogger. All rights reserved. All images and content on this website are copyright protected. Please do not use my images, as is or modified, without an explicit permission. If you wish to republish this recipe or post content, please rewrite it in your own unique words and link back to this post, or to ifoodblogger.com. Thank you!