Richly flavored, this German apple cake has an almost custard-like consistency. If you like cakes, apples, custard tarts, or even if you don't like them that much, try this cake. It will surprise you.
This recipe was originally published by Louisa Weiss in her widely popular Classic German Baking book, later published by David Lebovitz on his blog. 
David recommends using apples from a farmers' market for their superior flavor and taste compared to supermarket varieties. I could not agree more.
This time around I am using Ida Red apples which are one of my favorite apple varieties. They make this German apple cake shine. So, pick good, flavorful apples and your pie cake will make you smile as you bite into it.
This recipe uses almond paste, also know as marzipan, which is commonly used in German baking. Using store-bought almond paste is an option, but I am a big fan of natural, preservative-free food, so I recommend preparing it at home. It does not take much time and is very easy to prepare. As long as you have a food processor.
If not, you can get a little resourceful and do it with a hand mixer or by hand, German bakers in olden times somehow did it after all. Or buy it at a local supermarket, or online.
I used the really good almond paste recipe from Taste of Home as a base, then slightly reduced the amount of almond extract and added some rose water. German marzipan recipes very commonly incorporate rose water for richer flavor. Just make sure to use good quality rose water, it makes a world of a difference. I buy mine from a local Persian store. If you don't have ethnic stores close to you, try Cortas Rose Water imported from Lebanon.
This German apple cake recipe calls for apricot jam, which I rarely have on hand. Time to get resourceful. Making jam at home, especially in small quantities, is a piece of cake.  My not-so-secret formula is one part sugar, 2 parts fruit or berries, and a little bit of lemon juice, about 1 tablespoon per pound of fruit. I reduce the amount of lemon juice when using tart fruit or berries.
I had a pound of frozen peaches in the freezer, so while the cake was baking I defrosted the peaches, placed them in a large, thick bottom pot, mixed with sugar and lemon juice, and cooked over low heat until the jam thickened.  Just make sure you stir frequently to avoid the jam scorching at the bottom. That's it.
The smaller the quantity, the larger the pan, the faster the jam will thicken and be ready.
The worst part about making this German apple cake is the wait until it cools down completely. Seriously, it seems like eternity before you can finally remove the cake from the springform, cut and enjoy with a cup of tea or coffee.
Now that the weather is cold it take at lot less time to cool the cake down. I just take it out to the veranda and it's cool after an hour or two.
Enjoy!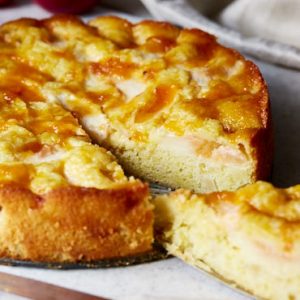 German Apple Cake Recipe
Print
Pin
Rate
Cook Time:
1
hour
10
minutes
Total Time:
1
hour
40
minutes
Servings:
10
-12 servings
Ingredients
6

medium apples

(about 2 pounds / 900 g), peeled and cored

Juice from one lemon

Zest from one lemon

7

ounces

/ 200 g almond paste

3/4

cup

/ 150 g granulated white sugar

1/2

tsp

kosher salt

14

Tbsp

/ 200 g unsalted butter

melted and cooled down

1

tsp

almond extract

4

large eggs

at room temperature

1

cup

plus 3 Tbsp / 150 g all-purpose flour

9

Tbsp

/ 80 g cornstarch

2

tsp

baking powder

aluminum free recommended

1/4

cup

/ 75 g apricot or peach jam

strained if needed to break down lumps

For the almond paste:

1 1/2

cups

blanched almonds

1 1/2

cups

confectioners' sugar

1

tsp

almond extract

1

tsp

good quality rose water

optional

1/4

teaspoon

salt

1

egg white
Instructions
To prepare homemade almond paste, place blanched almonds in a food processor and process until smooth. Add the confectioners' sugar, egg white, almond extract and salt and process until smooth. Place the paste in an airtight container and refrigerate or freeze to chill before using.The paste can be refrigerated for up to 1 month or kept in a freezer for up to 3 months.

Preheat the oven to 350F.

Butter a 9- to 10-inch spring form pan and line the bottom with parchment paper.

Pour equal amounts of lemon juice into two medium size bowls. Slice three of the apples into 1/2-inch slices and toss with the lemon juice in one of the bowls. Dice the other three apples into 1/3-inch cubes and toss with the lemon juice in the other bowl.

Take out your chilled almond paste and grate on a grater with large holes. Combine the grated almond paste with the sugar and salt in a large bowl. Mix until the almond paste is broken up into fine crumbs. You can use a whisk or a hand mixer fitted with a whisk. A stand mixer fitted with a whisk or a paddle attachment will work as well.

Add the melted butter, almond extract, and lemon zest, and continue mixing until smooth. Add the eggs, one at a time, and mix until they are well incorporated.

In a separate small size bowl, whisk together the flour, cornstarch and baking powder. Stir the dry ingredients into the almond batter by hand until well combined. Give the diced apples a good toss and fold them and the lemon juice into the batter.

Transfer the batter into the greased pan. Even and smooth the top of the batter. Lay out the sliced apples in concentric circles on top of the batter, pressing them in very lightly.

Bake the cake until the top is golden brown and a toothpick inserted into the center comes out clean, about 1 hour to 1 hour and 10 minutes. Check at 60 minutes.

Take the cake out of the oven. Slightly warm up the jam in a small saucepan and brush it over the top while the cake is hot.

Let the cake cool completely. Run a knife around the inside of the cake pan to release the cake. Remove the sides of the cake pan, then transfer the cake to a serving plate.