I became obsessed with stuffed tomatoes and other stuffed vegetables after trying a fantastic Greek stuffed vegetable recipe. The Greek recipe was meatless, but the addition of feta cheese more than compensated for the lack of meat and added a healthy portion of protein.
Still, I love meat and would more often than not choose something with meat in it. If you like stuffed vegetables and you love meat, you will really appreciate this recipe. So far these are likely the best stuffed tomatoes I have ever tasted. Not only do they taste really good, they are quite lean and healthy. Even the sauce is on the healthier side, though it doesn't taste like it is.
This particular recipe is of Azerbajdjani origin and is called 'tomato dolmas', or simply stuffed tomatoes.  Dolma is the name of a stuffed vegetable common to the Middle East and the surrounding regions of Balkans, the Caucasus, and Central Asia. Dolmas are commonly made with tomatoes, peppers, onions, zucchini and eggplant. The stuffing may or may not include meat. It's also common to stuff dolmas into grape leaves.
You may be surprised by the ratio of fresh herbs in the stuffing, I know, that's a lot of herbs. But, go ahead and give it a try. You'll be glad you did. The herbs do not feel excessive or overpowering. Instead, they make the stuffing phenomenally flavorful. I would not change a thing to the stuffing.
What sets this recipe apart from all other stuffed tomato recipes that I have tried is the use of a sauce. And let me tell you, this sauce is out-of-this-world delicious. Not surprisingly, we ran out because everyone in the house wanted to get a taste after hearing my food moans in the kitchen. It goes without saying that the tasting went well beyond one teaspoon or even two.
Next time I am making a double batch of the sauce.
Enjoy!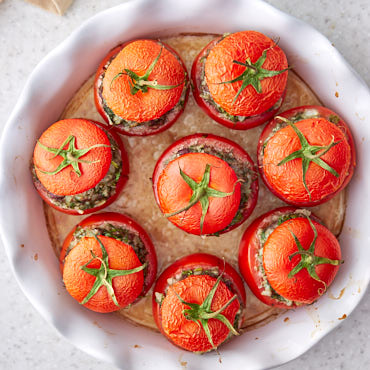 Stuffed Tomatoes with Beef and Rice (Tomato Dolmas)
Total Time
1
hour
25
minutes
Ingredients
1

lb

454 g beef (chuck recommended but you can use any other cut)

12

medium size tomatoes

1

cup

150 g cooked rice

1

medium

100 g onion

1/2

tsp

freshly ground black pepper

1

bunch

40 g fresh coriander, finely chopped

1

bunch

40 g fresh dill, finely chopped

A heaping tsp

6 g kosher salt

Salt and pepper for sprinkling inside the tomato shells

For the sauce:

Tomato flesh from the 12 tomatoes above

2

small or 1 medium yellow onion

finely chopped

2

heaping Tbsp

25 g all-purpose flour

4

Tbsp

50 g sour cream

3

Tbsp

50 g butter

1

tsp

5 g kosher salt
Instructions
Preheat the oven to 375F.

Grind the meat together with the onions on a medium size plate. Add the cooked rice, the salt and the chopped coriander and dill. Mix well and set aside.

Slice off the bottom (or top, whichever you prefer) side of the tomatoes with a sharp knife, cutting about 1/4 - 3/8-inch from the edge. Carefully scoop out the flesh with a teaspoon, making sure you do not rip the outer shell. Put the tomato flesh in a separate bowl, mash with your hands and set aside until needed. Place the tomato shells in the baking dish, spacing them out evenly. Sprinkle a little salt and pepper inside the shells. Stuff them with the meat and rice stuffing, replace the tops, and place the tomatoes into a deep baking dish. Roast at 375F for 60 minutes or until the internal temperature of the stuffing reaches 165F. I like using my BBQ thermometer with an alarm. This way I don't have to worry about my stuffed tomatoes and they always come out perfectly cooked.

Meanwhile, prepare the sauce. Heat the butter in a skillet over medium-high heat. Once the butter starts to get dark, add the chopped onions and saute until golden brown, about 5-7 minutes. After that add the flour and keep sauteing, frequently stirring, until the flour is well incorporated, about 1 minute. Add the mashed tomato flesh with all the juice and saute for another 5-7 minutes, until the sauce has thickend. Finally, add the sour cream and saute, frequently stirring, until well incorporated, about 1 minute.

Remove the tomatoes from the oven. Take off the tops, pour a couple ot tablespoons of hot souce over each tomato, put the tops back on and serve immediately.
With the sauce:
Without the sauce:
© 2018 i Food Blogger. All rights reserved. All images and content on this website are copyright protected. Please do not use my images, as is or modified, without an explicit permission. If you wish to republish this recipe or post content, please rewrite it in your own unique words and link back to this post, or to ifoodblogger.com. Thank you!