Chili is one of those foods that I never seem to get tired of. Maybe this is because there are so many different recipes and ways to make it and I usually try a new recipe each time I make it. Or, perhaps, it's because chili is just so darn tasty and healthier than many foods out there today. Anyway, today I felt like chili. Spicy! But not too spicy. You know, the kind where you feel some heat in the back of your mouth, without burning. And bacon-y! I love bacon.  I don't eat it very often, but sometimes I just crave it so much I can put it into almost anything.
I recently picked up a few ounces of dark chili powder at the local Latin American grocery store. Have you ever tried it? This dark version of chili powder was roasted longer to give a slightly earthier and smoky flavor, making it better suited for hearty dishes such as soups, stews, and naturally, chili. It also gives chili a darker color and makes it unique in a way.
This chili took a bit longer than usual to cook – about three hours, due to a large amount of beef stock in this recipe. Typically, the chilies I made before took about 1 1/2 to 2 hours to cook. But it was totally worth it. Beefy from chuck and beef stock, hearty, earthy, bacon-y and spicy – it turned out super delicious and flavorful.
Enjoy!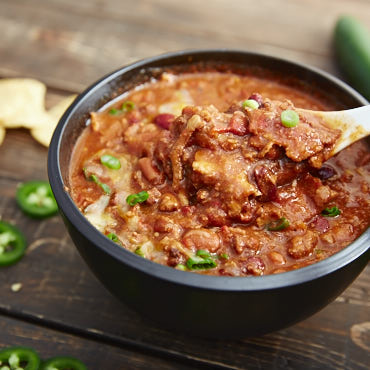 Spicy Chili with Bacon
Total Time
3
hours
30
minutes
Ingredients
2

lbs

ground beef chuck

ground

2

cups

bacon

fried and chopped into 1/2 - 1 inch pieces

1 14-

ounce

can kidney beans

drained

1 14-

ounce

can pinto beans

drained

1

medium onion

finely diced

4-5

garlic cloves

pressed

1

large jalapeno pepper

1

quart

beef stock

1 28-

ounce

can crushed tomatoes

1

Tbsp

tomato paste

2

tsp

apple cider vinegar

1 1/2

tsp

kosher salt

plus more to taste

Spices:

1 1/2

Tbsp

ground cumin

1

Tbsp

onion powder

1/2

Tbsp

garlic powder

1/2

tsp

cayenne pepper

1

Tbsp

dark chili powder

1

tsp

freshly ground black pepper
Instructions
Whisk all spices in a medium bowl to combine. Set aside

Form 6-8 patties from the ground beef. Preheat a large skillet, and sear patties over high heat for about 3 minutes on each side until richly browned. Drain the fat from the patties and set them aside to cool down, then crumble into 3/4 to 1 inch pieces using a fork

In the same skillet, over medium to medium-high heat fry bacon strips. Let cool down and chop into 1/2 - 1 inch pieces. Set aside

In the same skillet, with a little bit left-over fat from bacon, saute chopped onions and garlic over medium-high heat for about 3-4 minutes until onions are starting to get soft

Place beef, bacon, onions and pressed garlic into a large pot or Dutch oven. Add half of the spices. Stir in half the beef stock, tomatoes, tomato paste and one whole jalapeno pepper, uncut and intact. Simmer over low heat for 1 hour.

Gently remove the jalapeno pepper without breaking and discard. Add the remaining ingredients, salt and vinegar, and continue simmering for additional 2 hours

Garnish with greens and shredded cheddar cheese