This spaghetti squash recipe is so good that you won't be asking for pasta any time soon. Fresh tomatoes, herbs, freshly ground Parmesan cheese and seasonings make you forget that you are actually eating strands of squash that only look like traditional spaghetti. Combined with tomato sauce, cherry tomatoes, herbs and seasonings I think they taste almost like spaghetti too.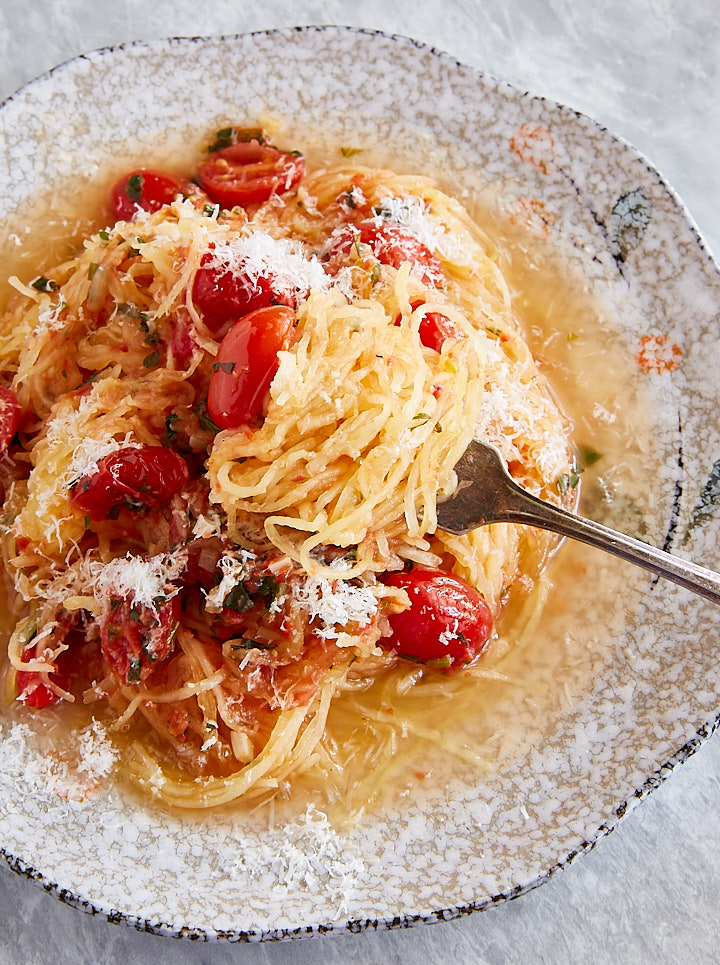 I recently made this dish for friends and family more as a quick side but it turned into the most popular dish of the evening with practically everyone asking for seconds. Needless to say, my spaghetti squash ran out very quickly and I had to make more. Luckily, I baked some squash ahead to use during the week. Once the squash is cooked, the rest takes only minutes to prepare.
Many people love spaghetti squash, and for a very good reason. It has a slightly sweet taste with the texture of crunchy, if stringy, spaghetti. Tossed with flavorful tomato sauce, it's delicious and serves as a much healthier but not less tasty substitute to traditional spaghetti.
There are many ways to prepare spaghetti squash but in September I prefer the spaghetti squash, basil and fresh, locally grown tomatoes combination. You can't beat the fleshy texture, the sweetness and the aroma of vine-ripened tomatoes. Our local store now sells very affordable locally grown cherry tomatoes that are so good that you can eat them like candy. That said, you can just as well use any other tomatoes that you like and that are available at this time of the year.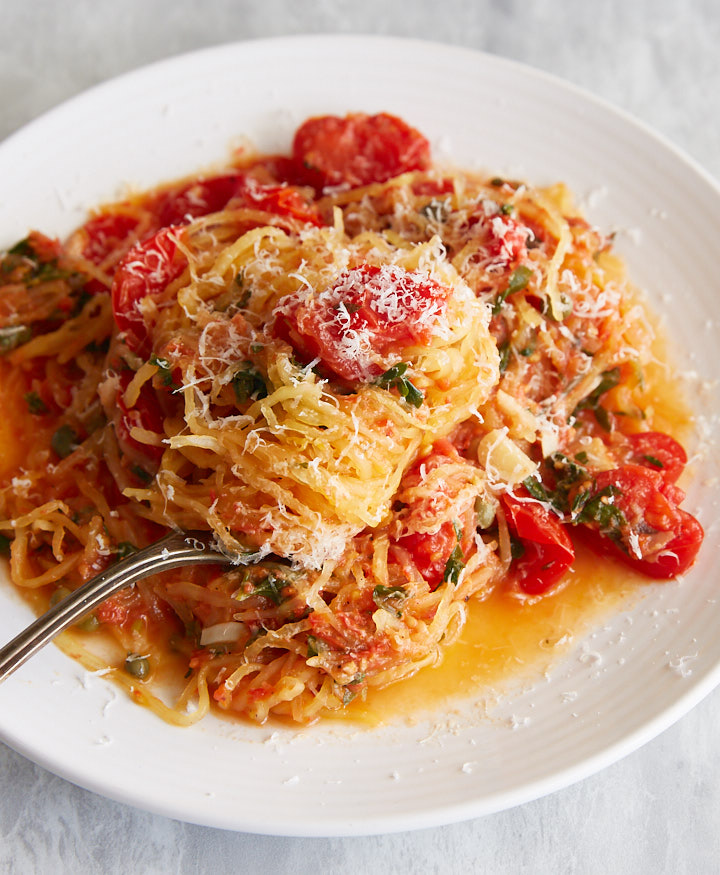 To add complexity to the overall flavor profile I also like adding some garlic as well as fresh thyme and Italian parsley. There are dozens of options here. Fresh cilantro, ginger and oregano are good options as well. I also added some chopped anchovies and capers for some zest and bite, and it worked really well. If you are not into anchovies, skip them, but you will hardly notice them.
Freshly grated Parmesan or Gruyere cheese are almost always a must with spaghetti squash, they make it taste so much better. Just make sure to use the good stuff, not that grated sadness from a plastic container.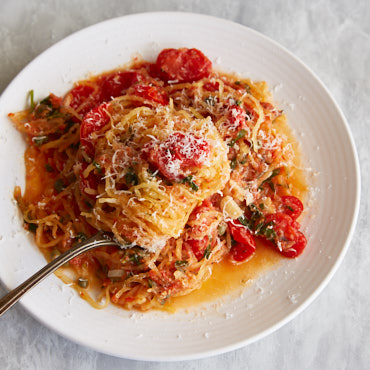 Spaghetti Squash with Fresh Tomatoes and Herbs Recipe
Total Time
1
hour
15
minutes
Ingredients
1

large spaghetti squash

about 4 lbs

4

Tbsp

olive oil

4

cups

fresh cherry tomatoes

or other tomatoes of choice, pulsed in a blender/food processor for 3 seconds

2

cups

cherry tomatoes

halved (or any other tomatoes cut into ½-inch pieces)

8

anchovies

finely chopped

3

garlic cloves

thinly sliced and chopped

10

basil leaves

roughly chopped

6

twigs of Italian parsley

roughly chopped

6

twigs of thyme

leaves only

1

Tbsp

capers

1

tsp

dried chili flakes

optional

4

Tbsp

freshly grated Parmesan cheese

Salt to taste

Black pepper to taste
Instructions
Preheat the oven to 350F. Cut the spaghetti squash in half across and place cut side down on baking dish filled with 2 cups of water. Bake for about 35 minutes for al dente (having slight crunch) and 45 minutes for softer strands. Start checking at 35 minutes and bake until the desired texture is achieved. Remember, everyone's oven is different so baking times will vary slightly.

Remove spaghetti squash from the oven and carefully transfer to a platter and let cool until it can be handled comfortably. Using a large fork, pull off the long 'spaghetti-like' strands. Set aside in a large bowl.

Heat the oil over medium-high heat in a large sauté pan. Add the garlic, anchovies, basil, parsley, thyme and capers and saute, frequently stirring, for 1 minute. Add the pureed tomatoes, stir and bring to boil. Reduce the temperature to medium-low and allow the sauce to simmer, uncovered, for about 5-7 minutes, until the sauce has thickened a little. You may simmer a little longer if you like a thicker sauce.

Season the sauce with salt and pepper to taste. Add the halved cherry tomatoes, gently stir and continue simmering for another minute, until the tomatoes have softened a little.

Drain the squash as it will be releasing quite a bit of it. Pour the sauce over the spaghetti squash and toss to combine. Serve immediately topped with freshly grated Parmesan cheese.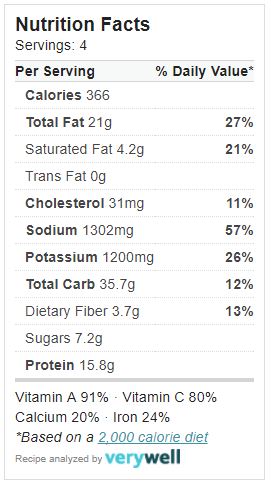 © 2018 i Food Blogger. All rights reserved. All images and content on this website are copyright protected. Please do not use my images, as is or modified, without an explicit permission. If you wish to republish this recipe or post content, please rewrite it in your own unique words and link back to this post, or to ifoodblogger.com. Thank you!