A good friend of mine recently shared with me a recipe for cottage cheese cookies. She told me that those were some of the best cookies she'd ever tried. I am always on the lookout for a great recipe so I got quite excited and tried it the next day. I used homemade ricotta cheese in place of cottage cheese, it's a matter of personal preference of course. Either works great. I have to say, my ricotta cheese cookies turned out truly divine.
So, what makes these cookies so special? I like the contrast of the soft inside and the crunch of the Turbinado sugar on the outside. You can taste the cheese, but it's delicate and subtle. The cheese also makes the crumb taste moist, and that's always a good thing.
I think the most important thing is not to overcook these cookies. Don't look for nice browning and golden brown colors. The cookies will be perfectly fine inside, soft and delicate.
I find that these cookies only get better as they cool. If you can't wait and start eating them hot, like I do, they won't impress you. They will taste dense and chewy, and the delicate ricotta cheese flavors won't be obvious. Cooled down for an hour or more, these cookies really start to shine.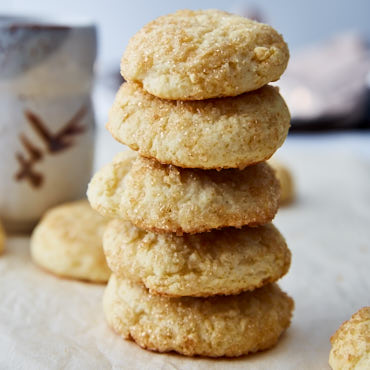 Ingredients
200

g

/ 1 packed cup ricotta cheese

50

g

/ 3.5 Tbsp butter

softened

4

Tbsp

sugar

optional, see my notes

1

egg

1

cup

flour

using scoop and sweep method (plus more if needed)

1

tsp

baking powder

1

tsp

vanilla

1/2

cup

Turbinado/raw sugar
Instructions
Preheat the oven to 350F.

In a medium size bowl, beat the ricotta cheese with butter and sugar until soft and fluffy, about 2 minutes.

In a separate bowl, combine 1 cup of flour with baking powder. Add the flower to the ricotta cheese and gently fold in until all ingredients are well combined. The dough will be very soft, slightly tacky but not sticky. If the dough sticks to hands, add a little more flour.

Cut the dough into 16 equal pieces. Very gently shape the dough pieces into balls, roll in Turbinado sugar until lightly coated.

Gently press to slightly flatten each ball, and place on a parchment paper lined baking sheet.

Bake at 350F or at 325F convection for 20 minutes. Let cool before serving.
Notes
Feel free to use cottage cheese in place of ricotta cheese. Higher fat content cottage cheese is suited better for these cookies. If you use a drier, lower fat cottage cheese, add a tablespoon or two of sour cream or Greek yogurt. Adding sugar to the dough is optional. Because of the Turbinado sugar on the outside the cookies will still taste sweet. However, I noticed that adding sugar to the dough makes the crumb more moist. You can use honey in place of sugar too.