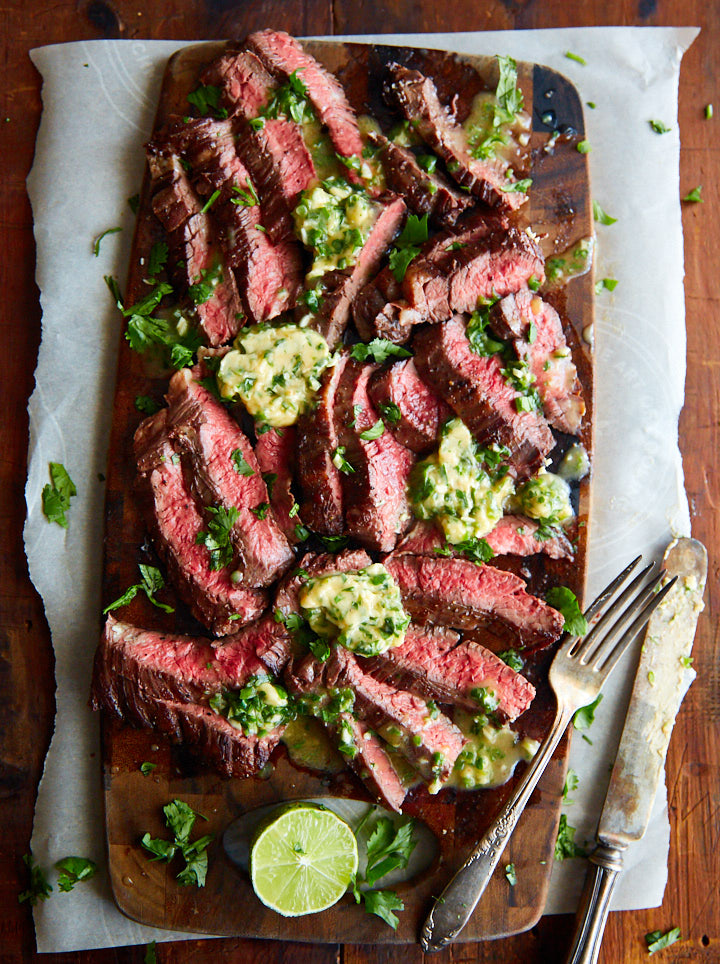 Pan-seared skirt steak – buttery tender, with rich beef flavor, served with chili butter and fresh herbs. Great for a quick weeknight dinner.
Since you are reading this page I assume you've either procured skirt steak and are looking for a good recipe (you've come to the right place), or you've seen it being sold at your local market and you wonder about how to cook it.  It's not a commonly sold steak and it's not that easy to find. Skirt steaks are prized for their superb beefy flavor and they cost less than premium beef cuts so most of them go straight to restaurants. That said, I see them quite frequently at smaller butcher shops and some chain supermarkets like Wegmans.
Skirt steak may be prized for its flavor but certainly not for its tenderness. But that's not to say that it can't be cooked into a tender, enjoyable piece of meat. And that's not hard to do – just don't overcook it and slice it correctly.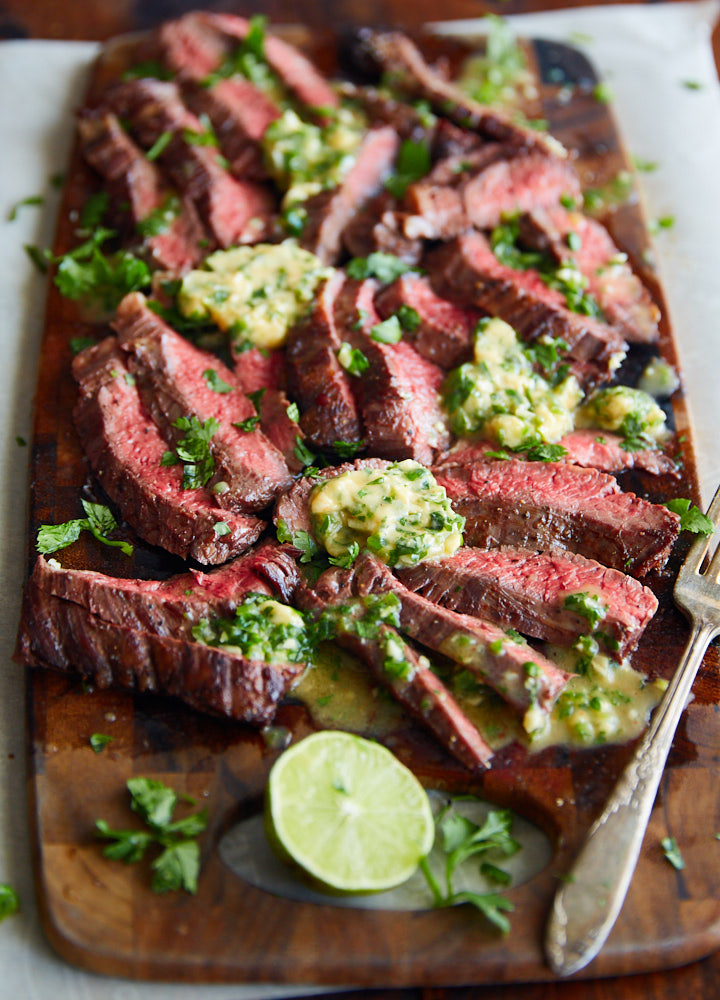 Most of the time skirt steaks are grilled but that is not a requirement – a quick sear on a super hot cast iron pan will do just fine. That's my preferred method of cooking this cut of beef, and I am convinced that this is also the easiest way to cook skirt steak. I am not looking for smoky flavor and char here – you won't get much of that anyway as this steak is super thin and cooks in a matter of a few minutes. Not unless you cook it directly on red-hot coals like Alton Brown does. But that's just too much work for a weeknight dinner. All I care about here is tenderness and that awesome beefy flavor.
To make this steak tender I always cook it to medium-rare and pull at about 125F – 130F internal. That's about 2-3 minutes per side. You want the pan as hot as possible, but without creating a smoke screen between your skillet and the rest of the country. For that, I like using high smoke point oils like grapeseed oil and I run the heat at medium-high.
Once the meat is done and rested, slice it relatively thin and always cut across the grain. That's it. Your steak will be juicy, tender and very flavorful.
The final touch I like adding to my steak is chili butter. It's a compound butter that includes chilies, garlic, lime juice and cilantro. It makes meat especially better and more flavorful. One of my favorite ways to serve this dish is by mixing the sliced steak pieces with butter and hot macaroni  or spaghetti. There are no words that can describe how tasty that is.
Enjoy!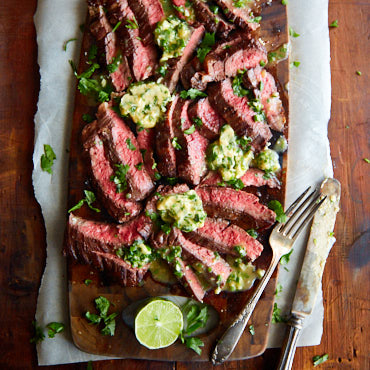 Ingredients
1

lb

skirt steak

(one whole steak is usually about a pound)

4

Tbsp

grapeseed oil

(or any other neutral, high smoke point oil, like virgin olive oil)

1

Tbsp

fresh cilantro

(roughly chopped, for garnish)
For the chili butter:
4

Tbsp

unsalted butter

(1/2 a stick, at room temperature)

1

garlic clove

(minced or finely chopped)

1/3

jalapeno pepper

(membrane and seeds removed, finely chopped)

1/8

tsp

cayenne pepper

1 1/2

tsp

lime juice

1

Tbsp

fresh cilantro

(finely chopped)

1/4

tsp

kosher salt

(plus more to taste)
Instructions
Cut the steak into 4-5 strips along the grain, each strip about 5 inches long. Season each piece with salt and pepper on both sides.

Heat oil in a large cast iron pan over medium-high heat. Once the oil starts to smoke, add the meat and cook for 2-3 minutes until you see some nice browning. Flip and cook for another 2-3 minutes or a bit longer, until desired doneness is achieved. 2-3 minutes per side will produce medium-rare doneness. I like using an instant read thermometer to eliminate guessing and cook to 125F - 130F. Transfer the meat to a cutting board and let it rest for 5 minutes.

While the meat is resting, microwave the butter in a wooden or plastic bowl/container for about 7-10 seconds, until very soft but not fully melted. Add the rest of the ingredients and mix well with a spoon. Taste for salt and adjust as needed; set aside.

Slice the meat across the grain and transfer to a serving platter. Spoon the chili butter over the steak slices. Sprinkle chopped cilantro on top and serve with your favorite side dish.
Nutrition
Calories:
399
kcal
|
Protein:
24
g
|
Fat:
33
g
|
Saturated Fat:
11
g
|
Cholesterol:
101
mg
|
Sodium:
221
mg
|
Potassium:
331
mg
|
Vitamin A:
7.6
%
|
Calcium:
1
%
|
Iron:
11.1
%