Are you looking for a practically hands-free chicken recipe that satisfies the family…even at the last minute? These simple baked chicken thighs take 5 minutes to prepare and they only take 20 minutes to fully cook. And while they are baking, you can whip up a salad, or a side dish, like a bowl of pasta. All said and done in 25 minutes.
Best way to make baked chicken thighs
This may sound quite trivial, but there is more than one way to bake chicken in an oven, and each has own pro's and con's. My new favorite method is to bake on a cast iron griddle or pan. Here is why I absolutely love this method:
The chicken bakes practically twice as fast as you cast iron has a huge heat capacity which it releases to the chicken upon contact with it.
The skin on the chicken crisps up better.
You can serve the chicken right on the pan, or on the griddle to keep it warm.
The only drawback is that it's a bit heavy and requires care to avoid rusting. But, really, all it takes is 3 minutes to wash the pan and dry it with a paper towel. The key is to wash it while it's still warm.
How long to bake chicken thighs?
This depends on the temperature. At 375F chicken thighs take about 60 to 75 minutes to cook (see my Mojito Chicken Thigh recipe). At 400F chicken thighs take about 35 to 45 minutes to reach 165F internal temperature, depending on the size of the thighs.
However, when baking chicken thighs on a cast iron griddle or a cast iron pan, the baking time reduces to about 20 minutes to reach 165F. How cool is that?  A chicken dinner in half the time. I am sure you can make the baking time even shorter by bumping the temperature to 425F-450F but the chicken will be more prone to burning. I only bake chicken at 450F when there is enough liquid in the baking dish, like I do with my Killer Chicken Thighs or Honey Mustard Chicken for example. Note, that when you bake with liquid in the pan the cooking time actually gets slightly extended as the steam and moisture effectively lower the temperature inside the oven.
Ideal internal temperature for chicken thighs
While chicken will be perfectly safe to eat once it reaches 165F internal temperature, I personally like chicken thighs to be cooked to about 185F. At 165F the meat has a tougher texture and tastes slightly under-cooked. At 185F on the other hand, the meat becomes fall-off-the-bone tender and tastes as if it's cooked perfectly.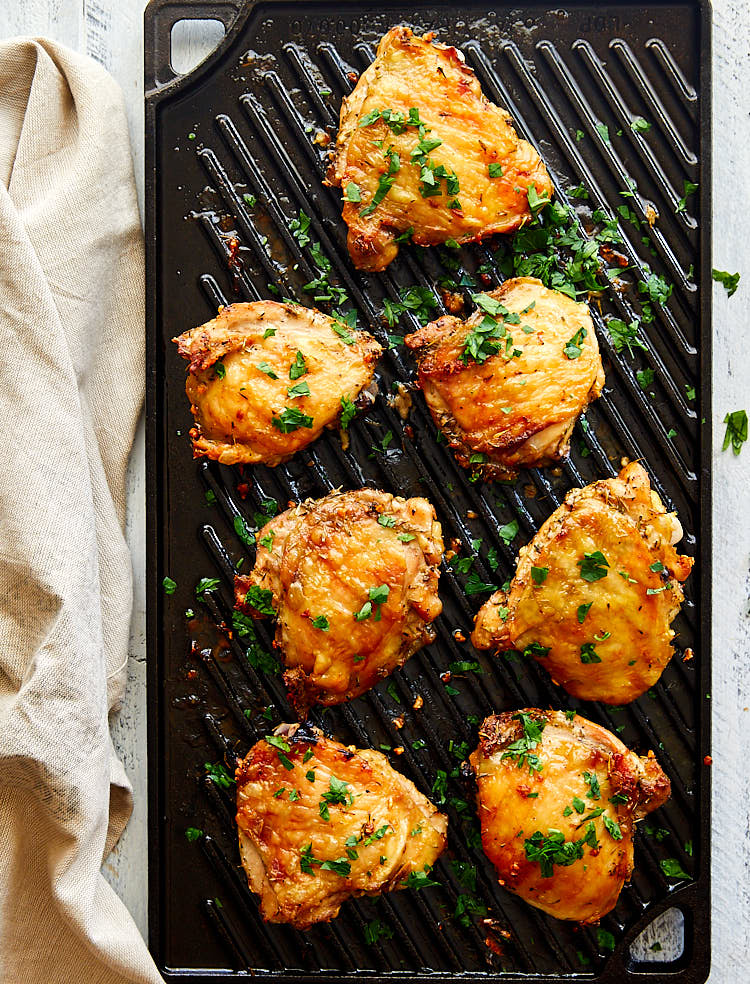 Enjoy!
Simple Baked Chicken Thighs
Cooking time: 20 minutes to 165F or 30 minutes to 185F internal temperature.
Ingredients
6

chicken thighs

(skin-on, bone-in)

2

Tbsp

olive oil

2

tsp

kosher salt

1/2

tsp

black pepper

2

tsp

dried thyme

2

garlic cloves

(pressed)

2

Tbsp

fresh parsley

(finely chopped)
Instructions
Preheat oven to 400F with a cast iron griddle positioned on top rack for at least 20 minutes. If you don't have a griddle, you can use a large cast iron pan.

Add the chicken thighs to a large bowl. Sprinkle the salt, pepper, oil and the seasonings over the chicken thighs. Give the thighs a good toss to ensure that they are evenly covered with the seasoning.

Carefully transfer the chicken thighs onto the pre-heated griddle (or the cast iron pan), skin side down.

Bake the thighs for 10 minutes, then flip them and bake for another 10 minutes or so, until they reach 165F internal. The thighs will be ready to eat at this point.

However, you can make your chicken thighs taste even better by cooking them to 185F. Continue baking for another 10 minutes. The thighs will reach around 185F internal temperature, at which point they will be perfectly juicy, with a crispy skin and fall-off-the-bone tender.

Carefully remove the thighs from the oven, let rest for about 5 minutes, sprinkle with chopped parsley and serve.
Nutrition Facts
Simple Baked Chicken Thighs
Amount Per Serving
Calories 292
Calories from Fat 207
% Daily Value*
Total Fat 23g 35%
Cholesterol 110mg 37%
Sodium 863mg 36%
Potassium 238mg 7%
Total Carbohydrates 1g 0%
Protein 18g 36%
* Percent Daily Values are based on a 2000 calorie diet.
© 2018 i Food Blogger. All rights reserved. All images and content on this website are copyright protected. Please do not use my images, as is or modified, without an explicit permission. If you wish to republish this recipe or post content, please rewrite it in your own unique words and link back to this post, or to ifoodblogger.com. Thank you!