This amazingly delicious shredded carrot salad has been a staple in our family for a long time. This salad is very common in Russia, being referred to as 'Korean carrots'. There are dozens of variations of this salad, but it typically includes one main ingredient, carrots, complemented by various seasonings. Fresh garlic and ground coriander seeds make this salad very fragrant and aromatic.
Many recipes of this salad call for chili powder along with paprika. My preference is to use cayenne pepper instead for some kick. This gave me exactly the flavors and the spiciness I am looking for. If you feel like experimenting, try using 1-2 teaspoons of chili powder in place, or in addition to cayenne pepper if you are looking for spiciness.
Sugar is commonly used to make 'Korean carrots', typically 1 1/2 tablespoons per 1000 grams (or 2.2. lbs). I forgot to add it the first time I made the shredded carrot salad, and it turned out fantastic. The next time I tried a small portion sweetened with sugar and felt it was unnecessary. So, no sugar for me, but you can add it back if you like some sweetness.
It may sound as though 2.2 lbs of carrots is a lot. It's not. Trust me, this shredded carrot salad goes like hotcakes. You will run out quickly. Very quickly. So you better make enough.
Shredding or grating this many carrots by hand is a chore so use a food processor if you have one. It will help tremendously. When shredding carrots make sure you use a grater with fine holes. I use the disk with 1/16 inch (2 mm) holes in my food processor and really like the thickness of the carrots.
The salad can be consumed as soon as you make it, and will taste very good. But let it marinate for at least 6 hours and it will be exceptional.
Enjoy!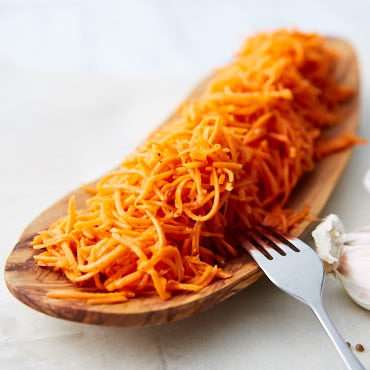 Ingredients
2.2

lbs

1000 g shredded carrots

2

tsp

kosher salt

plus more to taste

1 1/2

Tbsp

sugar

optional. I never add sugar

1

tsp

paprika

I like to use Spanish paprika

1/2

tsp

cayenne pepper

1

tsp

ground coriander seeds

5

cloves

garlic

peeled and pressed

1/2

tsp

freshly ground black pepper

2

Tbsp

white vinegar

plus more to taste. Use apple cider vinegar for a more tart taste

1

large yellow onion

peeled and quatered

1/2

cup

100 g vegetable oil
Instructions
Place shredded carrots into a large mixing bowl. Add salt, sugar (optionally), paprika, cayenne pepper, ground coriander seeds, pressed garlic, black pepper and vinegar. Mix really well and taste. Adjust for salt and vinegar if needed.

Heat oil in a medium size sauce pan over high heat. Carefully add quartered onions and cook until outer parts of the onions get golden brown. Remove from the heat and discard the onions.

Pour the hot oil very slowly over the carrots while mixing the carrots with a wooden spoon with a long handle to avoid burning hands. Ideally, have one person gently pout the oil while the other person is mixing the salad.

Transfer the shredded carrot salad into an air tight container and refrigerate. The salad will be ready in about 6 hours. Will keep refrigerated for up to 2 weeks.
Also see:
Marinated Zucchini with Garlic and Fresh Herbs
Marinated Eggplant and Tomatoes
Pickled Turnips
Pickled Cabbage