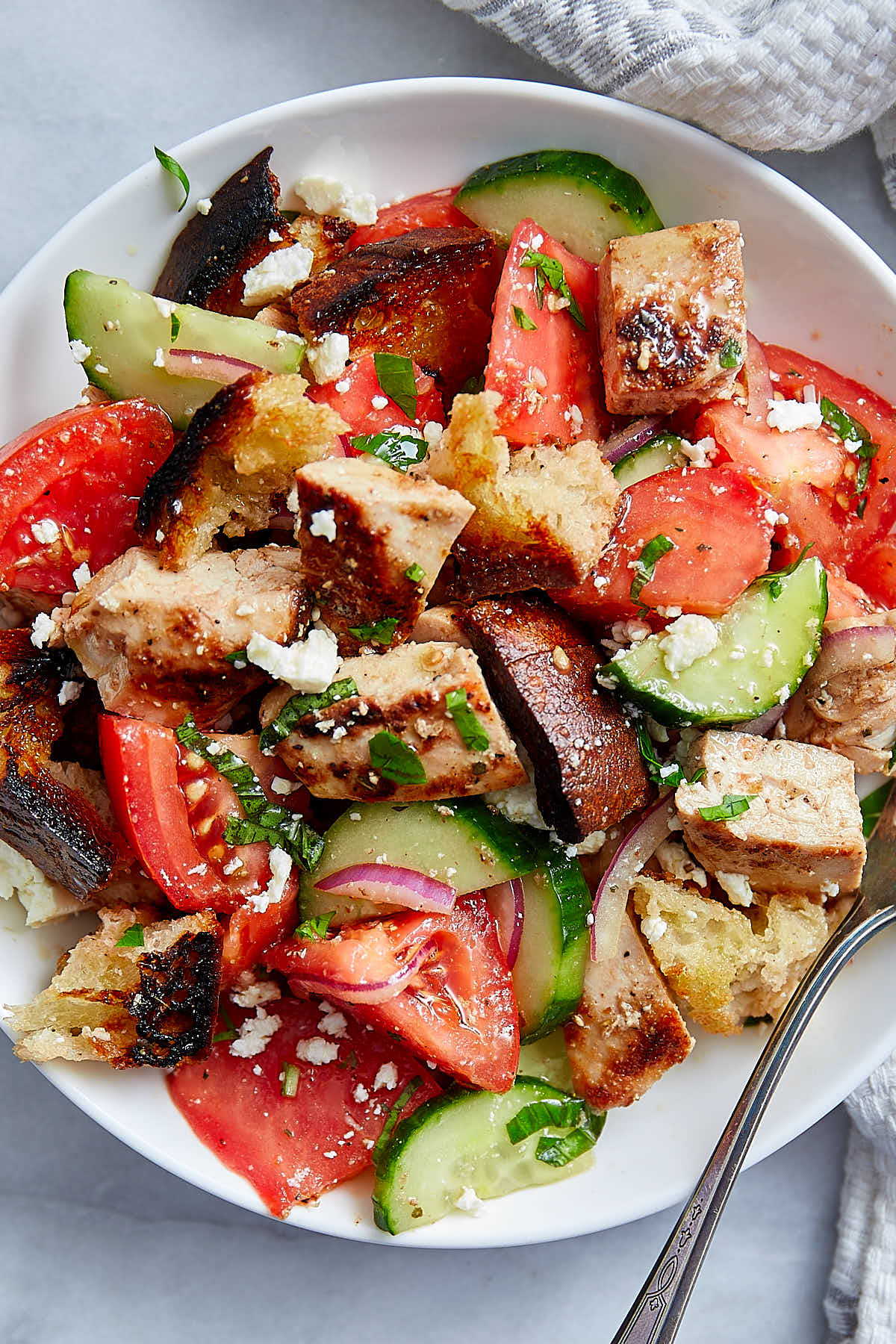 What makes this chicken salad truly special is the delicious pan-fried chicken breast, the salad dressing that is so good that you could just drink it, and the crispy homemade croutons. All three are family favorites, and when combined together, they make one ridiculously good chicken salad. So good in fact that you just can't have enough of it. The salad is also fairly light and you could end up eating quite a bit before you know it. So, be forewarned and think about doubling the recipe.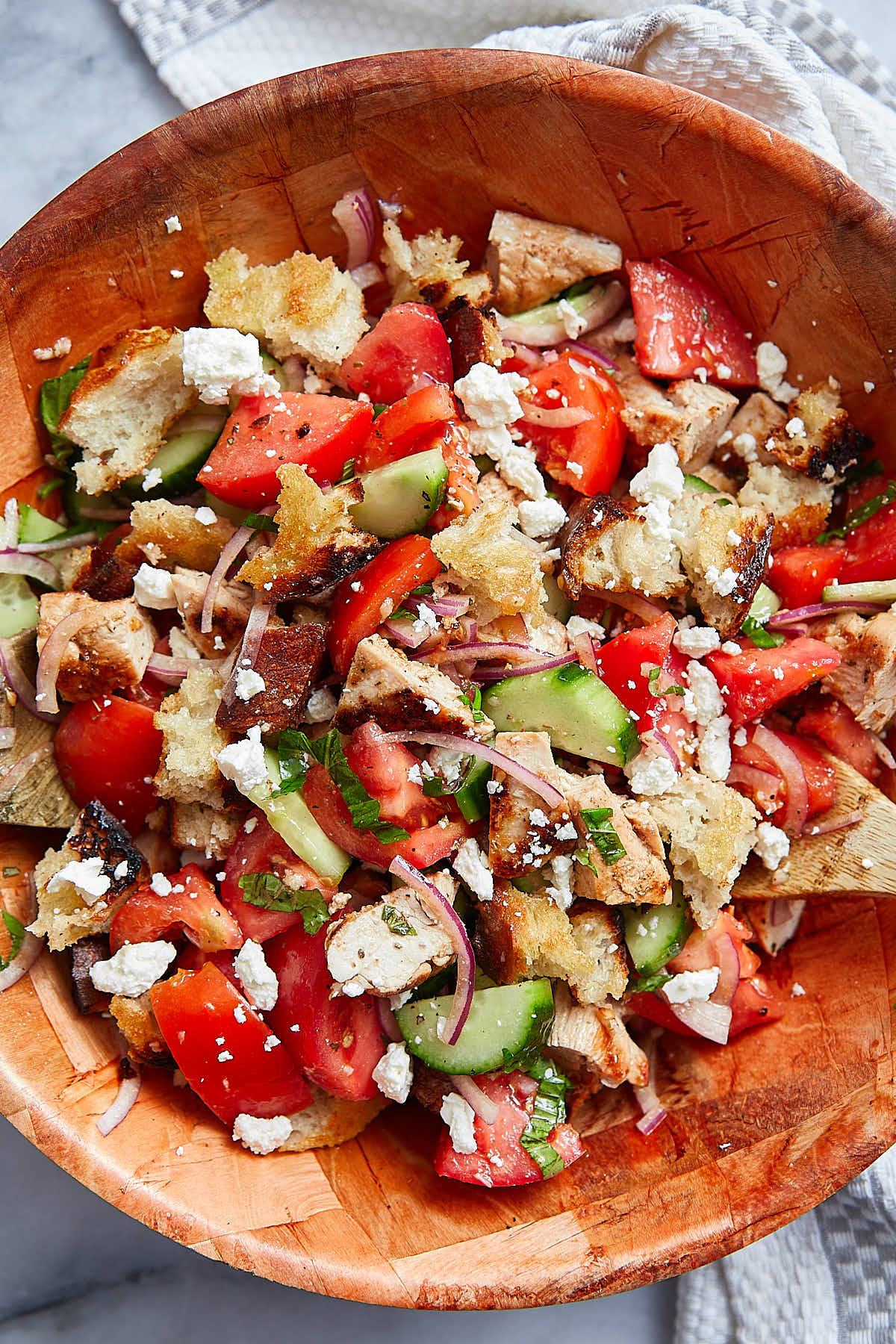 Some tips for making this chicken salad taste best
Make the vegetables and the dressing a few hours ahead, mix and let sit at room temperature to allow flavor to develop.
Prepare the croutons close to serving the salad. Do not mix in until the very last minute, or just simply place on top. If you mix the croutons in too early they will soak up the dressing and become wet and soggy. Use good quality sourdough bread. Great bread makes great croutons.
The chicken salad is best when the chicken is hot and fresh off the pan. Hence, I always cook the chicken right before serving the salad. Again, you can mix it in or just scatter chicken pieces on top.
Fresh feta adds zest and saltiness to the salad. You don't need much, a tablespoon per serving will do.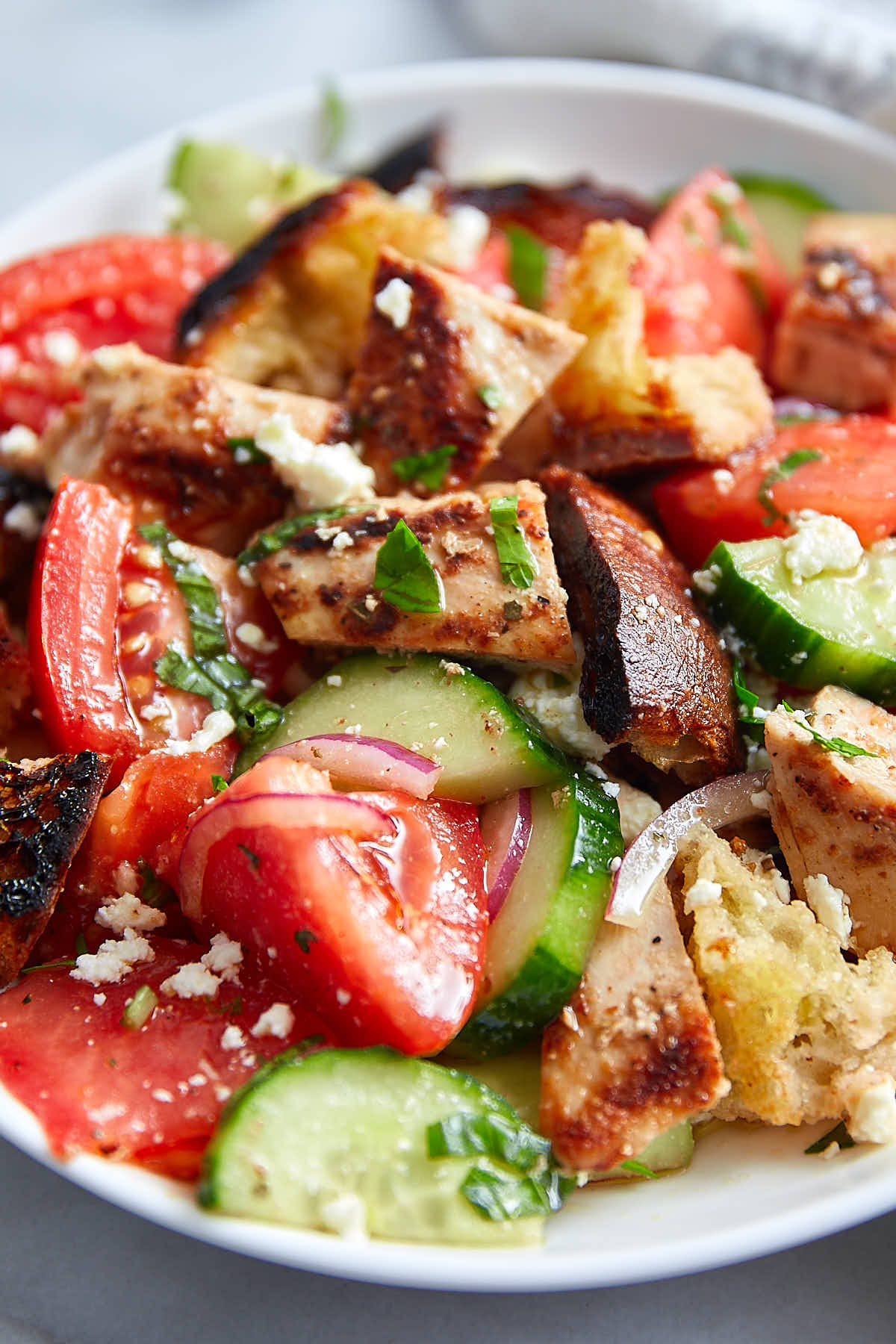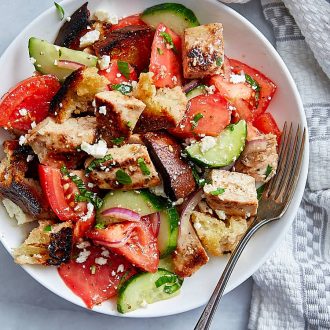 Ingredients
3

chicken breasts

(boneless, skinless)

Salt and pepper

(to taste)

Olive oil

(for pan searing, as needed)

4

Tbsp

Feta cheese

(for garnish)
Croutons:
3

slices

sourdough bread

Olive oil

(or melted butter, as needed)

Garlic powder

(to taste)

Onion powder

(to taste)
Vegetables:
3

large tomatoes

(fresh and fully ripe; tomatoes on the vine are a very good choice)

1

pinch

brown sugar

1/2

English cucumber

(fresh and firm)

1/4

large red onion

2

Tbsp

chopped fresh basil

1

pinch

kosher salt

1

pinch

black pepper
Dressing:
6

Tbsp

extra virgin olive oil

(very good quality)

3

Tbsp

red wine vinegar

freshly ground black pepper

(to taste)

1/2

tsp

kosher salt

1

garlic clove

(pressed)

1/2

tsp

brown sugar

1

tsp

dried oregano
Instructions
To prepare the vegetables for the salad, core the tomatoes, cut into 6-8 wedges, then cut each wedge in half. Place the tomatoes into a large bowl, sprinkle with a pinch of brown sugar, salt, and pepper, and toss really well.

Cut the cucumber in half lengthwise, then slice it into 1/4" thick slices. Add the cucumbers to the tomatoes.

Slice half of the red the onion into very thin slivers crosswise. Then cut the slivers in half, or leave as is, depending on your preference. Add to cucumbers and tomatoes. Add the chopped basil.

To prepare the salad dressing, place all of the dressing ingredients into a small bowl and whisk together vigorously, until well blended.

Pour the dressing over the vegetables and toss gently. Cover and let infuse with flavors at room temperature up to 6 hours. You can serve immediately as well, it will still taste great.

To prepare croutons, brush sourdough bread slices with olive oil or butter on both sides. Place on a foil-lined baking sheet and broil on high until nicely browned, about 3-4 minutes. Then flip and continue broiling for another 3-4 minutes. Broiling should be done about 4-6 inches from the heating element.

Remove from the oven, let cool then break into bite size pieces and set aside.

Finally, to prepare the chicken, place chicken breasts shiny side down on a cutting board. Using a sharp knife, score the flesh top - down and left - right at about 1/2" intervals, cutting almost all the way down but not cutting all the way through. This will allow the breast to cook quite a bit faster. Rub the breasts with a little bit of olive oil and season with salt, pepper, garlic and onion powder. Cover with a piece of plastic and pound slightly with cast iron pan to make uniformly thick.

Heat a large skillet with a little bit of oil (about 2 tablespoons) over medium-high heat, add the chicken breasts, uncut side down. Cover, leaving a small crack open, and cook for 3 minutes. Flip and cook for another 3 minutes. Check the chicken for doneness. It should be done by now, let it cook for another minute and check for doneness again. Transfer to a cutting board and carefully cut into bite size pieces.

To assemble the salad, portion the salad into individual bowls, sprinkle chicken and croutons on top, garnish with feta cheese and serve. Alternatively, you can mix the ingredients together, except feta, then garnish with feta and serve. To keep croutons crispy, don't mix them into the salad.