To make a long story short, if you love chocolate, you must try these cookies. If you love chocolate fudge, brownies, or ganache – you must try these cookies. They are superb. The inside is soft, chocolaty and chewy, and has texture resembling that of chocolate ganache. These cookies are decadent. Definitely, the best chocolate cookie recipe I've ever tried.
I am a big fan of Chad Robertson's, and I was thrilled to recently get another book of his that I had not yet had in my cookbook collection. The book is called Tartine Book No. 3: Modern Ancient Classic Whole. It focuses on whole grains and is full of great information on whole grains and recipes that use them. As is the case with Chad's other books, I found it refreshing and was tempted to try just about every recipe in the book. I will, eventually. I started off with the Salted Chocolate Rye cookies – the recipe calls for my favorite Valrhona chocolate and uses rye flour, something I'd never used in cookies but love using in breads and baguettes.
As I mentioned above, this recipe recommends using Valrhona chocolate, which is more expensive than the kind from a grocery store, but fine chocolate is what makes these cookies amazing. I am using the same 70% Valrhona chocolate that I use in my Chocolate Baguette Recipe.
It's not just the taste, the aroma of fine chocolate alone is mind boggling. As you bite into one of these cookies the whole room gets filled with strong yet very pleasing and irresistible cocoa aroma. I brought some of these to work, someone said they were better than sex. Quite a compliment, don't you think?
A few notes on the recipe. Chad recommends chilling the dough for about 30 minutes, until just firm to touch, and that the longer you refrigerate it the harder it will be to scoop. True. However, after making a couple of batches of these, my preference is to have the dough harder to scoop. Here is why. Softer dough that is easy to scoop spread out in the oven more than I cared for, resulting in thinner and less moist cookies. Sure, if cooked slightly less, they wont' come out dry. I tried that, it was better, but I still liked them more when thicker. The harder dough, that I shaped into balls by hand, did not spread out as much and gave me the thickness that I was happy with.
The recipe calls for a few flakes of good quality salt on top of each cookie. I searched a few stores before I was able to find Maldon salt, but I am very happy I did. It truly makes a difference in taste. For my first batch I used a few flakes, as per the instructions, and felt that it was not enough. Then again, how many is few? I put a few more the next time, as shown on the picture above, that gave me a very good balance between sweet and salty taste.
This recipe also used something new to me – Mascovado sugar. I was surprised I did not know about it before. I was able to find it in the local health food store.
It looks like regular brown sugar, but it is quite different. It tastes like toffee candy to me. Quite amazing. I would not substitute it for regular brown sugar.
Enjoy!
This recipe is adapted from Chad Robertson's Tartine Book No. 3: Modern Ancient Classic Whole book.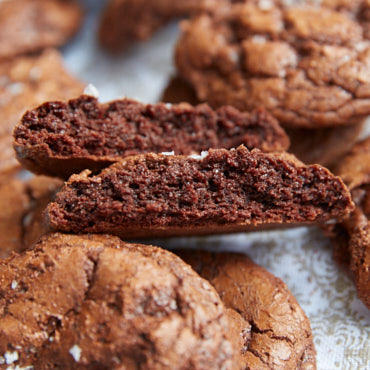 Ingredients
2⅔

cups

1 pound coarsely chopped bittersweet chocolate (70%), preferably Valrhona

4

tablespoons

unsalted butter

¾

cup

whole-grain dark rye flour

1

teaspoon

baking powder

½

teaspoon

fine salt

4

large eggs

at room temperature

1½

cups

muscovado sugar

1

tablespoon

vanilla extract

Good quality sea salt

such as Maldon or flaky fleur de sel, for topping
Instructions
Place a saucepan filled with 1 inch of water over medium heat and bring to a simmer. Set a heatproof bowl over the simmering water, taking care that the bottom of the bowl is not touching the water, and melt the chocolate and butter together, stirring occasionally. Once melted remove from the heat and let cool slightly.

In a small bowl, whisk together the rye flour, baking powder, and salt and set aside.

Place the eggs in the bowl of a stand mixer fitted with a whisk attachment. Whip on medium-high speed, adding the sugar a little bit at a time, until all the sugar is incorporated. Turn the mixer to high and whip until the eggs have nearly tripled in volume, about 6 minutes.

Reduce the mixer speed to low and add the melted chocolate-butter mixture and the vanilla. Mix to combine, scraping down the sides of the bowl as needed, then add in the flour mixture just until combined. At this point the dough will be very soft and loose, which is normal; it will firm up as it chills.

Refrigerate dough until it just firm to the touch, about 30 minutes. (The longer you chill the dough the harder it is to scoop.)

Preheat the oven to 350 degrees. Line two baking sheets with parchment paper. Remove the dough from the fridge and scoop with a rounded tablespoon onto the baking sheets, shaping the balls of dough into rounds and spacing them 2 inches apart. Top each mound of dough with a few flakes of sea salt, pressing gently so it adheres.

Bake for 8 to 10 minutes, until the cookies have completely puffed up and have a smooth bottom and rounded top. Remove the baking sheets from the oven and let cool slightly (the cookies may flatten a bit), then transfer to a wire rack and let cool completely. The cookies will keep up to 3 days in an airtight container.
Notes
For a gluten-free version, substitute dark rye flour and baking powder for 1 cup of almond flour and 1 teaspoon baking soda and 1/2 teaspoon cream of tartar.
You may also like:
Thick, Soft & Chewy Oatmeal Raisin Cookies