One of my recent food discoveries was chicken piccata. Despite not thinking much of it prior to making, it turned out to be one of the greatest dishes I had ever tried. Guess what, salmon piccata topped it. Imagine all the same wonderful flavors, only the creamy-tender, perfectly cooked salmon totally pushed the chicken breast aside. I wouldn't be lying if I said that I had never enjoyed salmon as much before.
What's really special about this salmon piccata is the buttery-soft texture of the fish. It's so tender, so soft that you immediately fall in love with it. Searing fish in butter and oil helps achieve that kind of texture. But so does the temperature to which you cook your salmon. I seared on one side for about 2 minutes, until the internal temperature reached about 115F-120F, then flipped and seared for another minute. By the time I finished searing, the internal temperature was about 145F, the perfect temperature for salmon, and the fish had a nice sear on it.
Since my salmon was already perfectly cooked during searing, I let it rest until the very end and added it back to the sauce about a minute before taking off the heat. During the rest the internal temperature of the salmon dropped, and one minute of cooking in lemon sauce only brought the temperature back up close to the original level. This way I ensured that my salmon would not get overcooked.
The sauce in chicken piccata turned out to be slightly problematic: there wasn't enough of it and it was a little too thin to my liking. This recipe fixes both problems. I doubled the amount of sauce, which turned out to be just enough. I also thickened the sauce with the flour left over from dredging. There you have it, a win-win situation. Nothing goes to waste.
I liked the thicker, velvety-smooth sauce a lot. It really complemented the butter-soft texture of the salmon. From now on I will be thickening my piccata sauce in every recipe.
Salmon and dill are a match made in heaven, be it baked salmon or gravlax. Of course, you can use any greens to garnish your salmon piccata, but trust me, nothing beats dill here.
Enjoy!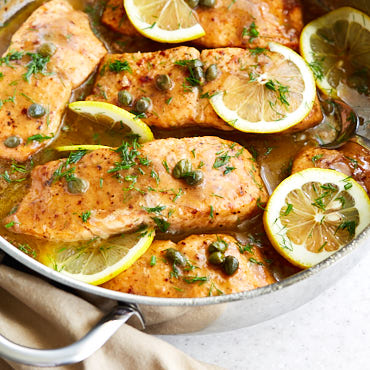 Salmon Piccata with Velvety Sauce
Ingredients
6

salmon fillet pieces

2 to 2 1/2-inch wide

Sea or kosher salt and freshly ground black pepper to taste

About 1/4 cup all-purpose flour

for dredging and making roux

6

Tbsp

unsalted butter

5

Tbsp

extra-virgin olive oil

2/3

cup

freshly squeezed lemon juice

1

cup

chicken stock

1/4

cup

brined capers

rinsed

1/3

cup

fresh dill

finely chopped

1/2

lemon

thinly sliced
Instructions
Season the salmon pieces with salt and pepper. Dredge in flour, shake off excess and set aside. Reserve the flour for making roux.

Preheat a large skillet or a saute pan over medium high heat. Melt 4 tablespoons of butter and 5 tablespoons of olive oil. When butter and oil start to sizzle, add the salmon pieces, skin side up, and saute for 2 minutes. Flip the salmon pieces and continue sauteing for another minute or so, until the salmon is cooked through (internal temperature is 145F). Take the pan off the heat, remove the salmon and set aside.

Return the pan to the heat and add the remaining 2 tablespoons of butter. When the butter and oil begin to sizzle, add two heaping tablespoons of reserved flour and stir well. Cook for about a minute, until the flour turns deep golden brown. Carefully pour the lemon juice and the chicken stock into the pan. Add the capers and bring to boil, scraping up brown bits from the pan for extra flavor. Taste and adjust the seasoning, if needed.

Continue simmering the mixture over low heat for about 3-4 minutes, until it thickens to your liking. Add the salmon pieces, skin side down, pour some sauce over the fish and continue simmering for another minute. Take the pan off heat, remove the salmon and set aside. Whisk the sauce and pour over the salmon pieces.

Serve immediately with pasta or steamed vegetables. Garnish the salmon with 2-3 tablespoons of sauce, lemon slices and fresh dill.
© 2018 i Food Blogger. All rights reserved. All images and content on this website are copyright protected. Please do not use my images, as is or modified, without an explicit permission. If you wish to republish this recipe or post content, please rewrite it in your own unique words and link back to this post, or to ifoodblogger.com. Thank you!