I love it when I can quickly throw things together, put them on the stove, or in the oven, come back in half an hour and a delicious dinner is ready. It rarely works that way, often you have to put in some effort and often cooking is not as quick as you want it to be, but there are recipes that pleasantly surprise. One of them is my favorite vadouvan spiced oven baked chicken wings with roasted potatoes.
I started using vadouvan a few years ago. Before then, frankly, I had no idea it existed. I was watching Top Chef one day, when one of the contestants decided to use vadouvan in one of her dishes. What the heck is vadouvan I thought to myself? Turns out it is a ready-to-use blend of spices that is a French version of an Indian curry blend with added aromatics such as shallots and garlic. This spice blend gets its origin from French colonial influence in the Puducherry region of India.
I can't say I am a huge fan of curry, but vadouvan is something else. I like it a lot. Actually, I love it! So does my family. Every time I plan on roasting a chicken or chicken wings and give my kids a choice of spices, they scream 'vadouvan!' It's savory, in a pleasantly subtle way, and enhances food flavor rather than overpowering it. It also has sweet and a tad smoky flavor as a result of toasting of spices before blending. Vadouvan can be added to  just about any dish, really.
Anyway, back to the oven baked chicken wings and potatoes. It's one of those easy and quick to make recipes that ends up delicious too. Just mix the wings, then the potatoes with oil and spices, throw on the baking sheet, and thirty minutes later you have a wonderful and delicious dinner.
Just need to remember to pick up some chicken wings and potatoes on the way back home. I use my own favorite spice mix for this recipe that my family and friends enjoy. I hope you like it too.
Enjoy!
Note:  Finding vadouvan at common grocery stores can be a challenge, but Amazon carries it regularly. I bought mine from Wholespice on Amazon. The spice came in plain looking plastic packaging, not in a fancy tin box that you may see other sellers selling them in, but value-wise I found this to be the best option. Well, I am going to come totally clean on this one: the first time I ever bought vadouvan I did fall for the small fancy tin box, thinking it was better because the packaging looked so elegant and gourmet. But in the end, both were the same quality and taste, only one cost twice as much per ounce as the other.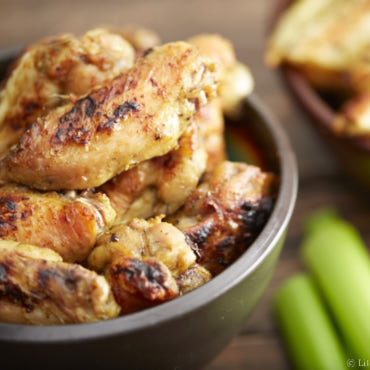 Roasted Vadouvan Chicken Wings
Ingredients
2

lbs

chicken wings

preferably free range or organic

1 1/2

Tbsp

vadouvan

1

tsp

freshly ground black pepper

1

Tbsp

brown sugar

2

tsp

kosher salt

2

Tbsp

vegetable oil

Roasted Potatoes

4

large

or 6 medium potatoes

1

Tbsp

vegetable oil

1

Tbsp

grated parmesan or pecorino cheese

1

tsp

kosher salt

1

Tbsp

dry basil
Instructions
Preheat oven to 450F

In a large bowl, mix chicken wings, vegetable oil, sugar and spices until the chicken wings are well coated. Set aside

Cut potatoes into wedges. Place in a large bowl and mix with vegetable oil, grated cheese and spices until the potatoes are well coated

Line a large baking sheet with parchment paper. Lay chicken wings and potato wedges on the baking sheet making sure no pieces are on top another

Bake at 450F on top rack for 30 minutes. If your chicken wings a potatoes are not well browned by the end of baking, turn on the broil mode and broil on high for another 2-3 minutes until nicely browned