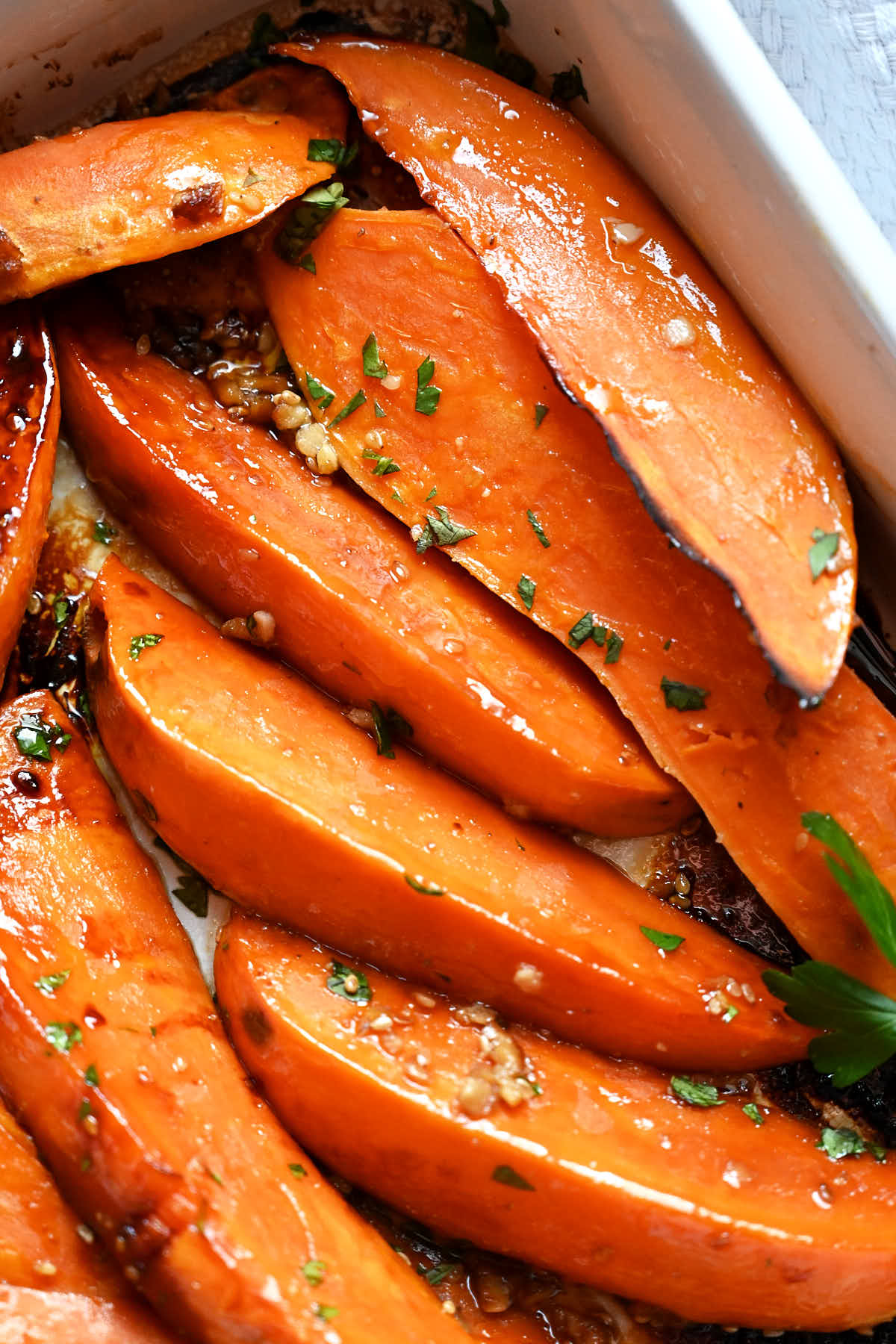 Oven roasted sweet potatoes, coated in a delicious sesame-soy-maple syrup mixture, then roasted until fork tender and slightly caramelized. This easy to make roasted sweet potato side dish packs a lot of flavor and is as nutritious as it is tasty.  These sweet potatoes will make any dinner look bright and festive and they can be served with just about anything.
One of the tastiest and easiest side dishes for me is roasted vegetables. They are great both hot from the oven and reheated the next day. Roasted sweet potatoes are especially great in that they can be roasted on their own and you won't miss anything. They pack so much flavor, they are colorful, they are tasty and they are filling on their own.
How to bake sweet potatoes?
Of all cooking methods for sweet potatoes, baking or roasting is the easiest for me. I am using baking and roasting interchangeably in this recipe. It literally involves four easy steps.
Peel the potatoes and cut into pieces or wedges
Prepare the dressing
Toss the potatoes and the dressing in a big bowl
Bake, then serve and enjoy
The seasonings used in this recipe
In this recipe I paired sweet potatoes with sesame oil, sesame seeds and soy sauce. Sesame oil and soy sauce go with sweet potatoes exceptionally well and help balance out and enhance their flavor. I also added a touch of maple syrup for more flavor and some garlic for a savory note. This combination works so well that it made sweet potatoes a staple in our house.
Tips for making the best tasting baked sweet potatoes
Cut the potatoes into similar size pieces or wedges to ensure even cooking.
Always coat sweet potato pieces in a dressing before roasting. This will ensure even flavoring for each bite. The dressing will also protect the potato surface from drying out.
Use a large enough baking dish/sheet to able to spread out the potatoes in a single layer. The will cook faster and more evenly that way.
Always flip the potatoes at least once during baking. This will ensure even cooking.
If you baking dish is too small and you have to layer the potato wedges – no problem. Just remember to flip the wedges and move them around 2-3 times during baking.
Brush the potatoes with the pan sauce when flipping and before serving. This will make ensure even coating of the delicious dressing and the potatoes will look their best when you put them on the table.
Garnish your sweet potatoes. A tiny bit of finely chopped herbs will go a long way at adding some color to the dish and additional flavor. Parsley, rosemary or cilantro pair up with sweet potatoes the best, but feel free to use whatever herbs you personally like. That's what matters the most.
How long to bake sweet potatoes?
Baking time depends on several factors: your oven (remember, everyone's oven bakes differently), oven temperature, size and thickness of the sweet potato wedges. When baking sweet potatoes of regular size, cut into 8 wedges, it takes about 35-45 minutes for the potatoes to reach fork tenderness. This is when baked at 425F. I often roast my vegetables at 450F, which gives me beautiful browning. Since this recipe has some maple syrup in it, high heat roasting will result in burning so I dropped the temperate to 425F.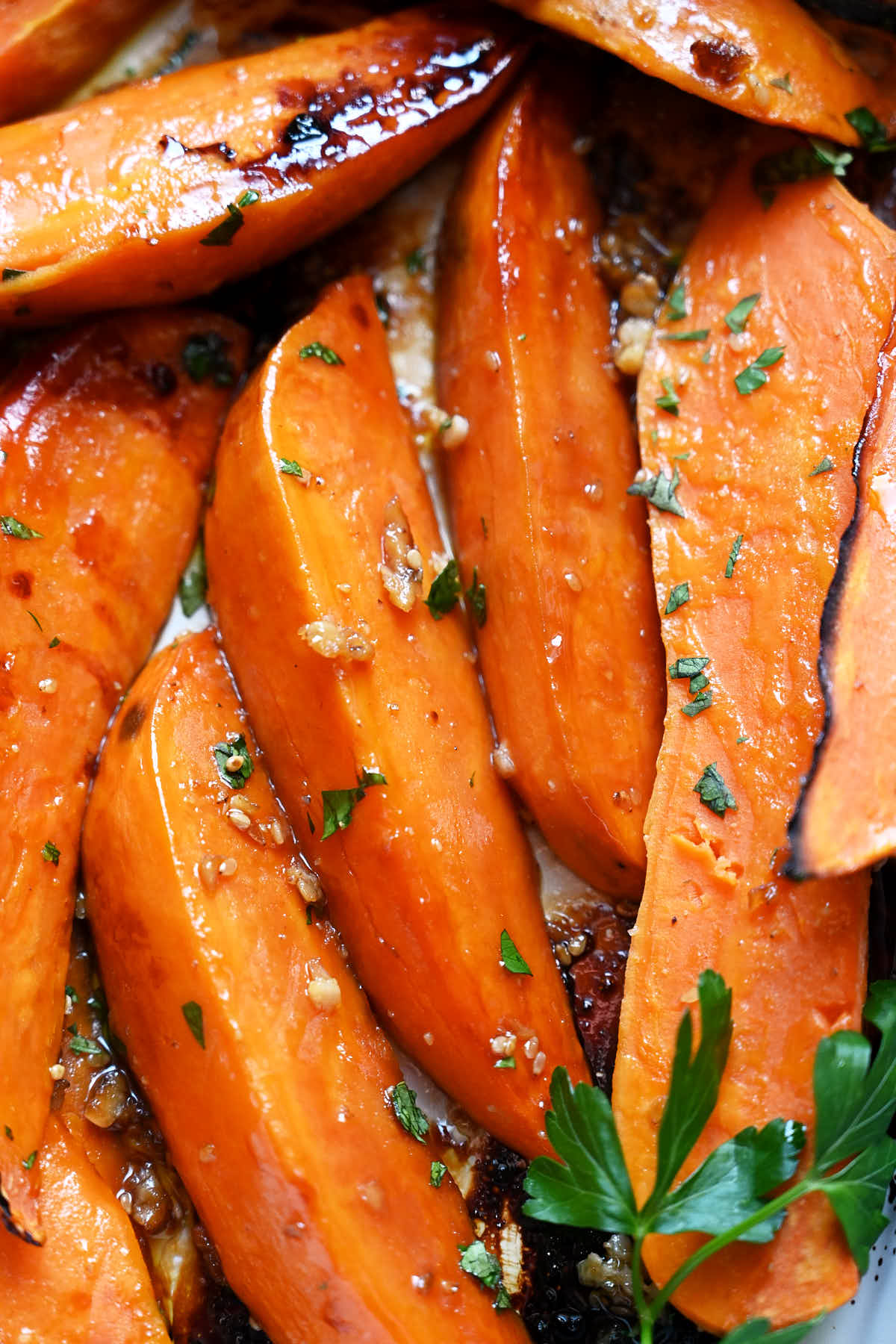 Sweet potato health benefits
If you are not eating enough of these delicious root vegetables, you should start now. Sweet potatoes have many health benefits. They are loaded with antioxidants and vitamins. They even help regulate blood pressure and promote weight loss.
What to serve with sweet potatoes?
Try these amazing chicken recipes: baked marinated chicken thighs, air fried chicken breasts, or these delicious baked BBQ chicken thighs. You may also try pairing sweet potatoes with the Instant Pot pork chops, or baked pork chops.
For a very quick main dish, try my favorite 10 minute pan-fried chicken breasts, or the 10 minute pan-fried pork chops.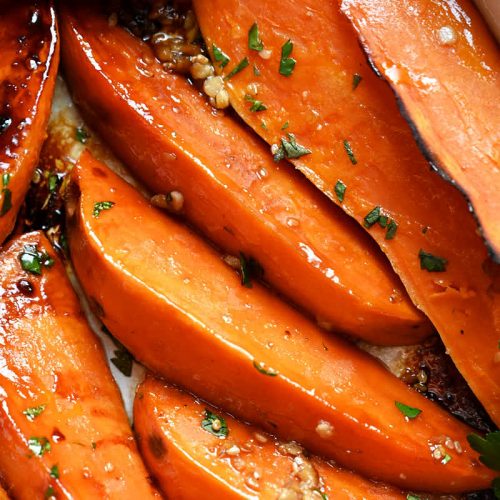 Ingredients
2

sweet potatoes

(peeled and cut into 8 wedges each)

1

Tbsp

sesame oil

1

Tbsp

olive oil

1

tsp

sesame seeds

2

cloves

garlic

(pressed)

2

Tbsp

low sodium soy sauce

2

Tbsp

lime juice

2

Tbsp

maple syrup

(or honey)

1/4

tsp

kosher salt

(plus more to taste after roasting)

1/4

tsp

pepper

(white or black, plus more to taste after roasting)

1

Tbsp

chopped fresh parsley
Instructions
Preheat the oven to 425°F.

Combine all of the ingredients except sweet potatoes in a small bowl.

Drop the sweet potato wedges into a large bowl, pour the sauce over the potatoes and toss, ensuring even coverage.

Transfer the seasoned sweet potato wedges into a baking dish or a sheet.

Roast for 20 minutes, flip the potatoes and continue cooking for another 20-25 minutes, flipping once more in between, or until the potatoes are fork tender.

Remove the sweet potatoes from the oven and season with a little extra salt and pepper to taste. Sprinkle over with parsley and serve immediately!
Nutrition
Calories:
156
kcal
|
Carbohydrates:
21
g
|
Protein:
1
g
|
Fat:
7
g
|
Saturated Fat:
1
g
|
Cholesterol:
0
mg
|
Sodium:
449
mg
|
Potassium:
255
mg
|
Fiber:
2
g
|
Sugar:
8
g
|
Vitamin A:
186
%
|
Vitamin C:
6.7
%
|
Calcium:
3.8
%
|
Iron:
3.8
%