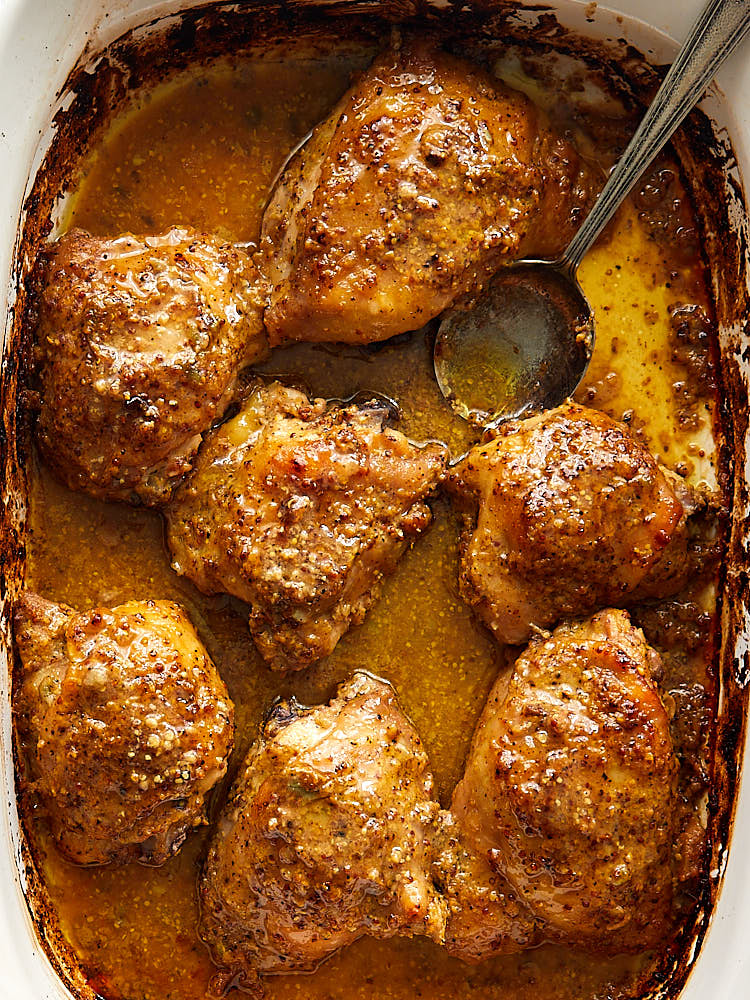 This easy sweet, tart and savory honey mustard chicken is made fast and simple, with the most amazing 5-ingredient honey mustard sauce that is so good you'll want to use it on everything! Yes, you can put this honey mustard sauce on chicken, meats, potato salads and whatever else you can imagine. It's that good and versatile! I usually make two portions of the sauce in this recipe because:
1 – everyone comes up and sneaks a tablespoon or two, just to 'try', because it's so tasty that you can eat on its own, and
2 – people love to put it on bread, salads, potatoes, pasta and many more.
But even one portion of the sauce will give you enough to drizzle over the chicken and a side dish.
With a recipe that can be used with both chicken thighs, chicken legs and chicken breasts, you're literally minutes away from the tastiest and most addictive Honey Mustard Chicken dinner that your whole family will love! This chicken is the perfect meal to have when you feel like eating something sweet and sour, with a touch of savory. It doesn't get any better!
Easy honey mustard chicken
This super-simple recipe makes a fall-off-the-bone tender chicken with a delicious pan sauce. The honey mustard sauce has so much going for it – it's sweet and slightly tart, it's savory with just a hint of spiciness. It's a real pleasure to eat this chicken, and it reminds me of my super popular killer chicken thighs. The flavor profile in this recipe is different, of course, but the complexity of flavors and the amazing taste is on par. It's hard to pick one recipe over the other as they both are equally outstanding.
I like baking chicken on the top rack for better browning and crisping up of the skin. If that doesn't produce the desired results, I turn on the broiler on high for 2-3 minutes which usually fixes the problem. Basting the chicken with own juices during baking will also help with browning and keeping the tops moist. You only need to do it once about 20 minutes into baking.
The best part about this honey mustard chicken recipe is that it requires only a few basic ingredients commonly found in practically every kitchen. Honey? Red wine vinegar? Mustard? Olive oil and garlic? Salt and pepper? Every kitchen has those basic cooking necessities. You are all set to make the most delicious chicken dinner.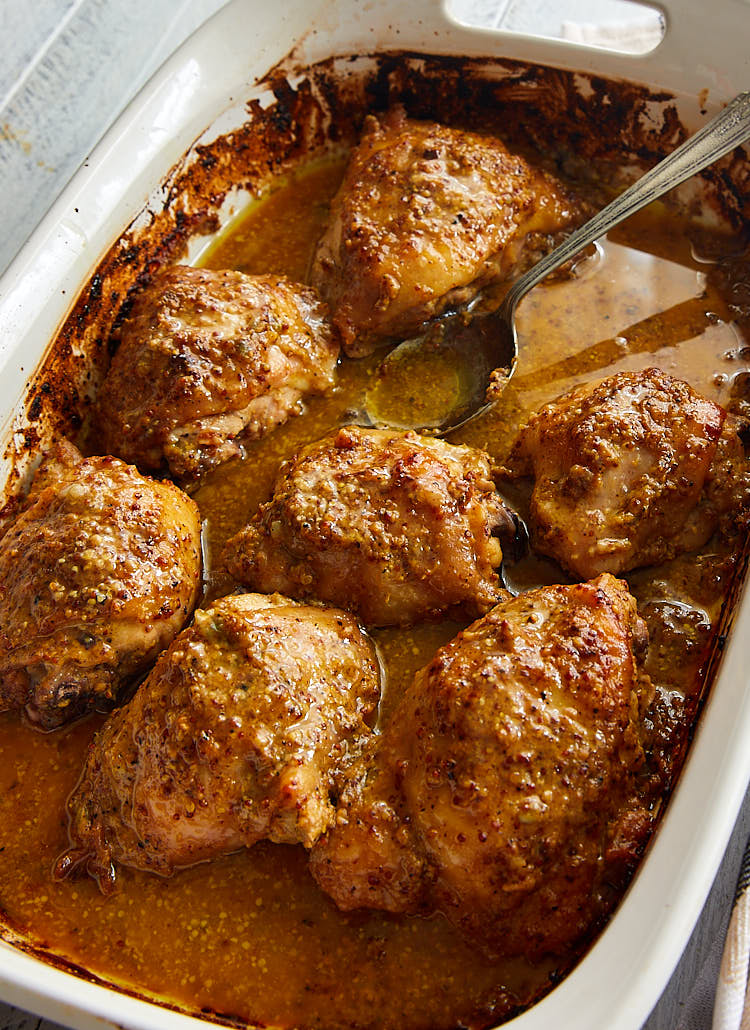 Chicken thighs, legs or breasts?
Chicken thighs and legs are perfect for this recipe – dark meat handles heat much better and is practically impossible to mess up. Dark meat is also juicier and more flavorful. I recommend roasting chicken legs and thighs to 185F internal temperature for that desirable fall-off-the-bone texture and ultimate tenderness.
That said, chicken breasts are incredibly good in this recipe as well. One thing to remember is to cook them at a lower temperature and pull them out as soon as the internal temperature reaches 160F. If you do that, you will get tender and juicy meat, that, coupled with the delicious honey mustard sauce, is like heaven in your mouth.
A common dilemma is whether to use skin-on, bone-in or skinless, boneless chicken in this recipe. I've tried both and both worked really well. However, if you have no preference, go with bone-in, skin-on chicken. Skin adds extra flavor to the chicken, while both skin and bones protect chicken meat from drying out and help keeping it moist during cooking.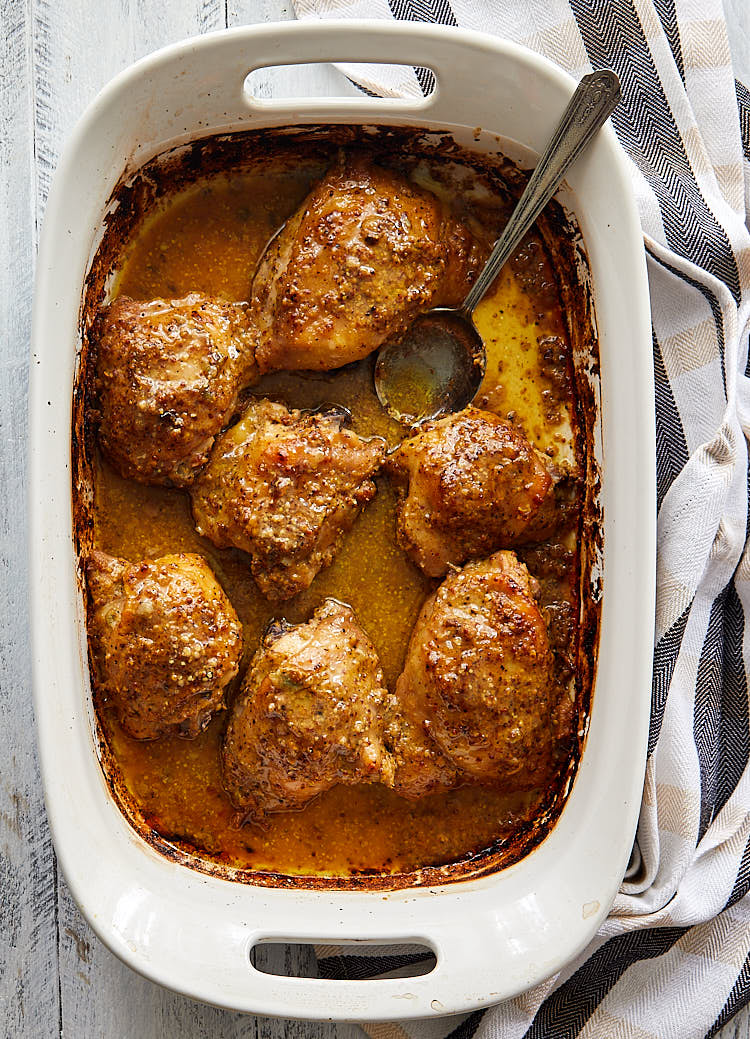 Enjoy!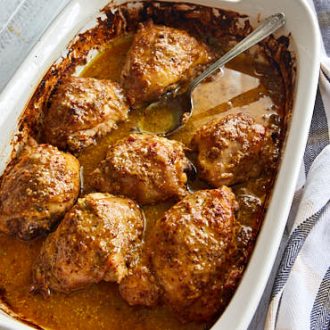 Roasted Honey Mustard Chicken
Ingredients
6

skin-on, bone-in chicken thighs (see notes)

1

tsp

kosher salt

1/2

tsp

black pepper
For the sauce:
5

Tbsp

spicy brown mustard

3

Tbsp

honey

6

Tbsp

red wine vinegar

6

Tbsp

olive oil

2

garlic cloves

(pressed)
Instructions
Add the mustard, honey, red wine vinegar, olive oil and pressed garlic to a small bowl. Whisk until all the ingredients are well combined. Set aside.

Rub chicken thighs with salt and pepper and place into a large bowl. Pour the sauce all of the chicken and toss to ensure even coverage.

Transfer the chicken and all of the sauce into a baking dish, placing the chicken pieces skin side up.

Bake uncovered at 450F for 30 minutes, or until the internal temperature reaches 185F.

To make sure the chicken tops are nicely browned and do not dry out, baste the chicken thighs in the juices and marinade about 15-20 minutes into baking. For better browning, turn on the broiler on high for 2-3 minutes just before the chicken is done cooking.

Remove the chicken from the oven and transfer to a serving platter. Let rest for 5 minutes and serve with pan juices poured over the chicken (and the side dish if desired).
Recipe Notes
1 - for chicken drumsticks, the same amounts of ingredients and cooking instructions apply.
2 - if using whole chicken legs, substitute chicken thighs for 3-4 chicken legs and follow the same instructions.
3 - if using skin-on, bone-in chicken breasts, substitute chicken thighs for 3-4 chicken breasts.  Bake at 375F for 35-40 minutes or until the chicken breasts have reached 160F internal temperature. Remove from the baking dish and let rest 5 minutes prior to serving.
4 - if using skinless chicken thighs, follow the same instructions but reduce baking time to about 20-25 minutes, depending on the size of the thighs.
5 - if using skinless, boneless chicken breasts, use 4 chicken breasts and bake at 325F-350F for about 45-60 minutes, or until the internal temperature reaches 160F, basting chicken breasts with pan sauce once or twice during baking.
Nutrition Facts
Roasted Honey Mustard Chicken
Amount Per Serving
Calories 416
Calories from Fat 297
% Daily Value*
Total Fat 33g 51%
Cholesterol 110mg 37%
Sodium 618mg 26%
Potassium 248mg 7%
Total Carbohydrates 10g 3%
Protein 19g 38%
* Percent Daily Values are based on a 2000 calorie diet.
© 2018 i Food Blogger. All rights reserved. All images and content on this website are copyright protected. Please do not use my images, as is or modified, without an explicit permission. If you wish to republish this recipe or post content, please rewrite it in your own unique words and link back to this post, or to ifoodblogger.com. Thank you!