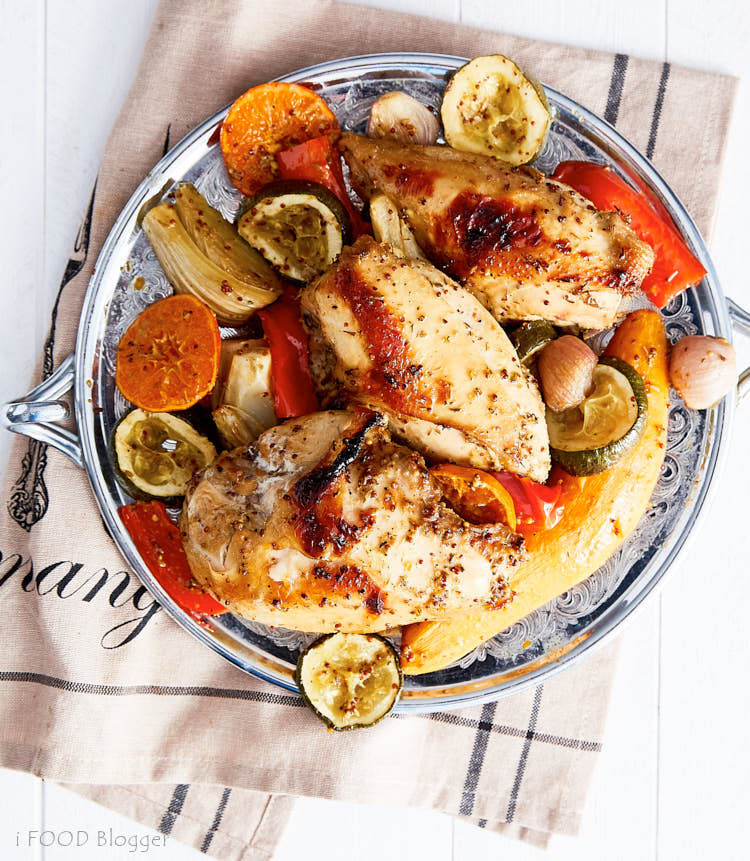 This roasted chicken breast and vegetables dish is an adaptation of Yotam Ottolenghi's oven roasted chicken with clementines and arak. It's 'citrusy' and intensely flavored. In a very good way. All the intense flavors from clementines, lemons, mustard, fennel, and brown sugar somehow work together really well, creating a slightly sweet, comforting dish that I became very fond of.
Ingredients
4

skin-on bone-in chicken breasts

1

medium fennel bulb cut into 8 wedges

4

clementines unpeeled

cut horizontally into 3/8-inch slices

2

medium size sweet potatoes peeled and cut in half lengthwise

1

zucchini cut into 1/2-inch slices

1

red bell pepper cut into bite size pieces

4

shallots cut in half

1

Tbsp

thyme leaves

2½

tsp

fennel seeds lightly crushed
For the marinade:
6½

tbsp

(100 ml) arak ouzo

or Pernod (or substitute with 1/2 cup chicken broth)

4

Tbsp

olive oil

3

Tbsp

freshly squeezed orange or tangerine juice

3

Tbsp

freshly squeezed lemon juice

1

Tbsp

grain mustard

3

Tbsp

light brown sugar

2

tsp

kosher salt

1/2

tsp

freshly ground black pepper
Instructions
Combine the ingredients for the marinade in a large bowl or a Ziploc bag and set aside.

Add the fennel bulb, zucchini, bell pepper and shallots to the marinade, along with the chicken pieces, clementine slices, thyme, and fennel seeds. Rub the marinade all over the chicken and vegetable pieces. Marinate in the fridge for a few hours or overnight. You can skip the marinating step if you are pressed for time. Note: I typically do not marinate sweet potatoes with the chicken as they take a lot of space. They will be added just before baking.

Preheat the oven to 475F. Transfer the chicken and its marinade to a baking sheet large enough to accommodate everything comfortably in a single layer. Place chicken breasts skin side up. Add the sweet potatoes. You can rub the sweet potatoes in marinade before placing them on the baking dish. Put the pan in the oven and roast for 35 to 45 minutes, until the chicken breasts reach internal temperature of 165F. Remove from the oven.

Carefully transfer the chicken, the clementines, and the vegetables to a serving plate. Cover and keep warm.

Pour the liquid from the baking pan into a saucepan. Bring to a boil over medium-high heat and simmer until the sauce is reduced by about one-third and thickened. It should have the consistency of thin gravy.

Pour the thickened sauce over the chicken and serve immediately.
Notes
The original recipe by Yotam Ottolenghi calls for 6½ tbsp / 100 ml arak, ouzo, or Pernod. Those can be challenging to find. I substituted arak with chicken broth and the dish came out great. I also tried this dish with arak and I think both ways result in a very tasty dish. The original recipe calls for 2 fennel bulbs and clementines. This is fine if serving with rice or bulgur, as the author suggests. My version of the recipe makes a one-dish meal by adding other vegetables, such as sweet potatoes, zucchini, sweet peppers and shallots.
Looking for more great baked chicken breast recipes? Check these out: