Ever since I tried roasted Brussels sprouts at Ambar restaurant in Washington D.C. I've been trying to recreate their dish. I was so impressed with their sprouts that I made it a goal for myself to recreate their recipe as closely as possible.
So far, I am close but not quite 100 percent there yet. I know now that Ambar prepares their Brussels spouts on a flat grill or a skillet, which is why they have that gorgeous caramelization. I started off my experiments with roasting the sprouts in the oven, which is a much easier to do and less messy.
My oven roasted Brussels sprouts turned out excellent nevertheless. They had a similar soft texture inside, perhaps just a touch less soft, though barely any caramelization. Here is the Ambar's dish for comparison:
The strands on top of Ambar's Brussels sprouts remain a mystery to me.  Do you recognize them? They are clearly not saffron, but I assumed that the intent was to make an appearance of saffron using some sort of faux saffron strands. I went ahead and added real Spanish saffron.
Not knowing any better, I think I went a little overboard as the saffron flavor was quite intense, but interesting and very nice. Yes, I am using saffron for the first time in my life, go figure. Next time I will limit the amount to about a third – 7-8 strands in total.
The yogurt dip, made the Balkan style, turned out fantastic. It reminded me of Tzatzki, but slightly different and easier to make due to the absence of cucumber pulp in it.  I believe Ambar uses regular, while I went ahead with a healthier, protein-loaded Greek yogurt. It's more tart than regular yogurt so you may want to omit the lemon juice, or decrease it. Personally, I appreciated the extra brightness that the lemon juice added.
Enjoy!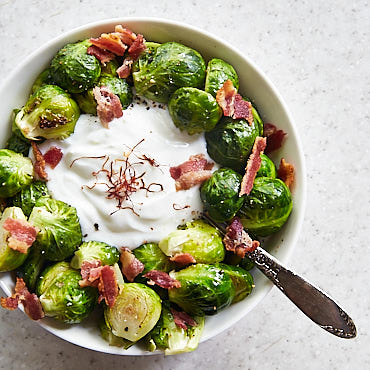 Roasted Brussels Sprouts with Greek Yogurt Dip & Bacon Recipe
Print
Pin
Rate
Ingredients
2

lbs

Brussels sprouts

3

Tbsp

olive oil

4

bacon strips

fried, fat drained and chopped into small pieces

1

tsp

sea or kosher salt

a few

7-8 strands of saffron (optional)

1/2

tsp

black pepper

or a black/red/white pepper medley

For the dip:

1

tsp

minced garlic

1/2

tsp

kosher salt

1

cup

Greek yogurt

full fat recommended

1

Tbsp

fresh lemon juice
Instructions
Preheat oven to 475F.

Rinse the Brussels sprouts, dry with a paper towel and slice in halves. Place the veggies in a large bowl, add the salt, olive oil and pepper, and toss until all pieces are evenly covered.

Place the Brussels sprouts on a parchment paper lined baking sheet cut side down. Roast for 20 minutes or so, until desired softness is achieved.

Meanwhile prepare the yogurt dip. In a small bowl, combine all dip ingredients. For a less tart version, start without the lemon juice then add it, little by little, to taste. If you prefer not to feel garlic pieces in the dip, process the dip with a hand blender. A stand blender can used but you will need to increase the batch. Alternatively, liquefy the garlic in a mortar before mixing it in.

Remove from the oven, arrange on a serving platter, sprinkle with bacon bits, more black pepper and serve with the Greek Yogurt dip. Optionally add a few saffron strands on top of yogurt dip.