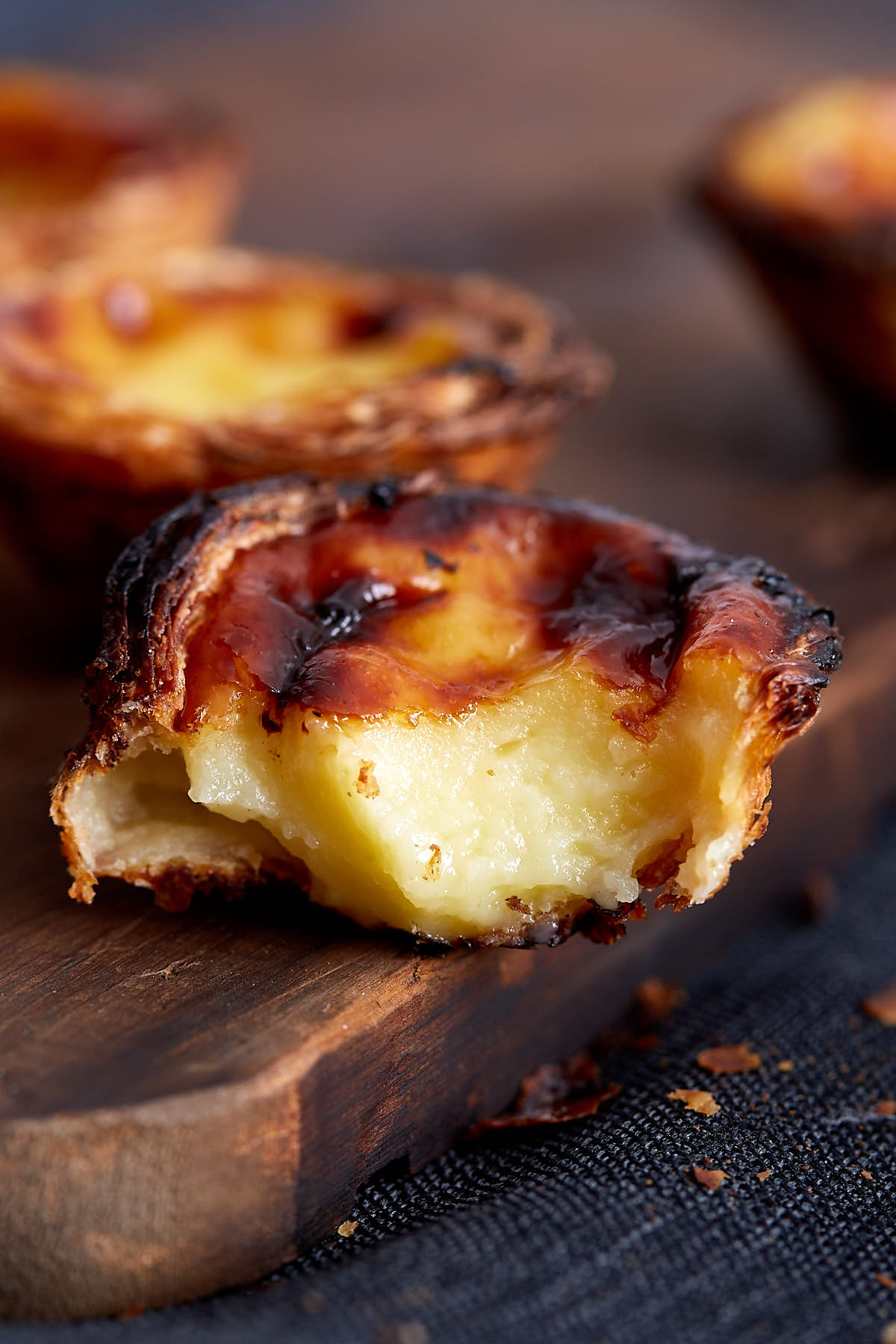 If you've ever tried authentic, traditional Portuguese custard tarts you know they are heavenly and in the league of their own. Making them at home is no more difficult than making croissants or custard based ice cream. If you've ever made those, this recipe should be a piece of cake for you.
The eternal problem is making them crispy and beautifully browned in the home kitchen oven. Almost every recipe I've tried warns you upfront that your tarts may not (read will not) brown as much as on the pictures they attach. Hm… There's got to be a way. After many trials I can say yes, you can get them to brown and look like real authentic Portuguese custard tarts.
The solution, as was the case with making French caneles that I described in my Perfecting Canele Recipe and Technique post, was high heat plus a quick modification to the oven (no worries, you don't need to take your cooker apart).
This recipe for the Portuguese custard tarts comes from David Leite's of Leite's Culinaria who sourced it from Antiga Confeitaria de Belém in Lisbon, Portugal. While there are many other good recipes for Portuguese custard tarts out there, I chose this one based on predominantly positive feedback.
As usual, I made a few adjustments to suite my taste. I made powdered sugar and cinnamon optional as I think the pastry is sweet enough on its own. Not using cinnamon is a personal choice. Add it back if you like it. I also chose to use a regular size muffin pan (cups about 2.5″ by 1.5″) instead of a mini muffin pan. This makes it a bit easier to finish the recipe as you only have to make two batches instead of three. Larger size custard tarts also require longer baking time which helps with browning.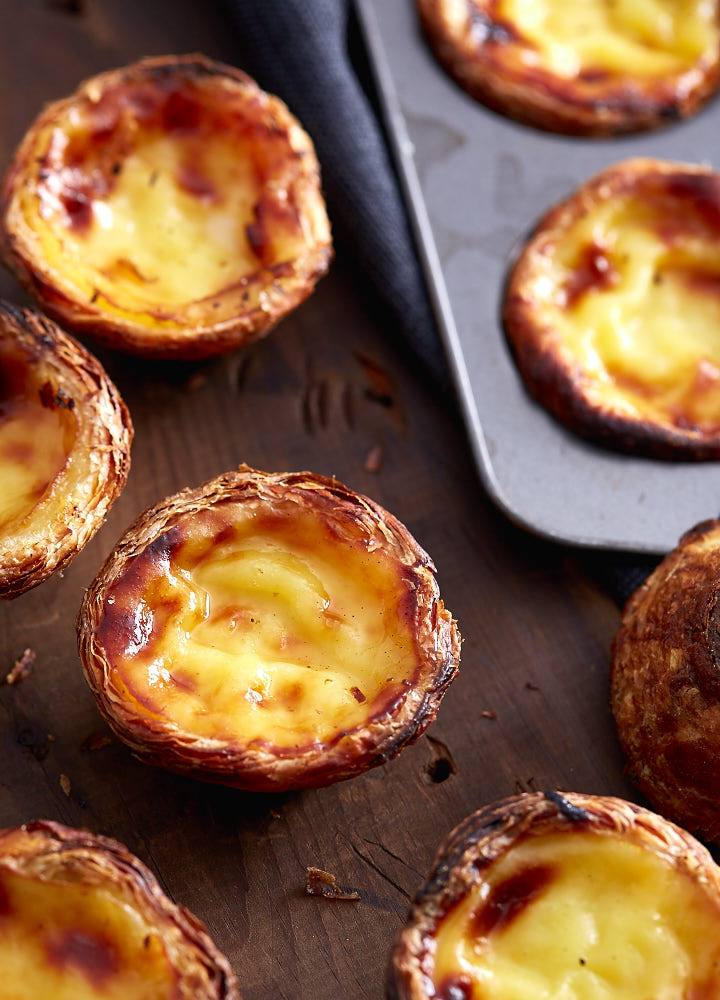 Tips for crispy, flaky, and very nicely browned pastry for Portuguese custard tarts
Follow these tips and you will have one heck of a dessert and eternal respect and love from your friends and family.
Tip # 1
When laminating your dough make sure the butter is evenly layered, all excess flour and air pockets are removed, and the dough is rolled very thin and folded neatly.
Tip #2
Use an accurate and fast instant read thermometer, e.g. ThermoWorks Super-Fast Thermapen or Lavatools Instant Read Meat and Food Thermometer, to quickly and precisely measure custard temperature. If the temperature gets even a few degrees higher than specified it may ruin the custard beyond saving.
Tip # 3
Use aluminum (or copper ) muffin pans. Copper ones are hard to find and are super expensive. Aluminum ones, like this Nordic Ware Natural Aluminum Commercial Muffin Pan, won't break the bank will do the job very well. Carbon steel pans are great too, they heat very quickly, but require high maintenance due being prone to rusting.  Stainless steel muffin pans are not my favorite as they don't conduct heat as well as copper or carbon steel. They look pretty though, and are easy to clean, if that's your thing.
You should not put non-stick cookware in an oven hotter than 500F as non-stick coating releases harmful chemicals at high temperatures. Aluminum or copper conduct heat better too.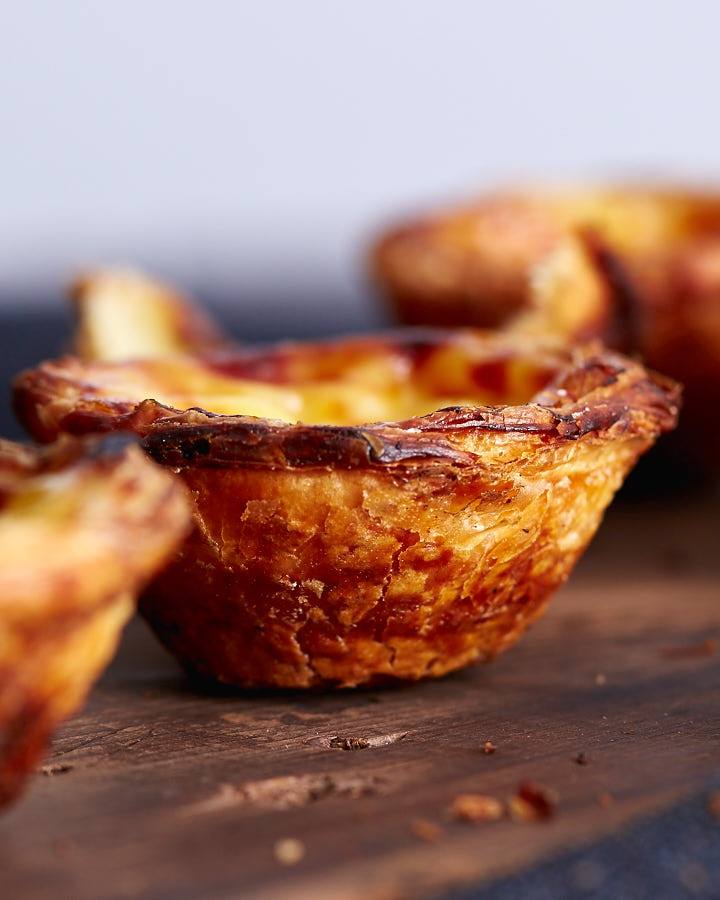 Tip # 4
Preheat your oven for no less than 1 hour. Even if it beeps telling you it's ready, it's not.
Tip # 5
The secret to proper browning is high and sufficient radiating heat. You won't get that from your kitchen oven without a modification. The good news is that a simple mod is all that's required. Place a 14 by 16 inch baking stone below and another one above the muffin pan in which you will be baking your Portuguese custard tarts.
I really like the stones sold under the name of Old Stone Oven Rectangular Pizza Stone and I have been using them for over two years now. They are large and thick enough to provide plenty of radiating heat. The stone below should be right under the muffin pan. A thick enough stone stores a lot of energy that will be radiated during baking and will help the tarts crisp and brown quickly and evenly. These stones are also indispensable for baking things such as baguettes (French Baguette Recipe) or bread (How to Make Sourdough bread in 6 Easy Steps).
If you don't have two pizza stones, no problem. Use unglazed tiles or even red bricks to make two layers above and under the muffin pan. The thicker the stones or tiles are, the better. Bricks will be the best, but they do need a much longer preheating time and are a hassle to move in and out of the oven.
Tip # 6
Portuguese custard tarts are best eaten warm the day they're made. The crispiness will be gone by the next day or so.
Portuguese Custard Tarts Recipe
The custard mix can be refrigerated up to three days. The laminated dough can be frozen up to three months. Frozen pastry can be placed in the fridge overnight the day before baking and will be ready to work with the next day.
Print
Pin
Rate
Total Time:
2
hours
30
minutes
Ingredients
For the dough
2

cups

minus 2 tablespoons all-purpose flour

1/4

teaspoon

sea salt

3/4

cup

plus two tablespoons water

1

cup

227 g / 8 0z unsalted butter, room temperature, stirred until smooth
For the custard
3

tablespoons

all-purpose flour

1 1/4

cups

milk

divided

1 1/3

cups

granulated sugar

2/3

cup

water

1

cinnamon stick

1/2

teaspoon

pure vanilla extract

6

large egg yolks

whisked

Powdered sugar

optional

Cinnamon

optional
Instructions
To make the dough, place the flour, salt, and water in the bowl of a stand mixer fitted with a hook. Mix for about 30 seconds until soft and pillowy dough forms that cleans the side of the bowl.

Place the dough on a generously floured work surface. Pat the dough into a 6-inch square using a pastry scraper. Sprinkle with flour, cover with plastic wrap, and let the dough rest for 15 minutes.

Roll the dough into an 18-inch square. Use the scraper to lift the dough and add flour underneath to avoid the dough sticking.

Brush excess flour off the top of the dough, trim any uneven edges, and using a small offset spatula dot and then spread the left two-thirds of the dough with a little less than one-third of the butter to within 1 inch of the edge.

Neatly fold over the unbuttered right third of the dough (using the pastry scraper to loosen it if it sticks), brush off any excess flour, then fold over the left third. Starting from the top, pat down the packet with your hand to release air bubbles, then pinch the edges closed. Brush off any excess flour.

Turn the dough packet 90 degrees to the left so the fold is facing you. Lift the packet and flour the work surface. Once again roll out to an 18-inch square, then dot and spread the left two-thirds of the dough with one-third of the butter, and fold the dough as in steps 4 and 5.

For the last rolling, turn the packet 90 degrees to the left and roll out the dough to an 18-by-21-inch rectangle, with the shorter side facing you. Spread the remaining butter over the entire surface.

Using the spatula as an aid, lift the edge closest to you and roll the dough away from you into a tight log, brushing the excess flour from the underside as you go. Trim the ends and cut the log in half. Wrap each piece in plastic wrap and chill for 2 hours or preferably overnight.

Now make the custard. In a medium bowl, whisk the flour and 1/4 cup of the milk until smooth. Set aside.

Bring the sugar, cinnamon, and water to a boil in a small saucepan and cook until an instant-read thermometer registers 220°F (100°C). Do not stir.

Meanwhile, in another small saucepan, scald the remaining 1 cup milk. Whisk the hot milk into the flour mixture.

Remove the cinnamon stick then pour the sugar syrup in a thin stream into the hot milk-and-flour mixture, whisking briskly. Add the vanilla and stir for a minute until very warm but not hot. Whisk in the yolks, strain the mixture into a bowl, cover with plastic wrap, and set aside.

Assemble and bake the pastries

Heat the oven to 550°F (290°C) with two baking stones inside for at least one hour. Remove the pastry from the refrigerator and roll it gently back and forth on lightly floured work surface until it's about an inch in diameter and 15 inches long. Cut it into scant 1.25-inch pieces. Place the dough pieces cut-side down into each of the the 12 cups of the 12-cup aluminum muffin pan (each cup measuring about 2.5" by 1.5"). Let the dough pieces often several minutes until they become soft and pliable.

Dip your thumbs into the water, then press straight down into the middle of the dough piece. Flatten it against the bottom of the cup to a thickness of about 1/8 inch, then smooth the dough up the sides and create a raised lip about 1/8 inch above the pan. The pastry sides should be thinner than the bottom.

Fill each cup 3/4 full with the slightly warm custard. Bake the tarts until the edges of the dough are frilled and brown, about 10-12 minutes.

Remove from the oven and allow the tarts to cool a few minutes in the pan, then transfer to a rack and cool until just warm. Repeat the steps with the remaining dough and custard mix.

Serve and enjoy. Optionally, sprinkle the tarts generously with powdered sugar, then cinnamon before serving.
Notes
THIS POST IS MOVING SOON!!!
It is my pleasure to announce to you that I have launched a new blog called Taste of Artisan.
On this blog, I will be focusing on my long time passion - artisanal foods and drinks.
Smoked meats and sausages,
cured meats and sausages,
fermented drinks,
confections,
cool pastries, 
- it will all be there.
I invite you to come visit my new blog and subscribe to receive all new and exciting content that will be coming in the future.
With Taste of Artisan up an running and me being ready to actively work on it, THIS POST and all of the pertinent content on i FOOD Blogger will be migrated there in the near future. So, if you are looking for cured salami recipes, or sourdough bread recipes, you know where to find them - that's right, on Taste of Artisan.
Updated on March 25, 2017.
Just as good:
Berry and Cheese Danish Recipe from Scratch