I don't cook French food that often, probably because French recipes tend to be quite involved, time consuming, and the terminology a little intimidating. I've decided to change that and get versed in French cooking. Today's dinner is a classic French pork loin roast with sage and apples, adapted from Professional Cooking, 7th Edition.
I added cranberries in this recipe as I thought they would improve the flavor balance, and I think they did. The dish turned out amazing. I will definitely be making it again in the near future.
The pork loin roast recipe itself is quite simple. A three ingredient rub and 2 – 2 1/2 hours of roasting in the oven. That's all there is to is. Where it gets a little bit more complex is when you start preparing the gravy. This recipe uses mirepoix to add a deep flavor to the gravy. Mirepoix is a combination of yellow onions, celery and carrots, roasted then sauted before being added to the gravy.
The thickening agent is brown roux. Roux… Sounds intimidating for a home chef. In essence, a roux is a 50/50 percent mix of flour and fat (butter, pork fat, chicken fat, etc.), cooked over low heat until it develops nice brown color and a mouth-watering nutty flavor.
In reality, the entire process to prepare the gravy turned out quite simple. The taste was amazing. I ate about 5 tablespoons of it when tasting for salt a spices. Maybe more. It was hard to stop eating it. The relatively flavorless pork loin roast meat really benefits from this gravy. I am even thinking about using it on roasted turkey breast meat.
The original recipe suggests cooking the loin to 160F. I only realized that I am unnecessarily overcooking the meat when the temp hit 155F. Yes, the new USDA recommendation as of 2012 is to roast pork loins to 145F internal temperature. At 155F the meat felt a little drier that I would want it to be. Next time I will be pulling my roast at exactly 145F.
It really helps to use a BBQ thermometer with an alarm to make sure you don't overcook, like the ThermoPro TP08. I started using my grilling BBQ thermometer in the kitchen a while ago and now I rely so much on it that I use it every time I roast or bake meats in the oven.
The caramelized apples and cranberries really make the pork shine. You want the apples that are tart. I used Ida Red, they are not overly tart but they worked great in this recipe. The wild cranberries that I used brought in additional tartness. If you use Granny Smith apples you may want to stick to regular commercially produced cranberries which are less tart.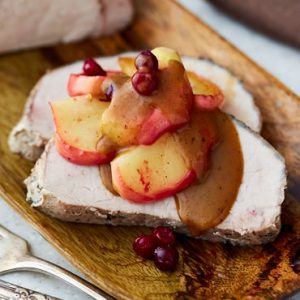 Pork Loin Roast With Sage, Apples and Cranberries
Cook Time
2
hours
30
minutes
Ingredients
Half a boneless pork loin

about 4 lbs

1

tsp

salt

1

tsp

freshly ground black pepper

2

tsp

dried sage

For the mirepoix:

1

medium onion

finely diced

1/2

medium carrot

finely diced

1

celery stalk

finely diced

Plus 1 medium size apple

cored, peeled and finely diced

For the gravy and caramelized apples and cranberries:

4

cups

chicken

veal or pork stock

1/3

cup

/ 60 g all-purpose flour

Salt - to taste

Ground black pepper - to taste

3

tart apples

cored, peeled or unpeeled, sliced into 3/8" slices

4

Tbsp

clarified butter

or regular butter if you don't have clarified one, or pork fat

2

Tbsp

butter

1

tsp

white granulated sugar

1

cup

fresh or frozen cranberries
Instructions
Preheat oven to 325F.

Trim fat from the pork loin, or leave it on if you wish. Rub the meat all over with the mix of salt, pepper and dried sage.

Place the pork loin roast in an roasting pan, fat side up. Insert a BBQ meat thermometer in the thickest part of the meat and roast for 1 hour.

After 1 hour, add the mirepoix (diced onion, carrot and celery) and the diced apple to the bottom of the roasting pan. Continue to roast for about another 1 hour, until the internal temperatures reaches 145F.

Remove the pork loin roast from the pan and keep in warm place.

To prepare the gravy, heat the roasting pan over medium heat and cook until all liquids have evaporated and mirepoix is well browned. You can also empty the contents of the roasting pan into a cast iron pan and brown the mirepoix in it.

Add the stock to the pan. Deglaze the pan by scraping bits off the bottom with a wooden spatula, then pour the contents into a sauce pot.

Prepare a brown roux with the flour and 4 Tbsp of clarified butter. Start by heating the butter in a medium size pot over low heat. Slowly add the flour constantly stirring. Cook, frequently stirring, until the roux acquires light brown color and a nutty aroma.

Add the roux to the sauce pot with the stock, stir and bring to a gentle simmer. Simmer for about 15 minutes or until the mixture has thickened and slightly reduced.

While the gravy is simmering, preheat a large skillet with 2 tablespoons of butter over medium-high heat. Saute the apples slices on both sides, sprinkling a little but of sugar on each side as you cook them. The apple slices are done when they are browned and caramelized. Remove the apples, add cranberries and saute them for a couple of minutes, sprinkling a little bit of sugar on top, until they have softened up.

Remove the gravy from heat and strain. Use a wooden spoon the stir the gravy in the strainer to help the process go faster.

Cut the pork loin roast into chops. Garnish with gravy, about 2 ounces per one chop, and caramelized apples and cranberries.
© 2018 i Food Blogger. All rights reserved. All images and content on this website are copyright protected. Please do not use my images, as is or modified, without an explicit permission. If you wish to republish this recipe or post content, please rewrite it in your own unique words and link back to this post, or to ifoodblogger.com. Thank you!