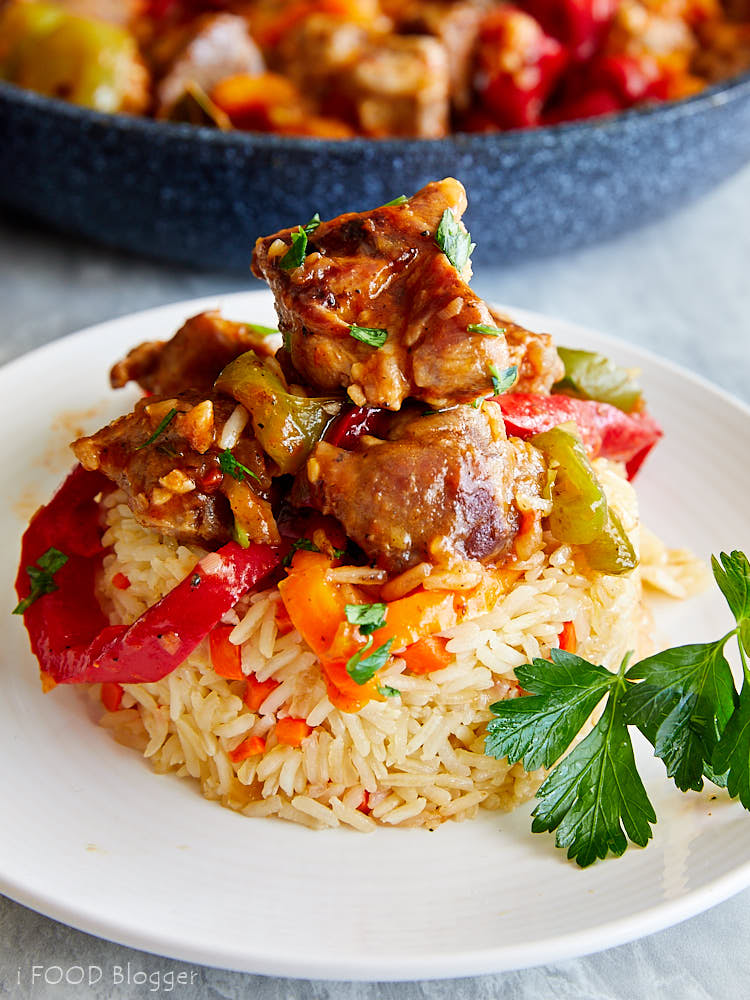 When someone says pork fried rice, a Chinese dish prepared in a wok immediately comes to mind. My pork fried rice recipe is entirely different. Good different. Better than good, actually. It's special. It's a fusion of fried rice with one of my favorite Ukrainian pork recipes that captures the meat's traditional style, colors and flavors. Just imagine good size chunks of succulent pork, covered in thick, flavorful tomato sauce, mixed with caramelized onions, garlic, bell pepper rings, and served over extra flavorful fried rice.
Some comments on my blog ask for sauce, or more sauce in some of my recipes, so I modified the pork recipe to capture as much sauce as possible. Traditionally, the sauce here thickens by evaporation, but you get quite a bit less of it in the end. Instead, I used corn starch to quickly thicken it, which resulted in more sauce in the pan and also cut down on the cooking time.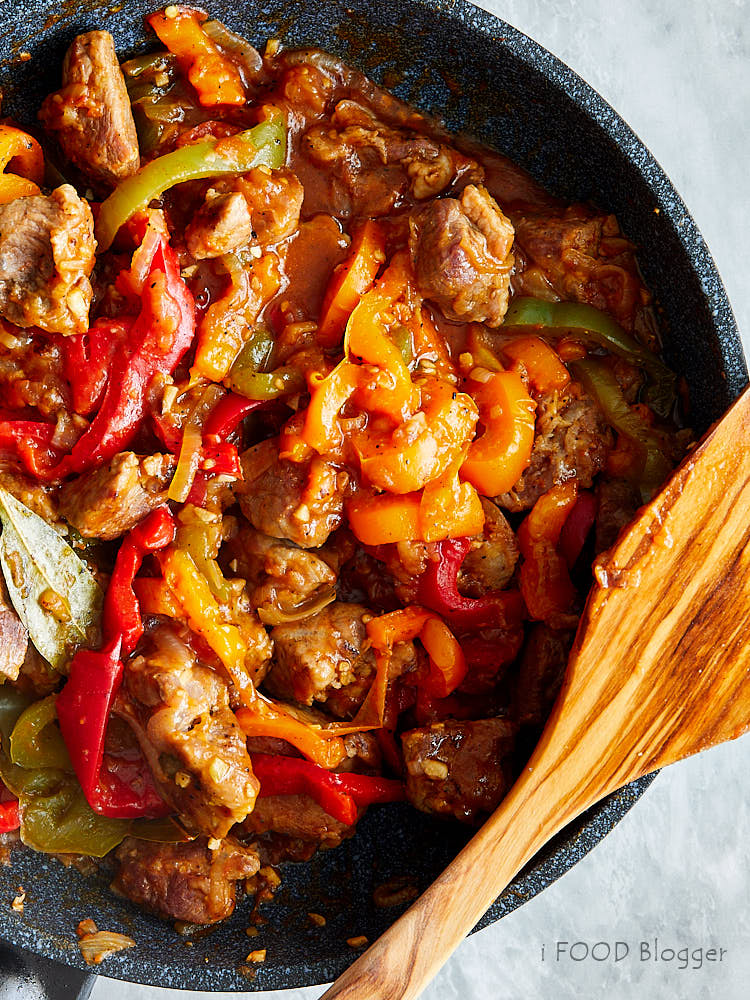 The fried rice is prepared separately in this recipe, and then later added to the pork at serving time. Even though this isn't a 'one wok' dish, it's just as simple to prepare though it takes a little bit longer to prepare. That increase in cooking time is so worth it though as the deliciousness level of this pork fried rice is off the charts!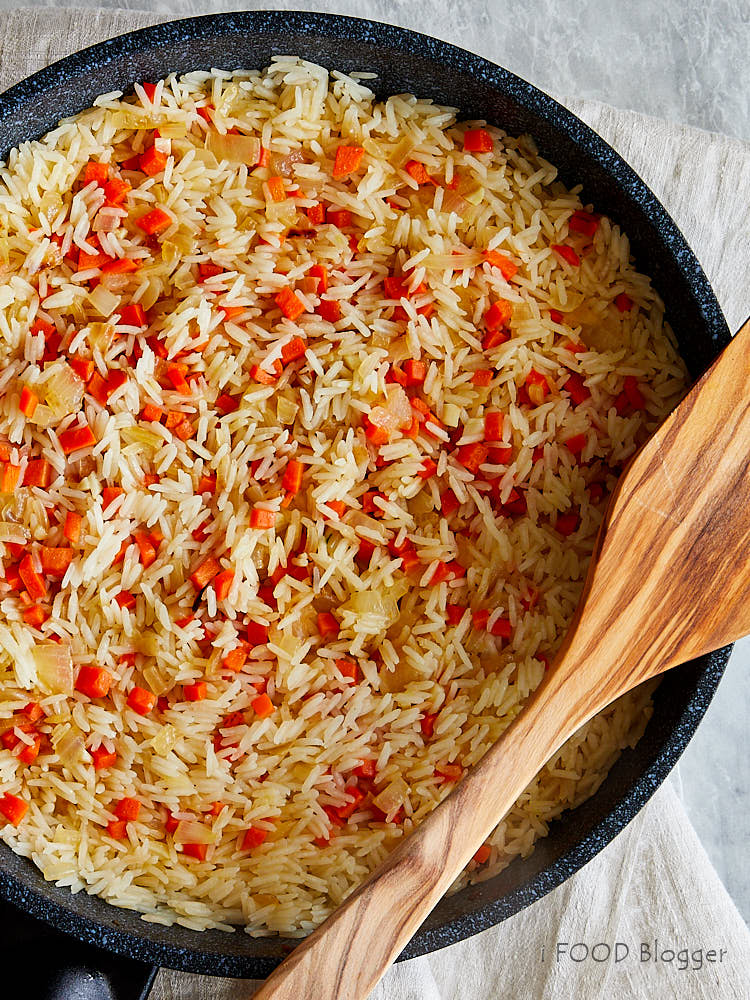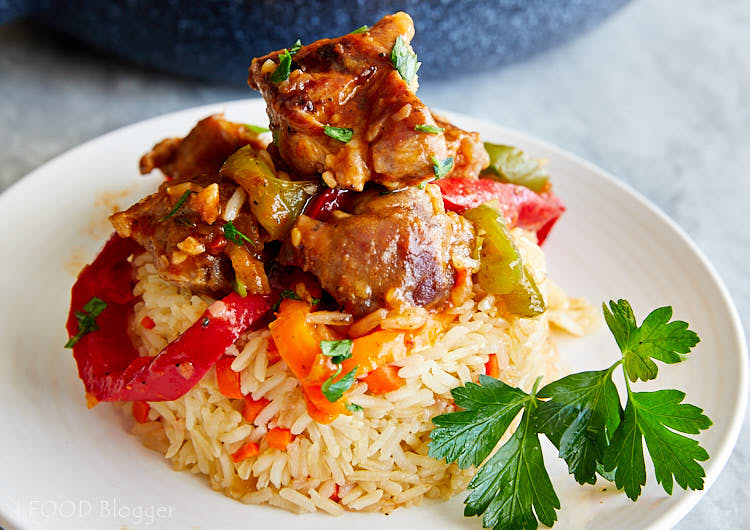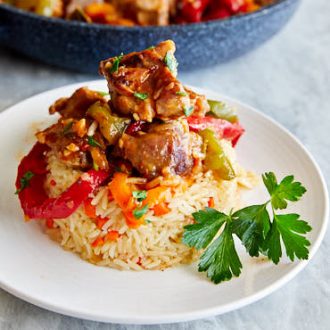 Special Pork Fried Rice
This pork fried rice recipe is a fusion of fried rice and traditional Ukrainian fried pork that results in a lip-smacking-good dish that is quite different from a classic Asian style pork fried rice.
Print
Pin
Rate
Ingredients
For the pork
2

lbs

pork shoulder

(boneless, cut into 1-inch pieces)

4

Tbsp

olive or vegetable oil

1

yellow onion

(large, peeled, cut in half and thinly sliced)

3

garlic cloves

(chopped)

1

red bell pepper (or a combination of red/yellow)

(cored and sliced into 1/3-inch rings)

1

green bell pepper

(cored and sliced into 1/3-inch rings)

2

ripe tomatoes

(blanched in boiling water for 30 seconds, skin removed and diced)

1

Bay leaf

Kosher salt

(to taste)

Black pepper

(freshly ground, to taste)

2

Tbsp

corn starch

(dissolved in 2 Tbsp of cold water)
For the fried rice
2

Tbsp

olive or vegetable oil

1

yellow onion

(peeled and finely diced)

1

carrot

(peeled and finely diced)

2

cups

white rice

(dry, unrinsed)

3

cups

vegetable broth

(hot)
Instructions
To prepare the fried rice
In a non-stick skillet, heat two tablespoons of oil over medium-high heat. Add the diced onions and cook, stirring frequently, for 3 minutes. Add the carrots and continue cooking for another 3 minutes.

Add dry rice and mix with the vegetables. Continue cooking, stirring frequently, until the rice acquires nutty flavor and start to turn light golden brown, about 3-5 minutes.

Slowly pour in the hot vegetable broth, turn the heat down to low, cover and let simmer for 10 minutes, or until the water has all been absorbed and the rice is fully cooked. Remove from heat and set aside, leaving the cover on.
To prepare the pork
While the fried rice is cooking, start preparing the pork. In a large skillet, heat the oil over high heat. Add the pork pieces and brown for a minute on one side, then repeat with other sides, until the pork pieces have acquired a nice brown, crispy crust.

Turn the heat down to medium-high, add the onion and the garlic, and continue cooking for another 3-4 minutes, stirring frequently.

Add the peppers and the tomatoes, bring to simmer, lower the heat and simmer for 5-7 minutes.

Add the bay leaf, cover the pork with a lid, turn the heat down to low and cook for 15 minutes, or until the meat is fork tender.

Remove the lid, add salt and pepper to taste, pour in the corn starch dissolved in water and mix well, until the sauce has thickened, which should happen almost instantly.

Remove from heat, cover and set aside.
To assemble and serve
You can simply portion rice onto serving bowls or plates, top with pork and sauce, garnish with fresh parsley and serve.

Alternatively, pack rice portions into a shallow plastic container then turn upside down onto a bowl or a plate, carefully top with pork and sauce, then garnish with chopped parsley and serve, as shown on the main picture of the post.
Nutrition
Calories:
399
kcal
|
Carbohydrates:
46
g
|
Protein:
17
g
|
Fat:
15
g
|
Saturated Fat:
10
g
|
Cholesterol:
46
mg
|
Sodium:
416
mg
|
Potassium:
488
mg
|
Fiber:
2
g
|
Sugar:
4
g
|
Vitamin A:
44.8
%
|
Vitamin C:
46.7
%
|
Calcium:
3.8
%
|
Iron:
8.3
%