One of my favorite smoked sausages is Wiejska, a traditional Polish sausage that is smoked over low heat for a good 8-10 hours. I make it occasionally, because it takes quite a bit of time to prepare and smoke. I've been craving it's country-style, natural flavors, so I decided to make a substitute that has similar flavors but is super quick to prepare. It turned out fabulous – succulent and full of rustic flavors.
You can use store-bought ground pork for this recipe, just make sure that fat content is about 20%. If you decide to grind your own pork, use pork shoulder or ham meat. If using ham meat, which is much leaner than pork shoulder, you may need to add some fat trimmings to get to the desired ratio.
For this recipe I made a few changes to the original smoked sausage recipe I use.
I am using ground instead of whole mustard seeds, and I dropped the ratio of fresh garlic to make it taste less garlicky. If you've tried Wiejska sausage, you know what I am talking about. There is a lot of garlic in it. The ratio I am using in the recipe for smoked sausage is 3 large garlic cloves per pound of meat, in case you are wondering.
I added ground (grated will work too) onions as that will help pork remain juicy and moist during cooking on a skillet. Smoked Wiejska sausage does not have onions in it.
When cooking your pork burgers, make sure not to overcook them. Pork meat can get noticeably dry if cooked longer than needed. USDA recommends cooking ground pork to 160F internal temperature. I use my trusty ThermoWorks Thermapen instant read cooking thermometer as I like eliminating guesswork whenever possible and knowing that I am getting the best results I can. It's definitely not the cheapest thermometer out there, but it surely is the best of the bunch, and is worth it in my opinion. Mine has been serving faithfully to me for 3 years now, without any issues so far. If you are interested in buying one, please feel free to use the link above – I will get a small commission which will help me support this website.
When done cooking, transfer your pork burgers on a paper towel to drain off excess fat, then serve with fresh greens and your favorite side dish.
Enjoy!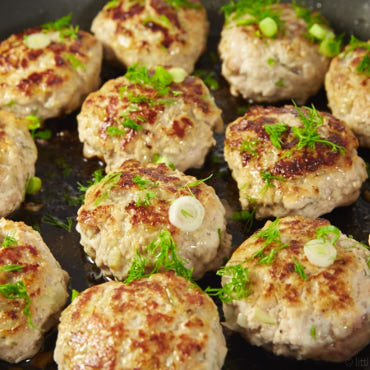 Pork Burgers with Polish Flavors
Ingredients
2

lb.

ground pork

80% lean / 20% fat

1

tsp

ground mustard seed

2

tsp

kosher salt

1

heaping tsp marjoram

1

tsp

ground black pepper

2

medium onions

grated or ground

3

garlic cloves

pressed

1

Tbsp

vegetable oil for cooking

Greens for garnish

green onions, dill, etc.
Instructions
If grinding pork by yourself, grind onions together with the pork, using medium size grinder plate

Mix ground pork with grated onions and spices

Preheat a large skillet with one tablespoon vegetable oil

Wet your hands and form 12 equal size patties. Start with making a ball and then flatten it, making sure there are no large cracks to avoid patties breaking into pieces during cooking

Place patties on the skillet and cook over medium-low heat for about 6 minutes

Flip patties and continue cooking for another 9 minutes or until fully done

Transfer to paper towel to remove excess fat

Serve with you favorite side dish and fresh greens
© 2018 i Food Blogger. All rights reserved. All images and content on this website are copyright protected. Please do not use my images, as is or modified, without an explicit permission. If you wish to republish this recipe or post content, please rewrite it in your own unique words and link back to this post, or to ifoodblogger.com. Thank you!