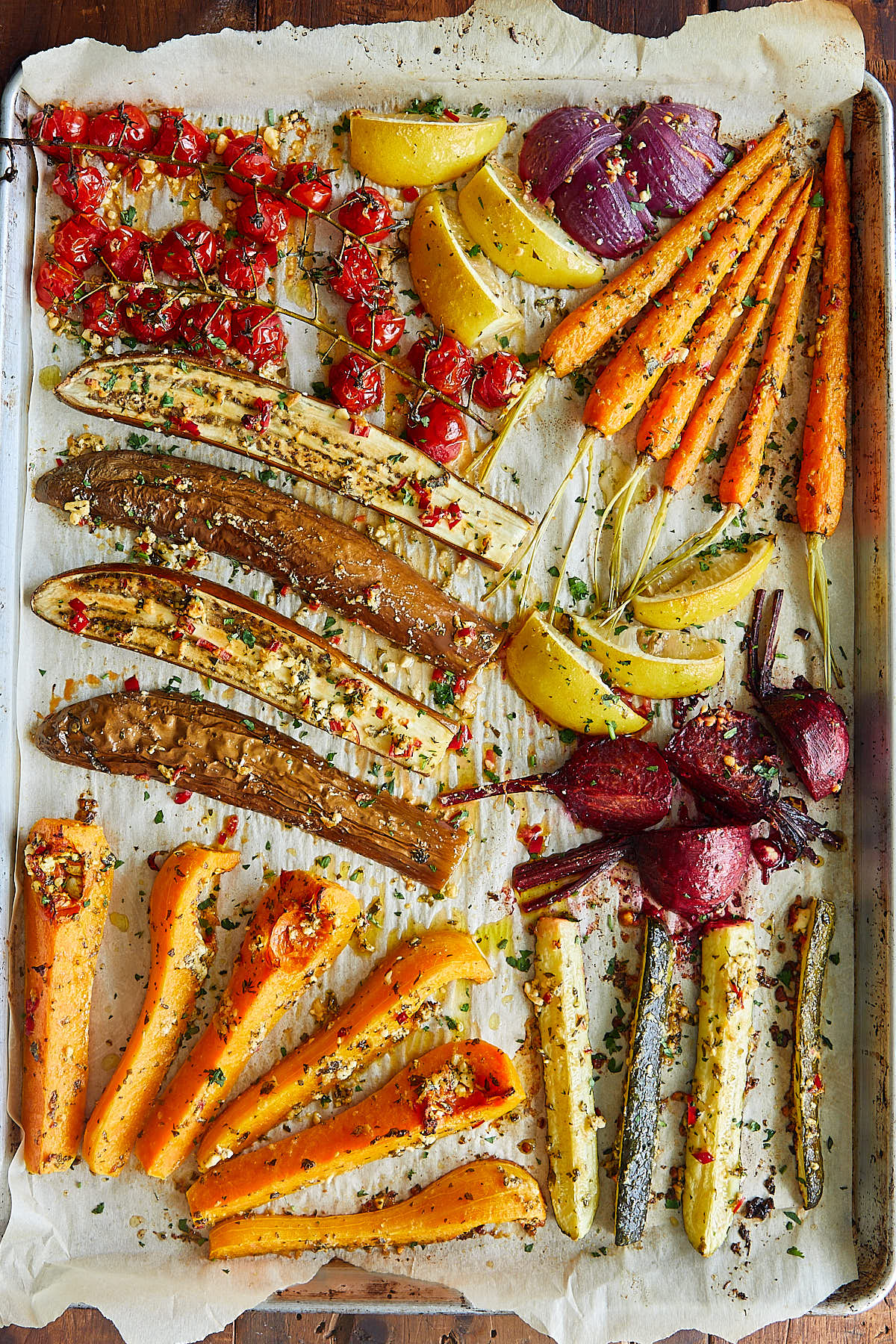 When I shared my original recipe for roasted vegetables, I stated that variety is key to making sure that even picky eaters would be happy with it as they would have the ability to pick whatever vegetables they like. I still stand behind that statement but want to caution that when all veggies are mixed up it can lead to certain challenges. For example, my kids could not have more different tastes when it comes to vegetables. That leads to them always digging through a platter full of roasted vegetables, picking and choosing what they like, creating a big mess.
So, I had to come up with a solution, and here it is – I called it Picky Roasted Vegetables. The main idea is to keep all veggies on a baking sheet grouped and separated. No more digging and messing around. Who would have thought that even roasted veggies would benefit from being organized?
In this recipe I am also using a new dressing to season the vegetables, which includes Feta cheese. It adds an edge to the dressing, gives it more flavor and makes the vegetables taste richer and tastier. I've used this new dressing twice and it has quickly become our new favorite, at least for the time being.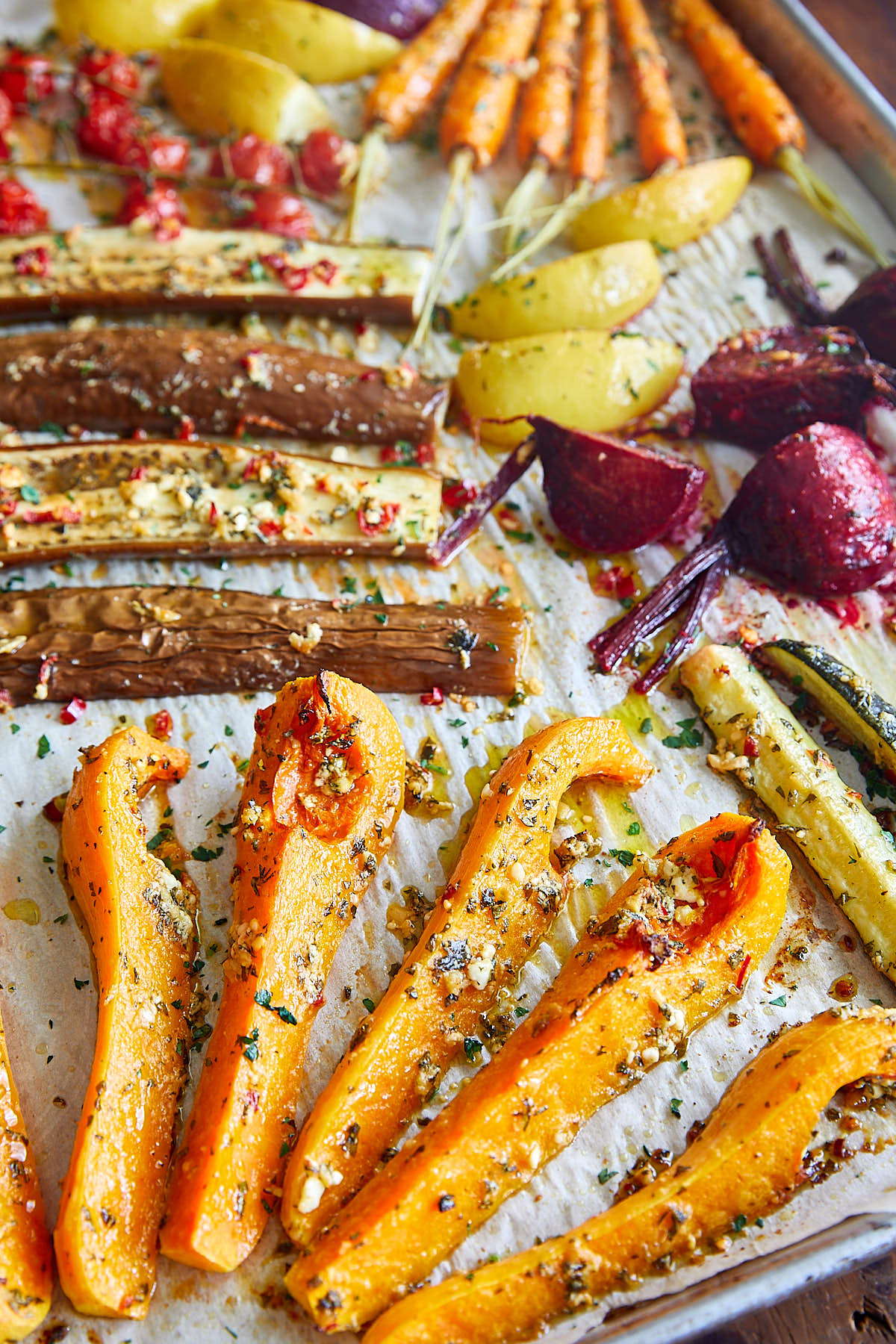 There are two ways to apply the new dressing to the vegetables prior to roasting. One method is to whisk all of the dressing ingredients together, breaking down cheese into small bits, then smothering vegetables in the dressing (pictures above). The other one is to just sprinkle dressing ingredients on the vegetables separately, for a quick and dirty application (picture below). The former method clearly produces slightly better results.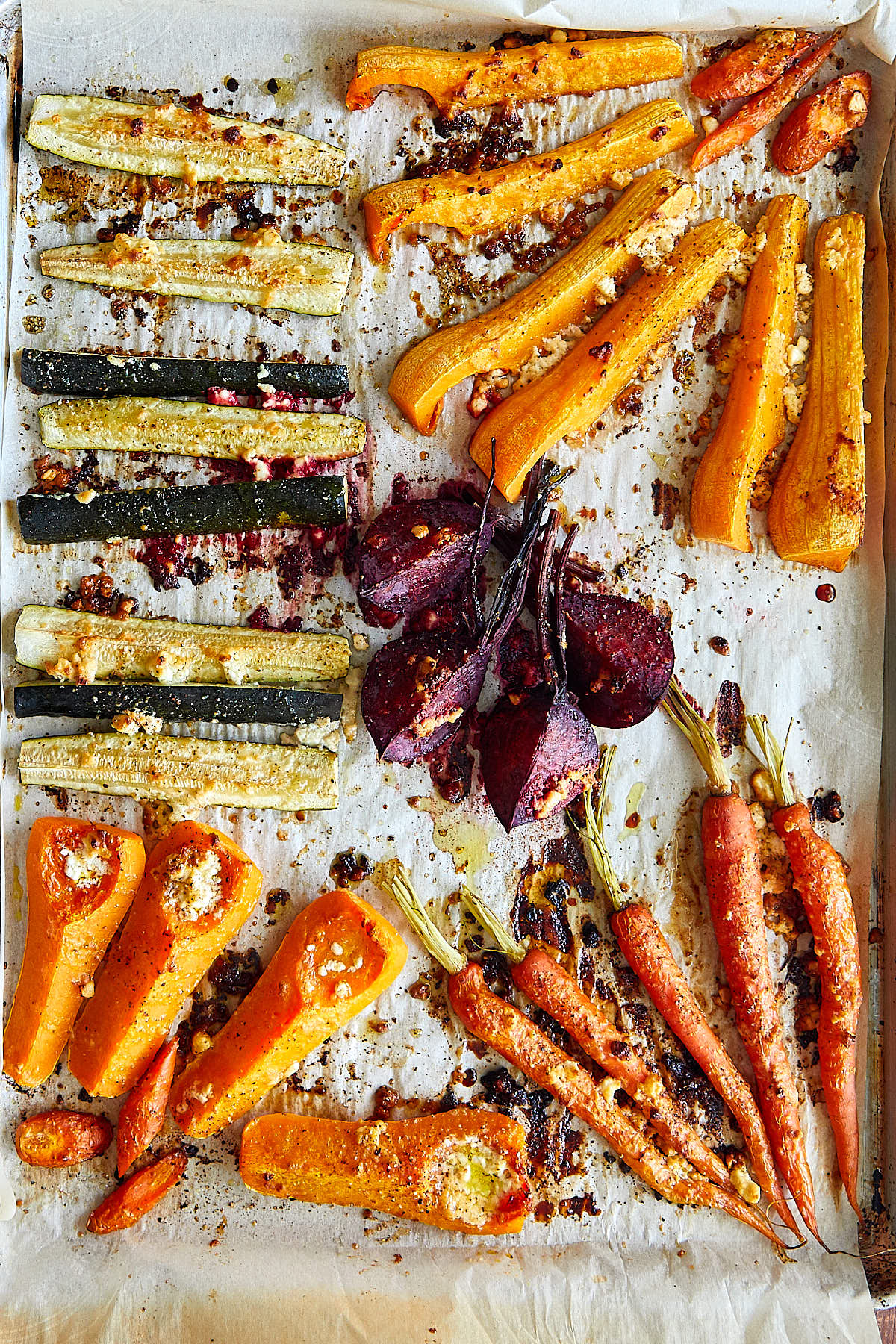 Enjoy!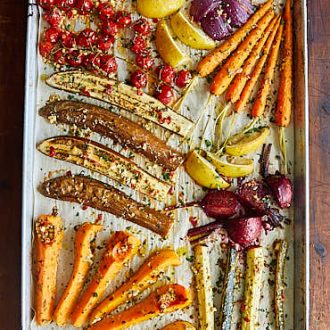 Picky Roasted Vegetables
Ingredients
1

small zucchini

(cut in quarters lengthwise)

6

small carrots

(or one-two larger carrots cut in halves/quarters lengthwise)

1

small butternut squash

(cut in 6 wedges)

1

medium beet

(cut in quarters)

2

Asian eggplants

(cut in halves)

1

lemon

(cut in 6 wedges)

1/2

a red onion

(cut into wedges)

2

stems cherry tomatoes on the vine

(optional)

Salt

(to taste)

Salt

(to taste)
For the vegetable dressing:
6

Tbsp

olive oil

2

Tbsp

white wine vinegar

1

Tbsp

lime juice

2

Tbsp

finely chopped fresh cilantro

(or parsley, basil, etc.)

1

Tbsp

finely chopped fresh oregano

(or 1 teaspoon dry oregano)

2

garlic cloves

(pressed or grated)

1/2

cup

Feta cheese

(crumbled)
Instructions
Line a large (I am using a 16" x 21") baking sheet with parchment paper. Set aside.

Combine the dressing ingredients in a large bowl, then whisk well, breaking Feta into small pieces.

Add roasted vegetables to the bowl, one kind at a time, and smother with the dressing.

Arrange the vegetables on the baking sheet, making sure that the vegetables of the same kind are grouped together.

Scrape any remaining dressing from the bowl and sprinkle evenly over the vegetables.

Sprinkle some salt and pepper to taste. Remember that Feta already has salt in it, some brands more then others.

Bake on the top rack for 30-35 minutes, or until the vegetables are soft and cooked through.

Remove vegetables from the oven and serve immediately. Squeeze the juice/pulp from roasted lemon wedges over the vegetables.
Nutrition Facts
Picky Roasted Vegetables
Amount Per Serving
Calories 297
Calories from Fat 153
% Daily Value*
Total Fat 17g 26%
Cholesterol 11mg 4%
Sodium 205mg 9%
Potassium 1158mg 33%
Total Carbohydrates 34g 11%
Protein 6g 12%
* Percent Daily Values are based on a 2000 calorie diet.
© 2018 i Food Blogger. All rights reserved. All images and content on this website are copyright protected. Please do not use my images, as is or modified, without an explicit permission. If you wish to republish this recipe or post content, please rewrite it in your own unique words and link back to this post, or to ifoodblogger.com. Thank you!