Roasted bell pepper, basil and fresh mozzarella stuffed chicken breast is one of those dishes that will pleasantly surprise you. Elegant, scrumptious and full of flavors, it is ridiculously good, melt-in-your-mouth tender and very easy to make.
When I saw this recipe posted on Epicurious about a month ago I thought – oh, just another stuffed chicken breast recipe. But thought I'd give it a try with homemade roasted bell peppers which we really enjoy. The result exceeded my expectations – the chicken breast turned out very flavorful and juicy. I especially enjoyed the new combination of flavors, and the addition of fresh Mozzarella really hit the spot.
The Mozzarella, I must add, did not turn out the way I expected. It melted away almost completely and ended up at the bottom of the baking dish. Both the one on the top and the one stuffed inside the chicken breast. It bubbled, but did not brown at all. I am not sure if it's the Mozzarella that I was using, but I suspect that any fresh Mozzarella will behave the same way. I don't think fresh mozzarella can brown due to high water content. That said, together with other juices that escaped out during baking, the cheese made a very tasty dipping sauce for the meat.
Store-bought roasted peppers can be a hit or miss. Some, I find, are too sweet. Some can be too spicy or have a unpleasant aftertaste. The taste of the roasted peppers in this stuffed chicken breast is very prominent, so it makes sense to use only those peppers that you like. Or make them at home, they are very easy to make and you have a full control over the results. Here is my favorite recipe for Roasted Bell Peppers which I highly recommend.
In this adaptation of the original stuffed chicken breast recipe I made the Italian dressing optional as I add the marinade from the roasted peppers. Fresh basil and Tellicherry pepper add a lot of flavor as well. But feel free to add the Italian dressing back if you think you need more flavor.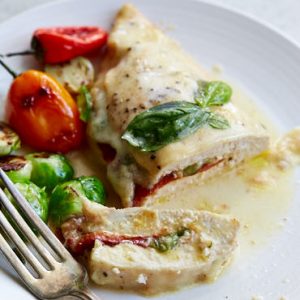 Baked Stuffed Chicken Breast
Ingredients
4

boneless skinless chicken breasts

1 8-

ounce

ball of fresh mozzarella

sliced into 8 slices

8

pieces

of roasted red peppers

each piece about 1/4 of one bell pepper

1

bunch of basil

whole leaves or roughly chopped

1/4

cup

freshly grated Parmesan

1

tablespoon

Italian seasoning

optional

1 1/2

tsp

kosher salt

plus more to taste

1/4

tsp

freshly ground black pepper

2

Tbsp

very good olive oil
Instructions
Preheat oven to 400F.

Make pockets inside the chicken breasts by slicing into the long side of the breast. You want to cut to just about 3/8" from the other sides of the breast.

Stuff each breast with a sandwich of two slices of red peppers, then basil leaves, and topped with one mozzarella slice. For added flavor, sprinkle one tablespoon of red pepper marinade inside each chicken breast. If using Italian seasoning, sprinkle the insides of the breasts with about 1/2 of the Italian seasoning.

Place the breasts inside a deep baking dish. Sprinkle the breasts with the salt, the pepper and the rest of the Italian seasoning (if using). Sprinkle olive oil on top of the chicken breasts.

Bake the chicken for 25-35 minutes (until chicken is no longer pink and the temperature of the meat has reached 160F).

Remove the chicken out of your oven and turn the oven to a high broil. Top each chicken breast with one mozzarella slice and sprinkle with Parmesan cheese. Broil until cheese is browned and bubbly, about 5 minutes. The internal temperature of the meat should be 165F.

Garnish with fresh basil leaves, whole or chopped, and serve immediately.
© 2018 i Food Blogger. All rights reserved. All images and content on this website are copyright protected. Please do not use my images, as is or modified, without an explicit permission. If you wish to republish this recipe or post content, please rewrite it in your own unique words and link back to this post, or to ifoodblogger.com. Thank you!