I love homemade sourdough bread, especially rye sourdough bread. Rye flour adds this subtle sweet taste that benefits any bread. Rye is higher in the enzymes (amylases) that break down starch into sugars. I even sometimes add about 5-10% of rye flour to my baguettes with great results. This time around I also added chopped pecans to my rye bread and really liked the rich, nutty flavor. Roasted pecans will add even more flavor, if time permits.
This recipe is what I call a lazy sourdough bread recipe. It could not be any more easy or hands off. Provided I have sourdough starter going, I just throw the ingredients together, mix in a stand mixer, and leave in a proofing basket to rise overnight in a cool place. This overnight slow fermentation will help develop amazing, intense flavors. No hand kneading, no stretch and folds. In the morning, I just turn the dough over on a preheated baking stone and bake for 30 minutes. Simple as that. Making everyday sourdough bread should not be a chore, right?
But really, the results are amazing, not too far away from very lengthy and elaborate sourdough bread recipes that may take a couple of days to complete.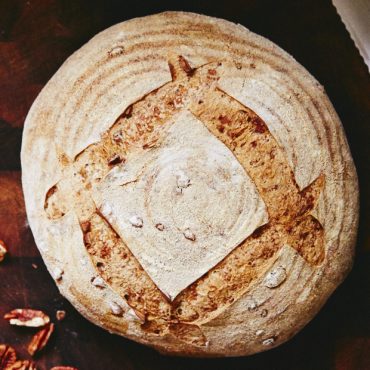 Lazy Pecan Rye Sourdough Bread
Ingredients
4

Tbsp

mature sourdough starter

450

g

bread flour

50

g

rye flour

325

g

water

50

g

coarsely chopped pecans

10

g

kosher salt
Instructions
The night before baking, combine all ingredients except pecans in the mixing bowl of stand mixer. Mix with a dough hook on a medium speed for 10 minutes. The dough should be tacky to touch, but not sticky. Add water by one tablespoon at a time if the dough is too dry. If too wet and sticky, add flour by a tablespoon at a time. Add chopped pecans and continue mixing for one more minute.

Generously flour a proofing basket with a 50/50 mix of bread flour and rice flour.

Place the dough on a lightly floured surface, form a ball and place into the proofing basket seam side up. Cover with Saran wrap and place in a cool place overnight. The dough should double in size. If not quite there, place is a warm place for 1-2 hours prior to baking.

Morning of the baking day - Preheat oven to 500 degrees F. Make sure to place a bread pan with a folded kitchen towel inside and filled with water on the bottom rack, and place baking stone on the middle rack of the oven.

Once the oven is preheated, take one of the loaves out of the fridge, turn right onto the baking stone, score with a serrated knife or a razor blade, and close the oven. Turn the temperature down to 450 degrees F and bake for 30 minutes.
© 2018 i Food Blogger. All rights reserved. All images and content on this website are copyright protected. Please do not use my images, as is or modified, without an explicit permission. If you wish to republish this recipe or post content, please rewrite it in your own unique words and link back to this post, or to ifoodblogger.com. Thank you!