One of the most popular posts on my blog has been Shortbread Cookies with Jam.  I am super excited for that cookie, it deserves the attention it has been getting. Several blog readers emailed me asking if that cookie could be made with peanut butter. Some tweaks and experimenting yielded a cookie that is just as easy and quick to make, and captures the essence of peanut butter. I could not be happier with the results.
The first step was to incorporate peanut butter into the cookie dough. This was easy with a few tweaks to the original ingredient ratios. I initially removed the egg white as several blog readers asked if this recipe could be made without the eggs, but ended up adding it back in. Without the egg white I could not get the proper consistency for piping and the texture of the cookie I was looking for.
Making peanut butter shortbread cookies with jam, as in the previous recipe, wouldn't be a bad idea, but I wanted something more 'peanut buttery' for the filling. It got me thinking for a little and then I had an idea – I should use the type of filling similar to what Reese's peanut butter cups have. I love that silky smooth and decadent filling and I want to use it in my peanut butter shortbread cookies. After some Googling I ended up using Todd Wilbur's copycat Reese's Peanut Butter Cups recipe for that. It's pretty close to the original and easy to make.
Unlike jam, peanut butter filling will melt and lose shape during baking. It's best to add it after the cookies are baked and cooled down a little.
As good as these cookies are, the copycat Reese's peanut butter filling is the highlight. It really makes these cookies shine. While I was eating a cookie I couldn't help thinking that more of the filling would make it even better. I might just try that in my next batch.
Enjoy!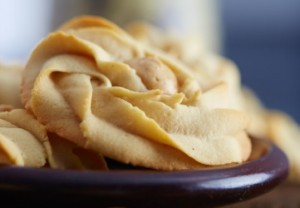 Ingredients
115

g

/ 1 stick unsalted butter

softened

155

g

all-purpose flour

35

g

powdered sugar

1/3

cup

creamy peanut butter

1

egg white

1

tsp

vanilla extract

1/4

tsp

sea salt

For the filling:

1/3

cup

creamy peanut butter

2 1/2

Tbsp

powdered sugar

1/8

tsp

sea salt
Instructions
Preheat oven to 425F

Soften the butter by letting it sit at room temperature for 40 minutes or microwave for about 15-20 seconds. Add powdered sugar and mix with a hand mixer for about a minute.

Add the peanut butter, egg white, vanilla extract, salt and continue mixing for another minute or two. Add flour and continue mixing until flour is fully incorporated.

Line a large baking sheet with parchment paper. Place the dough into a disposable pastry bag with a large star tip and pipe cookies onto the baking sheet. The cookies should be about 2 inches in diameter.

Using a wet finger, gently press in the center of each cookie, about 3/4 of the way. These dimples will be filled after baking is done. Bake at 425F for about 8-10 minutes, until the sides of cookie are starting to turn golden brown.

Meanwhile, combine the peanut butter, powdered sugar and sea salt in a bowl and mix with a hand mixer until smooth and fluffy, about 1 minute.

Let the cookies cool down. Pipe the filling in the middle of each cookie. Serve and enjoy.