Do you want to know how to make great chili? Smoke it! Do you want to know how to make homemade chili that your guests will lick off their plates? Smoke it! Low and slow.  Seriously. I thought the burger chili was the best, but this one took the crown without much fight. The Big Green Egg is the latest addition to my arsenal of culinary tools, and I am enjoying it immensely. I used to hear people say that everything tastes and smells so much better on the Big Green Egg, and I would just roll my eyes. Fast forward to today and… I wish had gotten it a long time ago. Oh, well.
Being a homemade chili aficionado, I immediately tried to make chili on the Egg.  Now, I've seen people cook just about anything and everything on the Big Green, as though they are trying to make a point about the Egg's versatility. I will quietly remark that that should not be the case. Some things are great on made on the Egg, and some should stay in the oven or wherever else they belong. Well, let me tell you, chili belongs on the Egg. They are a match made in heaven. Don't believe me? Try it!
I wanted to make the chili a little bit different too, and changed up some ingredients. First, I used oxtails. Who puts oxtails in chili? I don't know. I know oxtail stew and oxtail soup, they both are best made in a slow cooker. Well, I put oxtails in my chili and it turned out fantastic. Oxtails must be cooked low and slow to tenderize the meat and connective tissues. Chili is also best cooked low and slow. As I said, a match made in heaven. Before putting oxtails in the chili, I seared them on high heat just to get some flavor going. In hindsight, it was not necessary – the chili was flavorful enough from all the smoking.
Instead of using the usual pinto and kidney beans I used a bean mix I picked up at the grocery store. The mix had 6 different kinds of beans, such as lima beans, white kidney beans, chickpeas and other. I never would have thought of using chickpeas in chili but they turned out to be a very welcome addition that everyone liked.
I also decided to forego cumin this time. Who makes chili without cumin? I don't know. But have you ever noticed how overpowering cumin is? I am not sure how much it would come through the smoky flavor, but I did not miss cumin one bit.
After searing the meat I mixed all ingredients together and placed them in a cast iron pot which went on the grill. I used indirect heat (plate setter between the charcoal and the pot) and cooked at about 400F for three hours. 400F was arrived at by way of experimenting and trying to get a gentle simmer going. I used cherry wood chunks for smoke. I had a light, thin-blue smoke going the entire time.
Chili is awesome by itself. Who doesn't like chili? But prepared on the Big Green Egg grill/smoker, it's something else entirely. After the 3-hour smoke on the Egg the chili tasted like a really nice barbecue sauce. Smoky, full-bodied, richly colored, and can't-stop-eating delicious. The oxtails, deeply flavored and succulent, perfectly matched the full-bodied and rich chili. I don't know about you, but for me this is the way to make great chili.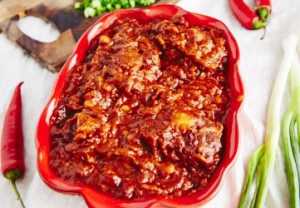 Oxtail Chili on the Big Green Egg
Total Time
3
hours
15
minutes
Ingredients
2

lbs

meaty oxtail

1 29-

ounce

can five or six-bean mix that

preferably the one that includes chickpeas, drained

1 28-

ounce

can crushed tomatoes

1

medium onion

finely diced

4-5

garlic cloves

pressed

1

red chili pepper

finely chopped (plus more if you want more heat)

3

medium tomatoes

diced

2

cups

beef stock

or plain water plus 1-1.5 cups more if you want your chili less thick

Spices:

1

Tbsp

onion powder

2

Tbsp

dark chili powder

1

tsp

freshly ground black pepper

1 1/2

tsp

kosher salt

plus more to taste
Instructions
Optionally sear oxtails on the grill over direct heat

Preheat your smoker/Big Green Egg to 400F. Add some wood chunks to get the smoke going

Place all ingredients into a 4-5 qt. cast iron pot, mix together, and place on the smoker/grill

Cook with smoke over indirect heat for 3 hours (the lid of the smoker/Big Green Egg should be closed)