Baking pork chops or fish covered with cheese is not common in North America, but it's super popular in Eastern Europe. And it's ridiculously good. This oven-baked salmon with Gouda cheese and hard boiled eggs is a great example.
To make sure this dish comes out perfect you need to get the salmon right. Just like chicken breast meat, delicate salmon will get dry and tasteless if overcooked. Salmon safe minimum cooking temperature is 145F.
Start checking the temperature of the bottom (salmon) layer with an instant read thermometer at about 12 minutes. The dish is ready when the temperature registers 145F. The baking time will depend on your oven.
You can make this dish as one large dish, or individually portioned in ramekins or something similar.
Finally, this oven-baked salmon is super easy to over-salt, so tread carefully. Remember, Gouda cheese will lend its saltiness to the dish. One teaspoon of kosher salt should be enough for most folks out there. If not, it's better to sprinkle some salt on the finished food than dealing with overly salty dish.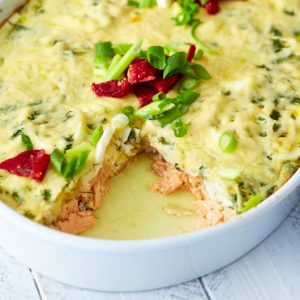 Oven-Baked Salmon with Gouda and Eggs
Ingredients
1 1/2

lbs

salmon fillets

skin removed

8

eggs

hard boiled, peeled and sliced 3/8" thick lengthwise

2

eggs

raw

2

cups

100 g Gouda cheese, shredded

1

tsp

Dijon mustard

1/3

cup

plus 2 Tbsp

100 ml heavy cream

2

tsp

lemon juice

1

Tbsp

melted butter or olive oil

1

tsp

kosher salt

plus more to taste

1/2

tsp

freshly ground black pepper

1/2

cup

chopped scallions

2

Tbsp

finely chopped fresh dill

8

pieces

sun-dried tomatoes

chopped
Instructions
Preheat oven to 400F.

Grease a baking dish with about 1 Tbsp of melted butter or olive oil.

Slice salmon fillets about 1/4" think, lengthwise. Lay the salmon on the bottom of the baking dish and sprinkle with lemon juice. Lay the sliced hard boiled eggs on top.

In a medium size bowl, mix the eggs with heavy cream, salt, pepper, mustard and finely chopped fresh dill. Pour evenly over the eggs.

Spread the shredded Gouda over the eggs.

Bake at 400F on the top rack for about 15-20 minutes, depending on your oven. Check the temperature of the bottom layer - the salmon is ready when it reaches the temperature of 145F.

Remove from oven and garnish with sun-dried tomatoes and chopped scallions. Serve immediately.
© 2018 i Food Blogger. All rights reserved. All images and content on this website are copyright protected. Please do not use my images, as is or modified, without an explicit permission. If you wish to republish this recipe or post content, please rewrite it in your own unique words and link back to this post, or to ifoodblogger.com. Thank you!