Thick, soft and chewy, these oatmeal raisin cookies are the Rolls-Royce of oatmeal cookies. Any cookies, actually. They are the BEST! If I were forced to pick only one kind of cookies to have for the rest of my life, this one would be it.
I am a big fan of oatmeal raisin cookies. I've been trying various recipes, tweaking them and perfecting them until I had one that was flawless. This one is the one. I love the taste of these cookies. My wife who doesn't normally eat cookies usually has one withe her latte. I don't know what, but there is something about these oatmeal cookies that gives you that warm feeling and takes you back to your childhood, reminding you of the old-fashioned cookies your grandma used to bake.
One of the things that make these cookies so awesome is the choice of raisins. My favorite raisins are black raisins. They are large, plump and have that nice balanced taste of sweet and tart. You can find them in any Middle Eastern ethnic store, many supermarkets or online. These raisins also make the cookies even chewier. Soak them in water before putting in the dough, they will plump up and will taste much better.
My biggest challenge while making oatmeal cookies has always been not to over-bake them. I would do it without even realizing it. Does the cookie look properly baked to you when it's still very soft in the middle and looks under-baked? No, it doesn't. But that's exactly when you should pull them out of the oven. As soon as the edges are golden brown, yank them out and let them finish off baking on the baking sheet outside the oven. That's how you get very soft and chewy, the best tasting oatmeal raisin cookies.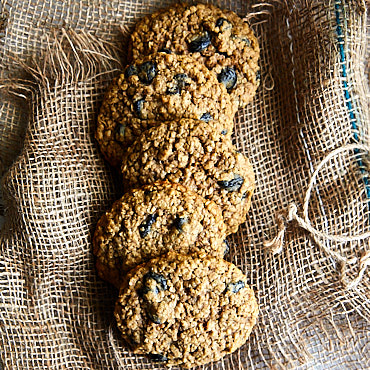 Thick, Soft & Chewy Oatmeal Raisin Cookies
Print
Pin
Rate
Servings:
8
large cookies
Ingredients
1/2

cup

1 stick butter, softened

2/3

cup

light brown sugar

1

large egg

1

tsp

vanilla extract

3/4

cup

flour

1/2

tsp

baking powder

3/4

tsp

cinnamon

1/8

tsp

nutmeg

1/4

tsp

kosher or sea salt

1 1/2

cups

old fashioned oats

1

cup

black raisins
Instructions
Preheat oven to 350F.

Place raising into a small bowl, cover with room temperature water and let sit for 10 minutes to plump up. Drain and set aside.

In a medium size bowl, cream the butter and sugar using a hand mixer or a whisk. Add the egg and the vanilla extract, and keep beating until smooth.

In a separate bowl, combine the flour with salt, baking powder, cinnamon and nutmeg. Transfer to the bowl with the creamed butter and sugar and mix well. Fold in the oats and the raisins.

Spoon the cookie dough onto a large, parchment paper lined baking sheet, forming 8 large balls. Make sure to space the dough balls about 2 inches apart as the dough will spread a little during baking.

Place into the oven and bake until the the edges of the cookies turn golden brown, about 13 minutes. The cookies will appear too soft and under-cooked in the middle, but that's how they need to be. They will firm up as they cool down, while staying soft and chewy.

Remove the cooking from the oven and cool on the baking sheet for 10 minutes. Transfer to a cooling rack and cool completely. Store in an airtight container for up to a week.
Nutrition
Serving:
1
g
|
Calories:
346
kcal
|
Carbohydrates:
48.6
g
|
Protein:
6.2
g
|
Fat:
14.2
g
|
Saturated Fat:
7.9
g
|
Sugar:
18
g
You may also like:
Peanut Butter Shortbread Cookies