Ever since I tried Bobby Flay's Greek Quinoa Salad a few years ago a Mediterranean quinoa salad has become a staple at our home. First, it tastes great. Second, it's healthy, gluten free and packs some serious nutrition. You can eat a cup or so of this salad and feel full for 2-3 hours. Third, it's always so bright and summery, and cheerful. For me it never gets old. I could eat it almost daily.
Best of all, my kids who, just like most other kids, don't like veggies, love this salad. They even help with prepping the vegetables.
My recipe of this Mediterranean quinoa salad has evolved a lot over time to suit mine and my family's taste. Frankly, it's almost never exactly the same. I vary proportions of the ingredients and make substitutions depending on what I have and what I crave. Quinoa and cherry tomatoes are at it's core. So is the variety of sweet peppers which I find make this quinoa salad really stand out.
One thing that I find critical for me in this salad is that I use only the ingredients that I really like. Seems common sense, but let me elaborate. As an example, most recipes for Greek / Mediterranean Quinoa salad use Kalamata olives, a staple at the Greek table. You almost feel compelled to use them in your salad as well, to stay authentic, right? Well, I am partial to Kalamata olives. I actually find their taste overpowering, no offense to Kalamata olives lovers.
Instead, I use my favorite green olives stuffed with garlic that I buy at the local supermarket, or skip them altogether. Cucumbers is another traditional ingredient I tend to omit most of the time when making Mediterranean quinoa salad. But I almost always add celery, green onions and roasted garlic, which I think add another dimension to the overall flavor profile.
Pickled cherry peppers are worth mentioning here as well. I learned that they can be so very different depending on the brand you use, to the point of becoming barely edible. For my taste anyway. Some that I tried were way too hot. While others were overly sweet, which made them unpleasant to eat. Yet others were so good that the first time I tried them I ate half a jar, without bread or anything. Just plan pickled cherry peppers. That's the kind of ingredients that will make this salad great tasting.
I could go on, but I think I made my point. Use only the best ingredients. Use the ingredients that you personally like, and your quinoa salad will taste amazing. It's very forgiving, I find, as far as the ingredients go, as long as you use good ingredients. The only way to mess this salad up is if you over-salt it or add too much lemon juice and vinegar. So, be careful there. Go slowly.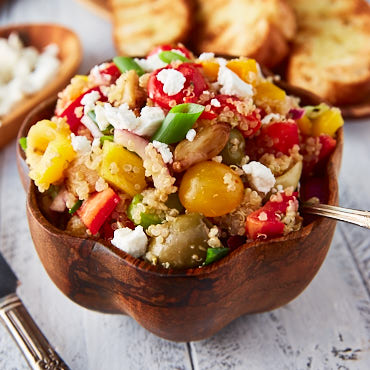 Ingredients
1

cup

quinoa

uncooked

1

red bell pepper

seeded, membrane removed and diced into 1/2 - 3/4-inch pieces

1

yellow bell pepper

seeded, membrane removed and diced into 1/2 - 3/4-inch pieces

1

long red sweet pepper

seeded, membrane removed, cut in half lengthwise and thinly sliced

1

cup

red grape tomatoes

halved

1

cup

yellow grape tomatoes

halved

1/3

cup

roasted garlic cloves

2

green onions

green and white parts, sliced on the diagonal, about 1/3 - 1/2-inch in length

1

celery stalk

thinly sliced

6

pickled cherry peppers

cut in halves or quarters

1

medium red onion

halved and thinly sliced

1

cup

your favorite olives

pitted (green or Kalamata)

1/2

cup

feta cheese

crumbled, for sprinkling

For the dressing:

3

tablespoons

freshly squeezed lemon juice

1

tablespoon

sherry vinegar

3

Tbsp

very good quality olive oil

1/2

teaspoon

dried oregano

2

tsp

kosher salt

plus more to taste

1/4

tsp

freshly ground black pepper

plus more to taste
Instructions
Cook the quinoa following the instructions on the packaging or use the following method. Remove black and odd looking grains. Place the quinoa in a medium size boiling pot, fill with water half way and stir. You will see some debris floating at the top.Carefully pour the water out of the pot. Repeat one more time. Now add 1 1/2 cups of clean water (1 1/2 cups of water per 1 cup of uncooked quinoa), add 1 tsp kosher salt and 1 tsp vegetable oil, and bring to boil. Cover the port with a lid and simmer over very low heat for 15 minutes. Stir quinoa and make sure there is no water remaining at the bottom. Otherwise cook covered for another 3-4 minutes. Remove from the stove, stir and let cool.

Mix all of the salad ingredients together in a large bowl. Add half the lemon juice, half the sherry vinegar, olive oil, dried oregano, 2 teaspoons kosher salt and the freshly ground black pepper. Mix really well and taste for salt and pepper. Add more salt if necessary. Add the rest of the lemon juice and sherry vinegar if you feel you need more acidity. It's all personal.

Serve immediately or let cool in the fridge overnight. Either way this salad tastes great. Sprinkle with Feta cheese before serving.
Notes
You can substitute roasted garlic cloves with 1 clove fresh garlic, smashed and finely chopped to a paste