These marinated zucchini are great as a snack on their own or as an accompaniment to grilled meats and many other dishes. Try them with mashed potatoes, it's a match made in heaven!
A little bit of oil, sugar, salt and acidity does wonders to vegetables, especially to bland ones like zucchini. They preserve longer, and, most importantly, they taste much better when marinated.  I posted on my blog some of my most favorite marinated vegetable recipes, such as Marinated Shredded Carrots, Marinated Eggplants and Tomatoes, and Marinated Roasted Bell Peppers. They are always a hit at our house.
When we make marianted vegetables there is always a lot of tasting, sometimes to the point where there is almost nothing left to marinate.
Marinated zicchini is one of those recipes that are prone to excessive tasting while they are being made. The reason is that they are sliced so thinly that they absorb the marinade almost immediately which makes them very tasty practically as soon as they are made.
But, try to resist the urge and let them marinate overnight. You will be rewarded handsomely. The zucchini willl have enouhg time to soak in the flavorful marinade and each slice will be exploding with tasty goodness in your mouth.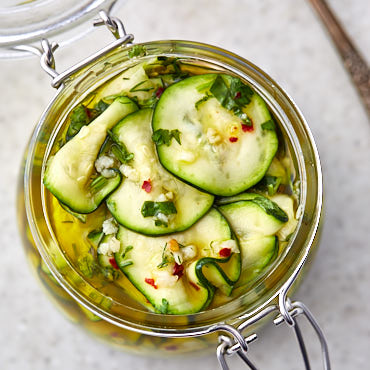 Marinated Zucchini with Garlic and Fresh Herbs
Print
Pin
Rate
Cook Time:
23
hours
40
minutes
Ingredients
2

medium zucchini

rinsed, ends trimed off

1/2

tsp

kosher salt

For the marinade:

100

ml

1/3 cup plus 1 Tbsp good quality olive oil

4

Tbsp

white vinegar

2

tsp

honey

3

garlic cloves

pressed

1

tsp

kosher salt

1/3

tsp

red pepper flakes

plus more to taste for more heat

1/2

tsp

freshly ground black pepper

1

tsp

each fresh chopped basil

parsley, dill and coriander
Instructions
Slice the zucchini really thin, about 2mm / 1/16-inch thick on a mandolin or a food processor. Place them in a bowl, toss with salt and set aside for 30 minutes.

Prepare the marinade by mixing the olive oil with the rest of the ingredients.

Drain the zucchini. Handful by handful, genly press with your hands to remove excess liquid. Place into a bowl. Add the marinade and mix well.

Transfer into an air tight container and refrigerate overnight before serving.

Keep the dish refrigerated in an air tight container for up to 7 days. It tastes the best for up to 3 days.
Notes
The pH of the marinade is 3.87.
An alternative recipe for marinated zucchini that I really like is that of Martha Rose Shulman posted in NY Times. Her recipe for the marinade substitutes white vinegar for lemon juice and uses less oil. For the greens she suggests using dill, mint, parsley and chives, or a combination thereof, adding them just before serving.
Salt and freshly ground pepper to taste

3

tablespoons freshly squeezed lemon juice

1

garlic clove, crushed

3

tablespoons extra virgin olive oil

2

tablespoons finely chopped parsley, mint, chives, dill or a combination
Instructions:
Slice the zucchini 2mm / 1/16-inch thick. Sprinkle with kosher salt and set aside for 15-30 minutes. Drain the liquid and dry on paper towels.
Mix together the sliced zucchini with the rest of the ingredients. Cover and refrigerate overnight.
Take out from the refrigerator. Remove the crushed garlic clove. Add the chopped herbs and toss together. Taste, adjust seasoning and serve.
Enjoy!
Also see:
Marinated Shredded Carrot Salad
Marinated Eggplant and Tomatoes
Pickled Turnips
Pickled Cabbage