Marinated eggplant and tomatoes is an easy to make and delicious dish from Central Asia. Vegan, low carb, gluten free and paleo friendly, this dish can be served as an appetizer, as a side dish, in place of a salad, or just by itself. It's that good!
I am usually the cook in the family, I just love cooking and seeing how others enjoy my creations. My lovely and talented wife, on the other hand, is not too crazy about cooking, but when she does cook, she impresses us all. Every time. No exceptions. As a child, she spent a number of years in a far away country of Tajikistan where she experienced some of the most interesting and delicious dishes.
Yesterday she prepared one of them, marinated eggplant and tomatoes, a very common dish in that region. Our kids, who never even touch eggplant, ate a plateful and then asked for more. I was speechless. I can't believe you've never made these before, I said. She smiled and said she'd be making this dish for us as often as we'd like going forward.
While my wife was assembling the dish before marinating it she made a little sandwich for me to try, a slice of still warm fried eggplant, a little garlic, fresh black pepper, salt, topped with a slice of tomato and fresh greens. OMG! I exclaimed. Can this get any better? Do we even need to marinate them?
I ended up eating another one of those sandwiches, and then another… I really liked the warmth of the eggplant, and the toasty, nutty flavor it had. Now that I also tried the dish fully marinated and chilled, I am still torn as to which one I prefer. Both are amazing, refreshing and full of summer flavors.
I had a number of sauteed eggplant recipes before, but this combination of cooked eggplants with fresh tomatoes, garlic, dill and parsley is new to me. I like the fact that the tomatoes and the greens are not cooked, preserving all their fresh flavors, nutrients and not turning overly soft and mushy.
Preparation and cooking is fairly simple. I would even put this recipe into the category of quick eggplant recipes. Slices of eggplant are sauteed over medium heat on both sides, about 6 minutes per side, to soften them a little and obtain a nice golden brown color.
To make sure that flavors spread across nicely and evenly, it's best to spread pressed garlic all over each of the eggplant and tomato slices. It may sound a bit tedious, but really does not take that long, about 10 minutes or so.
Then layer your eggplant and tomatoes in a large pot, sprinkling a tiny bit of salt and pepper, and the greens, on top of each slice. Again, this helps to ensure that each piece is as seasoned and as flavorful as the next.
When done layering, cover with a lid and keep at room temperature for four hours. Now your eggplant and tomatoes are fully marinated and ready to be served. I picked up a few Acacia Wood Serving Trays from Amazon some time ago, and they are perfect for serving this rustic, country-style dish. It's almost like they were made for each other.
Refrigerate whatever is left. It helps if the lid is tight, you don't want other food in the fridge to smell like garlic.
Marinated eggplant and tomatoes will keep in the refrigerator for up to seven or eight days, if they last that long. Ours are just about gone, and it's only been one day. It was double the recipe, too.
Enjoy!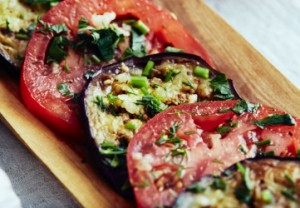 Ingredients
2

large eggplants

2

large tomatoes

5

garlic cloves

pressed

1/2

cup

Italian parsley

finely chopped

1/2

cup

fresh dill

finely chopped

1

tsp

kosher salt

1

tsp

freshly ground black pepper

3-4

Tbsp

olive oil
Instructions
Rinse eggplants and tomatoes. Dry with paper towel, slice to about 3/8 inch (about 10mm) thickness. Set aside.

Preheat a large skillet. Add 1 tablespoon of olive oil. Place about 1/3 of sliced eggplants on the skillet in one layer and cook over medium heat for about 6 minutes, until golden brown. Flip eggplant slices on the other side and continue cooking for another 6 minutes. As eggplant really soak in oil when they are cooking, add about 1 teaspoon of olive oil when flipping. Transfer to a platter lined with paper towel to remove excess oil and cool down. Repeat this step until all eggplant slices are cooked, 2 large eggplants are usually cooked in 2-3 batches, depending on the size of the skillet you are using.

Take a pinch of pressed garlic and, using your fingers, spread it all over each of the eggplant and tomato slices. Set aside.

Now take a medium size pot with a lid, spread a pinch or two of pressed garlic all over the bottom and sprinkle some chopped dill and parsley.

Now start layering of the eggplants and tomatoes. Place a layer of eggplant slices making sure they don't overlap (well, some overlapping is fine). Sprinkle a pinch of two of salt over eggplants, then grind some black pepper, to your taste. Finish the layer by sprinkling some dill and parsley. No do the same with the tomatoes. Repeat until all vegetables are layered in the pot. Top with salt, pepper and chopped dill and parsley.

Cover with with the lid and keep at room temperature for 4 hours before serving.

Marinated eggplants and tomatoes can be refrigerated for up to 7-8 days.
You may also like Fried Eggplant with Rice and Tomatoes.
Also see:
Marinated Zucchini with Garlic and Fresh Herbs
Marinated Shredded Carrot Salad
Pickled Turnips
Pickled Cabbage