Ever since discovering this kreatopita recipe on Akis Petretzikis' website earlier this month I have made it 4 times. This isn't the end of it as everyone is asking for more. It's that delicious. If you are looking to impress someone, this recipe is it.
As if a generous layer of fork-tender beef stewed in cream ale wasn't enough, this Greek-style meat pie adds a layer of creamy, custard-like bechamel sauce. Instead of the usual Phyllo dough, the mouth-watering layers are enclosed between two airy, delicious puff pastry sheets.
Making this kreatopita takes a bit of time, mainly because you need to stew the beef for about 2 – 2.5 hours. Still, the steps are quite easy and the recipe is hard to mess up. All in all, the entire process takes about 4 hours from start to finish, with about 30 minutes or less of hands-on involvement.
Akis recommends using beef chuck in this recipe and I couldn't agree more. Chuck is one of the more flavorful beef cuts and results in juicy, fork-tender meat after stewing. Stewing beef sold at supermarkets is not necessarily a good choice for stewing as it typically consists of various beef cuts and that makes it very tricky to cook. Been there, done that. Sticking with chuck will eliminate that problem.
Now, the original recipe calls for about a pound of beef for this meat pie. I made it that way twice and both times felt like my kreatopita would benefit from more meat. I then doubled the amount of beef and the pie tasted just right, meaty and ridiculously good.
When I was attempting this recipe the first time I wasn't sure which beer to use. The original recipe called for black beer. If nothing was lost in translation, black beer, or Schwarzbier, is a dark lager made in Germany. It tends to have an opaque, black color with hints of chocolate or coffee flavors. I ended up using my favorite cream stout that is dark, almost black in color, with pronounced flavor of coffee and malt. It worked wonderfully well.
At the end of cooking the stew must thicken to the point where you can place it on top of bechamel sauce and it won't run off. Akis suggests stewing beef covered the entire time, which didn't quite work for me. Instead, I ended up stewing covered for the first hour, then simmering uncovered the rest of the time. This gave me the exact thick consistency I was looking for.
I suggest first trying the beer and making sure you like the taste. I find that if I don't like the taste of the beer I usually don't like the food made with it.
One interesting ingredient in the original recipe is dried prunes. I typically tend to stay away from the ingredients that make the meat sweet, unless it's pork and only in a handful of recipes. I don't know how this meat pie tastes with prunes added as I never did, I made them optional.  But feel free to experiment if you feel adventurous.
Finally, a few words on the bechamel sauce. Traditionally, making bechamel sauce involves a few extra steps and does not include adding grated Parmesan cheese. Akis's bechamel recipe is simplified and the sauce can be made in under 15 minutes. Don't be fooled by this simplification though, the sauce tastes really good.
Adapted with a few changes from Akis Petretzikis.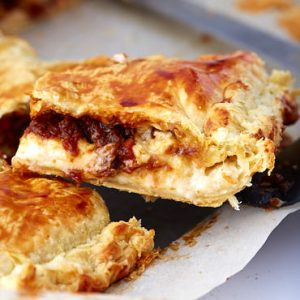 Kreatopita - Greek Meat Pie with Beef and Bechamel Sauce
Print
Pin
Rate
Total Time:
3
hours
30
minutes
Ingredients
For the bechamel sauce:

100

g

butter

100

g

all-purpose flour

800

g

milk

at room temperature

50

g

Parmesan cheese

grated

Salt to taste

Ground pepper to taste

1/4

tsp

ground nutmeg

2

egg yolks

For the beef filling:

4

Tbsp

olive oil

2

large onions

finely chopped

4

carrots

roughly sliced

4

cloves

of garlic

thinly sliced

2

lbs

beef chuck

cut into 2-inch pieces

2

Tbsp

tomato paste

14

dried prunes

pitted (optional)

2

cans

660 ml black beer

2

beef or chicken bouillon cubes

3

bay leaves

For final assembly:

2

puff pastry sheets

thawed at room temperature for 40 minutes

1

egg yolk beaten with 1 tsp if milk

for brushing
Instructions
To prepare the beef filling, place a large cast iron pot or a Dutch oven over high heat and add the olive oil. Add the onions, carrots and garlic. Saute the vegetables, frequently stirring, until nicely caramelized, about 5 minutes. Add the beef and continue sauteing for another 8-10 minutes, until the meat browns nicely.

Add the tomato paste, prunes (optional), beer, bouillon cubes and bay leaves. Bring to gentle simmer, stir and lower heat to medium-low. Cover and simmer for 1 hour, stirring every 20 minutes. Take off the lid and continue simmering for another hour, stirring every 20 minutes, until the meat filling thickens. Remove from heat. Remove the bay leaves. With a fork, press on beef chunks to pull meat fibers apart, and set the filling aside to cool.

To prepare the bechamel sauce, in a medium size pot, melt the butter over medium heat. Add the flour and saute, frequently stirring with a whisk, until the mixture turns lightly golden brown and acquires nutty flavor.

Start adding the milk, about 1 cup at a time, while continuously whisking so that no lumps form in the roux. Once all milk is incorporated, continue cooking the sauce until it thickens and starts to bubble.

Remove the bechamel sauce from heat and add the grated Parmesan cheese, salt, pepper, egg yolks and nutmeg. Whisk until well incorporated. Cover the pot and let cool.

Preheat oven to 400F (see note 1).

Lay the first sheet of puff pastry on a lipped baking sheet (see note 2) lined with parchment paper. Brush the edges of the pastry sheet with the egg yolk wash.

Transfer the bechamel sauce to the center of the puff pastry sheet and spread it, leaving about 1 - 1 1/2 inches from the edge unfilled. Spread the meat filling on top of bechamel sauce, again leaving some space around the edges.

Cover the pie with the second sheet of puff pastry, pressing down on the edges so the pastry can stick together. Left the edges of the pie and crimp all the way around. Brush with egg yolk wash and make slits (see note 3) to allow steam escape during baking.

Bake for about 45-50 minutes, until the top is deep golden brown.

Remove the kreatopita from oven and allow to cool (see note 4) for about 10 minutes before cutting into pieces and serving.
Notes
Note 1 - You can bake with a fan on (convection mode), as Akis suggests in his recipe, at 375F. This won't shorten the cooking time, but will produce a much darker, slightly dryer crust. For this recipe I prefer using the regular baking mode. Note 2 - I use a 10 x 15-inch baking sheet. It's a little narrower than the pastry sheet but that helps keeping the filling from spreading on the sides during assembly. A larger baking sheet will work just fine as well. Note 3 - I make short slits in the places where I will be cutting the pie after it's baked, as shown on the picture. Note 4 - If you cut the pie immediately the filling will spread and the slices won't be looking as nice. You need to let it set before cutting. Bechamel sauce will also be very hot without cooling down a little.