Key Lime Pumpkin Pie is a hybrid pie that combines the best qualities of a classic pumpkin pie and a traditional key lime pie.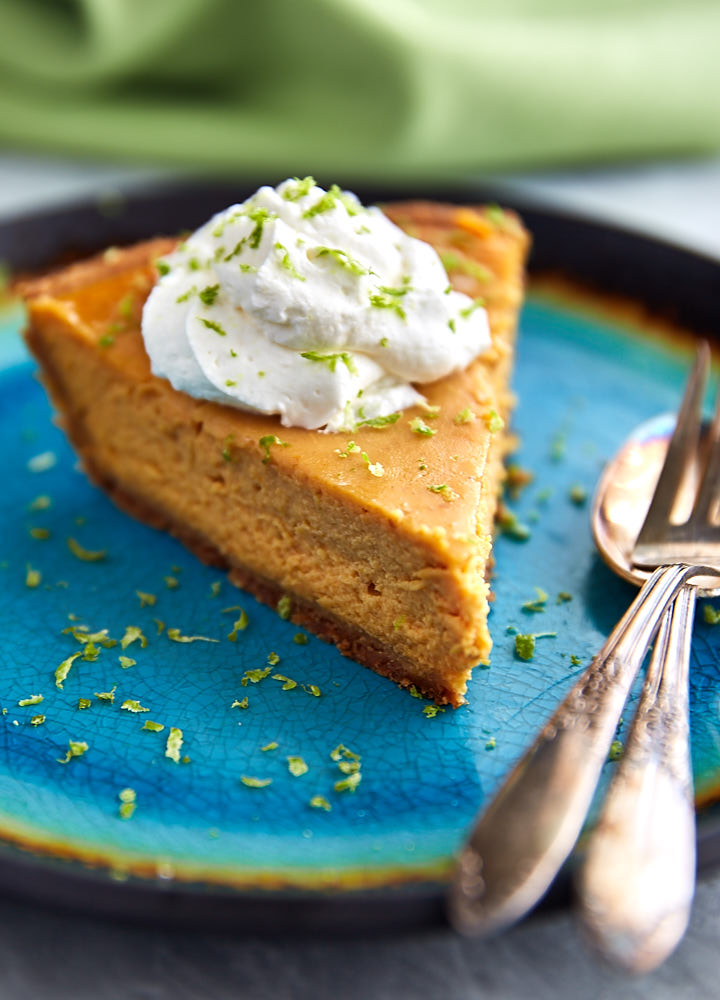 If a pumpkin pie and a key lime pie had a baby, it would naturally be called a key lime pumpkin pie. It would be the best of both worlds pies – and I love both of them. I just haven't seen any baby key lime pumpkin pies running around. Anywhere. Is it a dumb idea?
Well, the idea came to me suddenly while I was tasting the filling for the pumpkin pie that I was making yesterday. With a spoonful of the filling in my mouth, I briefly glanced over a bunch of fresh limes on the fruit rack and I could almost taste the pumpkin pie infused with bright acidity of lime juice. And it tasted so good in my imagination…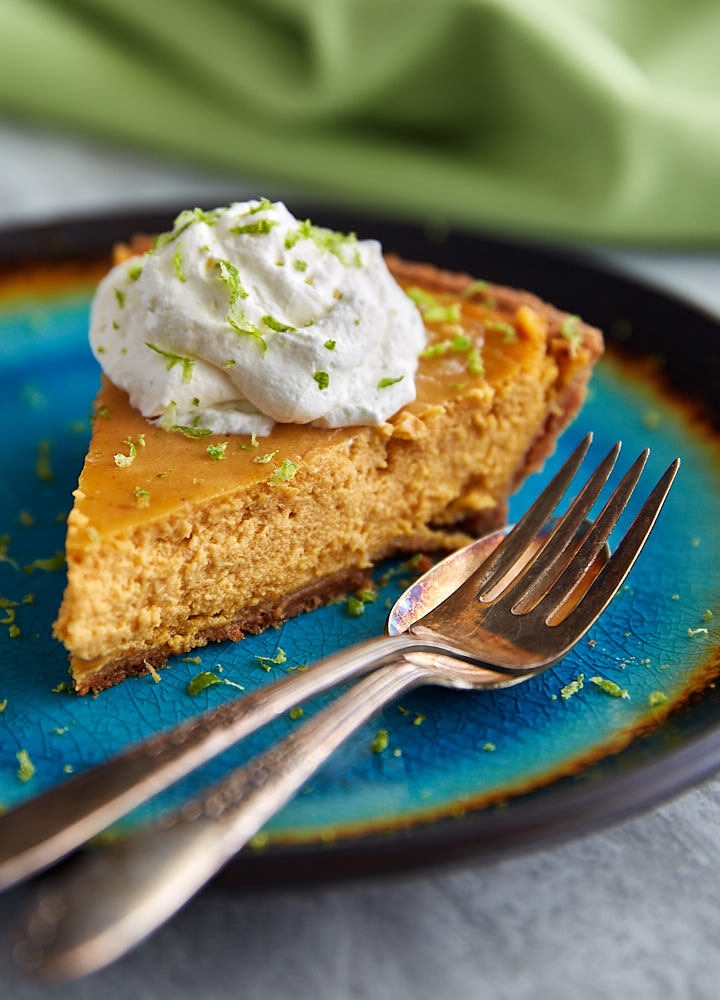 After a few additions, subtractions and tweaks I ended up with a filling that tasted pretty darn good. I omitted most of the typical pumpkin pie spices so as to not overpower the key lime juice flavor. As a matter of fact, I ended up using only ginger which works really well with both pumpkin and lime to enhance their natural flavor.
To be honest, I could not be happier with the results. The sweetness was perfect and the acidity was spot on. You could taste the pumpkin as well as the key lime flavor, both in perfect harmony, without overpowering each other. I hope you like this key lime pumpkin pie as much as I did.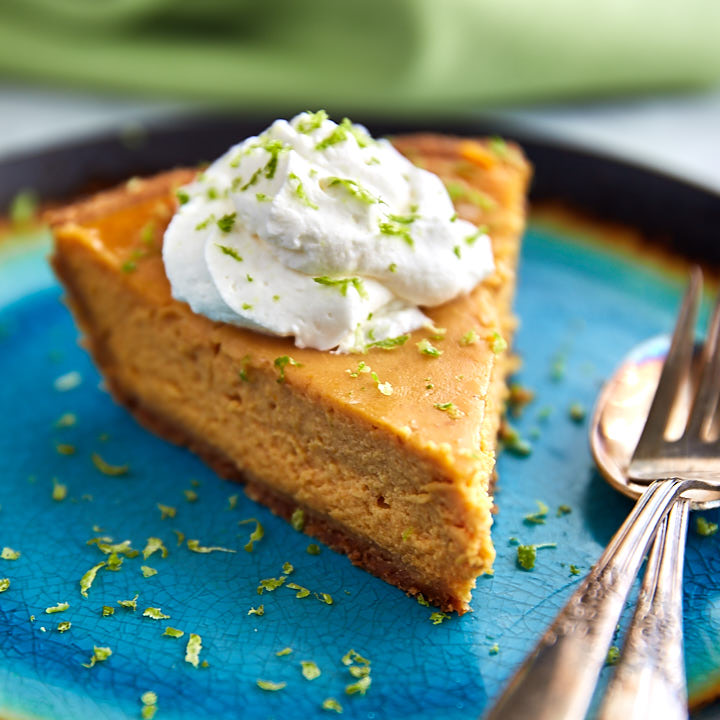 Enjoy!
Key Lime Pumpkin Pie
Ingredients
9-

inch

Graham cracker pie crust

2

tsp

lime zest

from one lime

1-2

cups

whipping cream
For the filling:
14

oz

sweet condensed milk

1 can

16

oz

pumpkin puree

1 can

4

Tbsp

lime juice

from 2 limes

2

tsp

lime zest

from one lime

1

tsp

powdered ginger

1/2

cup

sour cream

2

eggs

lightly beaten
Instructions
Preheat oven to 425F.

In a large bowl, combine all of the ingredients for the pie filling.

Pour the filling into a pre-made pie Graham cracker pie crust, store-bought of homemade. Do not overfill. Depending on the size of your pan/crust, you may have some filling left over.

Bake at 425F on a middle rack for 25-30 minutes, until the sides of the pie set and the middle is still a little jiggly (see note). Cool in warm place to avoid the pie developing cracks.

While the pie is cooling down, whip the whipping cream in a medium bowl using an electric mixer or a hand whisk.

Serve chilled topped with whipped cream and the remaining lime zest.
Recipe Notes
Some helpful pie baking tips from Bon Appetit:
It helps to think of the key lime pumpkin filling as a custard. The combination of eggs, dairy, and sugar will result in a smooth and silky texture. Pumpkin puree will stabilize it, making it less jiggly once it has fully cooled. Therefore, it's important to remove the pie from the oven while there is still a little jiggle in the center of the pie.The filling will continue cooking after you remove from the oven. Over-baked custard is cracked custard. If your pie does crack, it's not a big deal. Just cover the cracks of the fully-cooled pie with whipped cream and/or slice it up before anyone can see it.
Also remember ceramic pie pans store heat very efficiently and will continue cooking your pie for quite some time after you pull it out of the oven, so you need to account for that.
© 2018 i Food Blogger. All rights reserved. All images and content on this website are copyright protected. Please do not use my images, as is or modified, without an explicit permission. If you wish to republish this recipe or post content, please rewrite it in your own unique words and link back to this post, or to ifoodblogger.com. Thank you!