This delicious homemade peach ice cream is loaded with a peach flavor!  Add a vanilla bean and you will have an amazing summery dessert.
The best part about this peach ice cream recipe is that it's very simple and fairly fail-proof. I've made it many times and it never disappointed.
Last Saturday we went to a farmer's market and got 2 half-bushels of peaches. They are super ripe at this time of the year and won't last long, so most of them will be rinsed, cut into quarters and frozen for use during winter. They are perfect like that for homemade peach ice cream.
What makes this recipe simple and fail-proof is that is uses cornstarch and powdered milk as a thickener and stabilizer, which makes it easier to work with compared to custard stabilizers.
In this particular ice cream recipe I use pureed peaches, but it really doesn't matter – you may choose to dice them or even slice them. If you like chunks of peaches for some texture, add diced peaches. Another option is to use half pureed peaches and half diced.
To make sure that the ice cream does not become too soft after adding peach puree you may want to put it in the freezer for about 20-25 minutes while the milk mix if freezing in the ice cream maker. You will notice some softening still, but that will not affect the texture. Transfer the ice cream from the ice cream maker into a container and place in the freezer for at least two hours before serving.
So, how does this ice cream compare to a custard based ice cream? It definitely tastes lighter and less fatty, but there is still a nice body and velvety mouth feel. It's a clear winner in my book. The only downside is that you'll probably want to eat more of it as it tastes lighter. Is that really a downside?
Enjoy!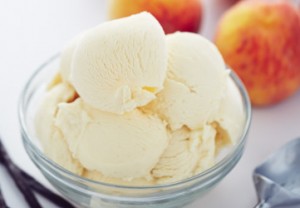 Ingredients
2 1/2

cups

/ 600 g whole milk

3.2%

2

cups

/ 500 g heavy cream

6

heaping Tbsp / 70 g powdered milk

instant skim milk powder

1

cup

less 1 Tbsp / 180 g granulated sugar

1 1/2

Tbsp

/ 20 g corn starch

2

vanilla beans

substitute with two teaspoons vanilla extract

1 1/2

cup

ripe peaches

pureed (3 medium size peaches)
Instructions
Scrape the seeds from the vanilla beans with a pairing knife. Combine sugar, vanilla bean seeds and powdered milk in a medium size pot. Slowly add 2 cups of milk while constantly stirring. Add the bean pods to the milk.

Prepare the corn starch by combining it with the remaining half cup of milk. Whisk until corn starch and milk are blended and no lumps remain. Set aside.

Slowly bring the milk to a gentle boil, add cornstarch and keep stirring constantly, scraping the bottom with a heat-resistant spatula, until the mix thickens enough to coat the spatula, about 1-2 minutes. Remove from the stove.

Set up an ice bath by placing a 2-quart bowl in a larger bowl partially filled with ice and water. Set a strainer over the top of the smaller bowl and pour the mix into the bowl. Cover and let cool to room temperature.

Slowly add heavy cream, constantly stirring, cover and refrigerate overnight or longer (up to two days is fine). If you like light, airy ice cream, whip the heavy cream until you see soft peaks forming, then combine with the milk mix.

Freeze the mix in your ice cream maker according to the manufacturer's instructions, adding peach puree about 5 minutes before freezing is complete.

Transfer the finished ice cream from the ice cream maker bowl into a container and freeze for at least two hour before serving. If the ice cream is frozen overnight or longer, let it sit at room temperature for about 20 minutes before scooping.
Tools used: Cuisinart 2-Quart Ice Cream Maker