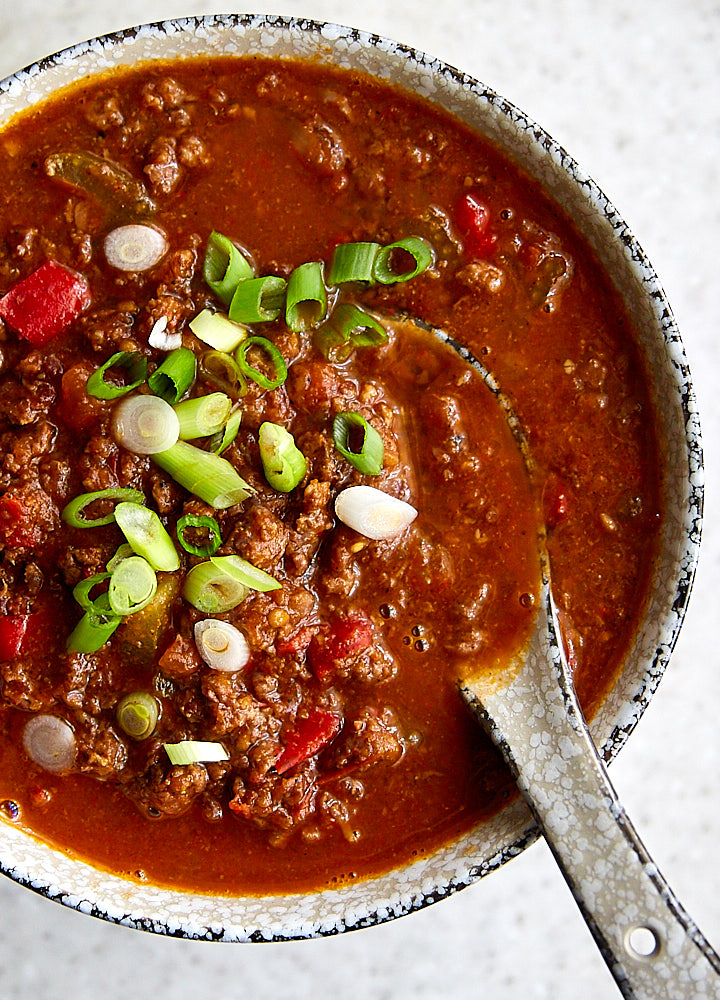 A bowl of intensely flavored, richly colored chili is something that I can almost never say no to. Who can? I am not a huge fan of beans so most of my chilies tend to be beanless and low on carbohydrates. I like that as even a large bowl of low carb chili won't make you feel heavy and sluggish. This recipe is no exception – it has no beans, contains very few carbs and packs a ton of flavor.
You can further reduce the amount of carbs in this chili to about 10 grams per serving by reducing Ancho chili powder to 1 tablespoon and omitting the red bell pepper. The chili will still taste great, but the flavors won't be as intense and the color won't be as rich.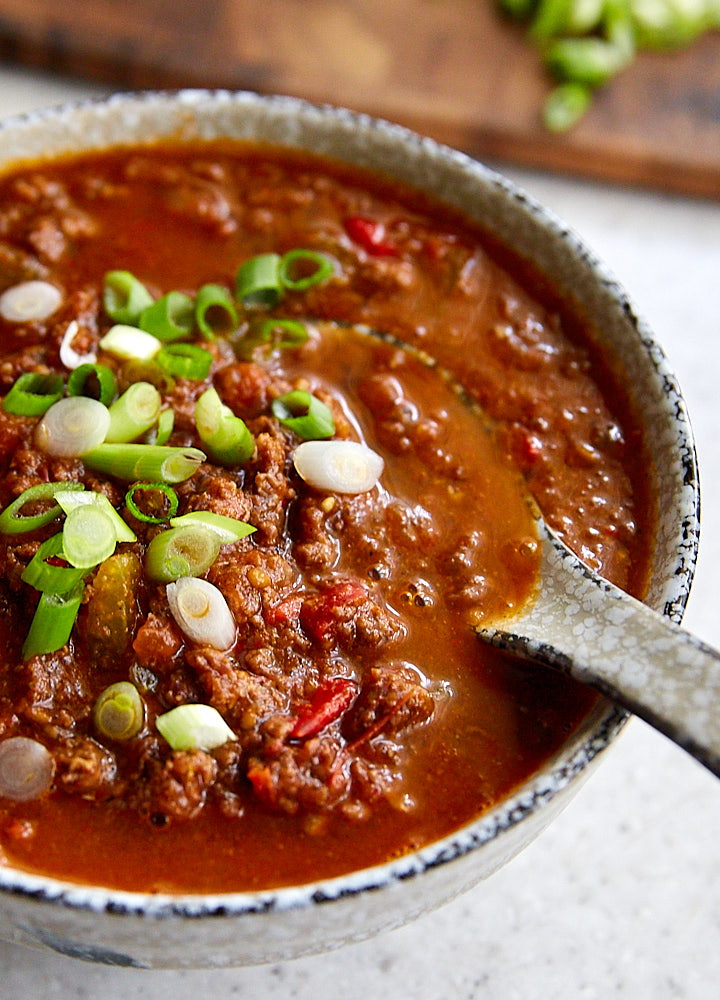 To give the chili the most flavor I did the following:
I browned beef patties under broiler.
I used Ancho chile powder which gave the chili its deep flavor and dark red color.
I used vine ripened fresh tomatoes in place of canned ones. Oh, what a difference!
If the weather cooperates, sear the beef patties on a grill over direct heat like you would burgers. The meat does not need to be cooked through. All you are looking for is nicely caramelized surface and the smoky flavor which no other cooking method will provide. Pan-searing will also work but without the smoky flavor.
Ever since I tried Ancho chile powder many years ago I've stopped using chili powder in my chili. That mix of ground cumin, garlic powder, cayenne, paprika and ground oregano just pales in comparison to Ancho chile powder. In pretty much every respect – color, flavor, aroma. I still add cumin and sometimes fresh garlic to get the desired flavor profile.
It's hard to argue against using fresh tomatoes. The add a ton of flavor. Also, they don't taste as acidic as the canned ones. At least that's my impression. Vine ripened tomatoes are one of my favorites. Any tomato that tastes good on its own is what I like using in my chili.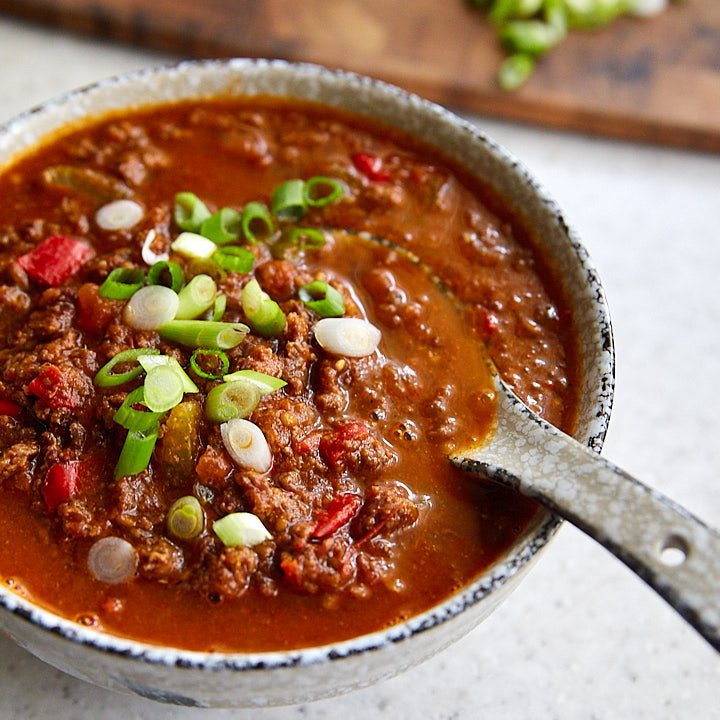 Enjoy!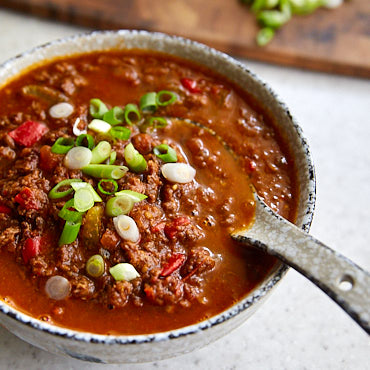 Homemade Low Carb Chili (Beanless)
Print
Pin
Rate
Total Time:
3
hours
20
minutes
Ingredients
2

lbs

chuck

(fat trimmed off) (see note 1)

2 1/2

lbs

tomatoes

(blanched, skin removed and roughly diced)

1

onion

(medium, diced)

3

celery stalks

(sliced about 3/8" thick)

1

red bell pepper

(diced)

2

tsp

cumin powder

3

Tbsp

Ancho chile powder

(see note 2)

2

Tbsp

olive oil

1

tsp

black pepper

2

tsp

salt

(plus more to taste)

1

cup

water
Instructions
Set the oven to broil (high) and let it pre-heat while you are preparing the beef. Grind the beef on a medium size plate. Form about 8 patties, place on a foil lined baking tray and broil it on high, about 4 inches away from the heating element, for about 3 minutes per side. Remove from the oven and set aside. Using a fork, crumble beef patties into ¼ to ⅜ inch chunks.

Heat 2 tablespoons of olive oil in a cast iron pot or Dutch oven. Add onions, celery and red bell pepper and saute over high heat, until onions are golden brown, about 5-8 minutes.

Add the beef, diced tomatoes and the rest of the ingredients. Bring to boil, then lower the temperature to low. Cover, leaving a small crack to let some steam escape, and simmer for 2 1/2 to 3 hours, stirring every 20-30 minutes.

Garnish with chopped scallion or other greens and serve immediately.
Notes
Note 1 - I recommend grinding the beef yourself as this way you have a full control over what meat goes in your chili. If you don't have a meat grinder at home, you can always pick a piece of meat and ask your butcher to trim and grind for you. Note 2 - Instead of using the regular chili powder use Ancho chile powder. Chili powder sold at grocery stores is a mix of chile powders, dehydrated vegetables, lime acid, and often include nasty stuff such as liquid smoke, food coloring, preservatives and taste enhancers. Pure Ancho chile powder is mildly spicy and very flavorful. It's also lends a very nice dark red color to your chili.
Nutrition
Serving:
1
serving
|
Calories:
378
kcal
|
Carbohydrates:
13
g
|
Protein:
31
g
|
Fat:
23
g
|
Saturated Fat:
8
g
|
Cholesterol:
104
mg
|
Sodium:
993
mg
|
Potassium:
1160
mg
|
Fiber:
4
g
|
Sugar:
7
g
|
Vitamin A:
70
%
|
Vitamin C:
64.5
%
|
Calcium:
7.6
%
|
Iron:
27.7
%