I don't know about you but I rarely use store-bought hamburger buns any more. I just love the freshness, quality and taste of homemade hamburger buns. Plus all those extra ingredients they put in commercially produced buns frighten me. The eternal problem is finding a great recipe that works. The kind that gives you great tasting buns and that won't let you down when you need it to work, like when you expect guests over.
This recipe is exactly that, it's practically impossible to mess up, and the buns are amazing. They taste exceptionally good. My twelve year old daughter made them twice already, all by herself; the buns turned out fantastic every time, and she found the recipe to be really easy.
These homemade hamburger buns are a hybrid of brioche buns and yeast rolls, like my vanishing yeast rolls. Less rich and filling than brioche buns, but richer than plain yeast rolls. They are more like Kaiser rolls, but a little bit saltier than the Kaiser rolls I know. That saltiness really adds unique character and makes the buns taste really awesome. No wonder as sugar, salt, and fat are the three ingredients that make food taste really good.
If you want your burger buns to be a little richer, add an egg. I prefer them eggless, I think they taste better that way. You can experiment and see which way you like better. Either way, the dough should be very soft, supple and barely tacky to touch.
Egg wash is a must. These hamburger buns looks so much more appetizing with deep golden brown tops. Otherwise they look pale and lifeless.
I've seen a number of hamburger bun recipes calling for egg washes made with a whole egg. Maybe it's my oven, but an egg wash made with whole eggs gives me really poor color. An egg yolk, with a little bit of cream or milk to thin it out, results in an amazing color. See for yourself. And by the way, if you choose to score your buns (make those little cuts on top), don't go too deep. Here is what a fairly deep cut looks like, the result can be seen on the picture with the whole egg wash just below this one:
With whole egg wash
With egg yolk wash
Save that egg white or two for your next morning's breakfast. Serve it on your homememade hamburger bun… add some veggies, a few thin slices of avocado… you will love it. I do.
I find that this dough is also very suitable for dinner rolls. They turn out soooooo good! To make dinner rolls, divide the dough into 15-16 pieces instead. The rest is the same, except your baking time will need to be adjusted down to about 15-20 minutes or so, depending on your oven.
This dough is really universal. I made pigs in a blanket with this dough once. They became an instant hit. In fact, so good they turned out that I had to make another batch the same evening, and then another one the next day.
When you use this dough to make pigs in a blanket make sure to pick sausages that aren't too salty as the dough has some saltiness to it. Otherwise adjust the salt in the dough recipe. Or not… they will still be awesome. Especially with a glass of cold beer…
Back to the homemade hamburger buns. Here it is, one of them… in all it's glory, hugging a smoky and juicy homemade burger.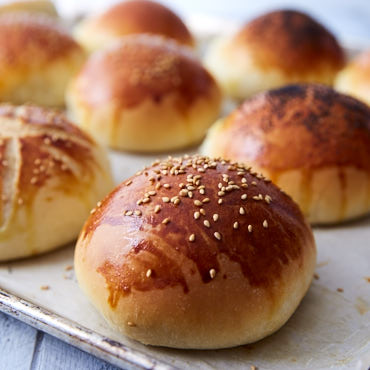 Ingredients
500

g

all-purpose flour

use bread flour if you want chewier buns

300

g

warm milk

7

g

active dry yeast

12

g

white sugar

7

g

kosher salt

up to 14 g for a saltier version

75

g

butter

melted

1

whole egg

optional

For the egg wash and decoration:

1

egg yolk

1

tsp

heavy cream or milk

Sesame seeds

Poppy seeds
Instructions
Combine all ingredients except yeast in the bowl of a stand mixer fitter with a dough hook. Mix the ingredients on low speed for about 1 minute, until the ingredients are somewhat mixed together. I add yeast later as melted butter and warmed up milk can be too warm for the yeast. Once mixed with the flour, salt and sugar, the temperature will drop and be fine for the yeast. Add the yeast and mix on medium speed for about 10 minutes, until the dough gathered into a ball and is soft and silky smooth. If doing by hand, follow the same sequence and knead in the bowl for about 10 minutes or so.

Cover the bowl with a plastic wrap and let rise in warm place for about 1 hour and a half, until the dough about doubled in size.

Cut the dough into 8 pieces and form balls. Place the balls seam side down on a parchment paper lined baking sheet and cover with plastic to prevent drying. Let proof for about 30 minutes in a warm room. The balls will increase in size by about 50% or so. If not, let them proof longer.

Preheat the oven to 400F.

Prepare the egg wash by whisking one egg yolk with one teaspoon of heavy cream or milk. Remove the plastic wrap, score the buns, if desired, brush the egg yolk over each bun, sprinkle sesame seeds and/or poppy seeds.

Bake at 400F for about 30 minutes, until the tops a deep golden brown.