This chocolate pudding combines semi-sweet and unsweetened chocolate together with cocoa powder to create a delicious dessert with complex flavors that is sure to become your new favorite.
I am a sucker for chocolate pudding and I tried just about every recipe my eyes landed on, from simple to quite complicated. What I learned is that great chocolate pudding is about great chocolate. A combination of chocolates, like milk and dark chocolate, is even better as it brings more balance and flavor complexity.  I also like chocolate pudding that incorporates eggs and/or egg yolks to give it a texture similar to that of custard.
I came upon this chocolate pudding recipe in the Chelsea Market Cookbook and immediately gave it a try as it met all of the above-mentioned criteria. It combines two types of chocolate, semi-sweet and dark, and cocoa powder on top to achieve great complexity of flavor, and uses eggs which results in that custard-like texture that many of use love. The addition of dark rum is a nice touch that gives the pudding even more flavor. It's a fantastic recipe that will hardly disappoint.

Enjoy!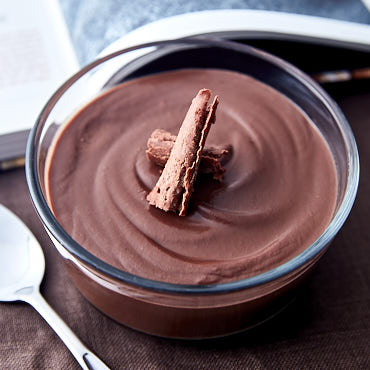 Ingredients
3

Tbsp

unsalted butter

130

g

/ 4 1/2 oz semisweet chocolate

62% cacao content or less

30

g

/1 oz unsweetened chocolate

720

ml

/ 3 cups whole milk

200

g

/ 1 cup white sugar

20

g

/ 1/4 cup Dutch-processes cocoa powder

3

Tbsp

cornstarch

1/8

tsp

fine seal salt

3

large eggs plus 1 large egg yolk

60

ml

/ 1/4 cup heavy cream

1

Tbsp

dark rum

1

tsp

pure vanilla extract

Chocolate curls for garnish

Whipped cream for garnish

optional
Instructions
Set up a water bath by placing a heat proof bowl inside a medium sauce pan filled with water. Heat the water until starts to simmer and remove from heat. Add the butter and let it melt. Add the two chocolates and let melt, stirring often, until melted and smooth. Remove the bowl from the saucepan and set aside.

In a medium size bowl, heat the milk and 65 g/ 1/3 cup of the sugar over medium heat until it starts steaming. The temperature at this point will be about 140F - 150F. Remove from the heat.

Whisk the remaining 135 g / 2/3 cup sugar with the cocoa, cornstarch, and the salt in a heat proof medium bowl. Add the eggs, the yolk and the cream and keep whisking until all ingredients are well combined.

Slowly add half of the heated milk to the egg mixture while constantly whisking. Then, slowly pour the egg mixture into the saucepan with the remaining milk while constantly whisking. Bring the mixture to a full boil over a medium heat, whisking often and making sure you reach into the corners of the saucepan. Reduce the heat to low and let the mixture simmer for 30 seconds.

Remove the pan from the heat and strain the pudding into a medium size bowl. Add the melted chocolate, rum and vanilla and whisk until they are well combined.

Spoon the hot pudding into six jars or bowls.Cover each with a piece of plastic wrap, pressing the wrap directly on the surface of the pudding. Pierce the wrap a few times with the tip of a small sharp knife. If you like a skin on top of the pudding, do not cover the jars with a plastic wrap.

Let the pudding cool down at room temperature until it's tepid, about 1 hour. Transfer to the fridge and let chill for at least two hours. The pudding can be refrigerated for up to 3 days.

Before serving, remove the plastic wrap, top with chocolate curls or shavings and whipped cream.