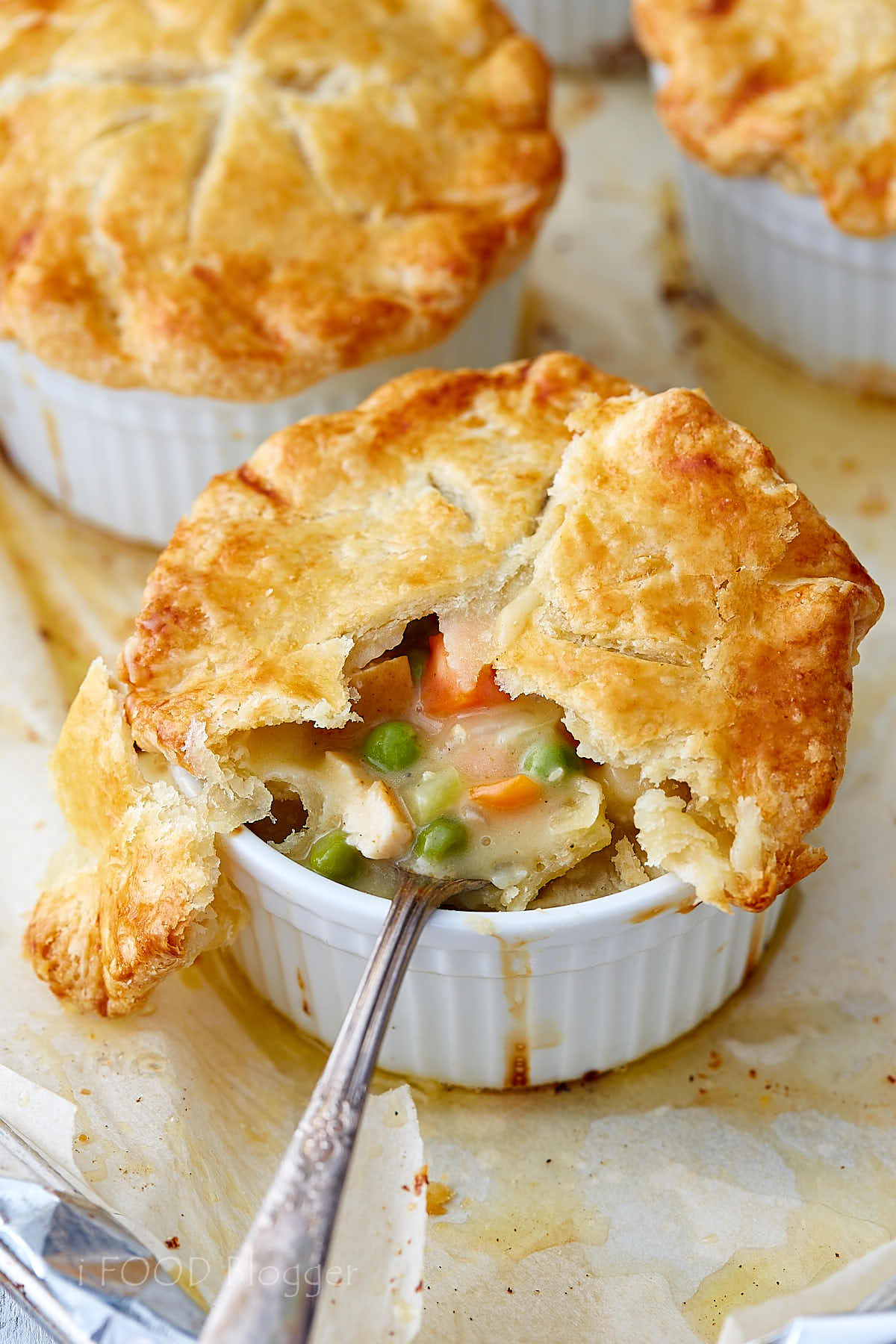 There is nothing like a rich, flavorful  homemade chicken pot pie with golden brown flaky pie crust.  It's one of my favorite soul foods. Actually, everyone in our family is a fan of a good ol' homemade chicken pot pie made with love.
I've made dozens of them in the past and have accumulated quite a few very good recipes. This recipe is what I consider to be one of the best. It makes a seriously delicious chicken pie.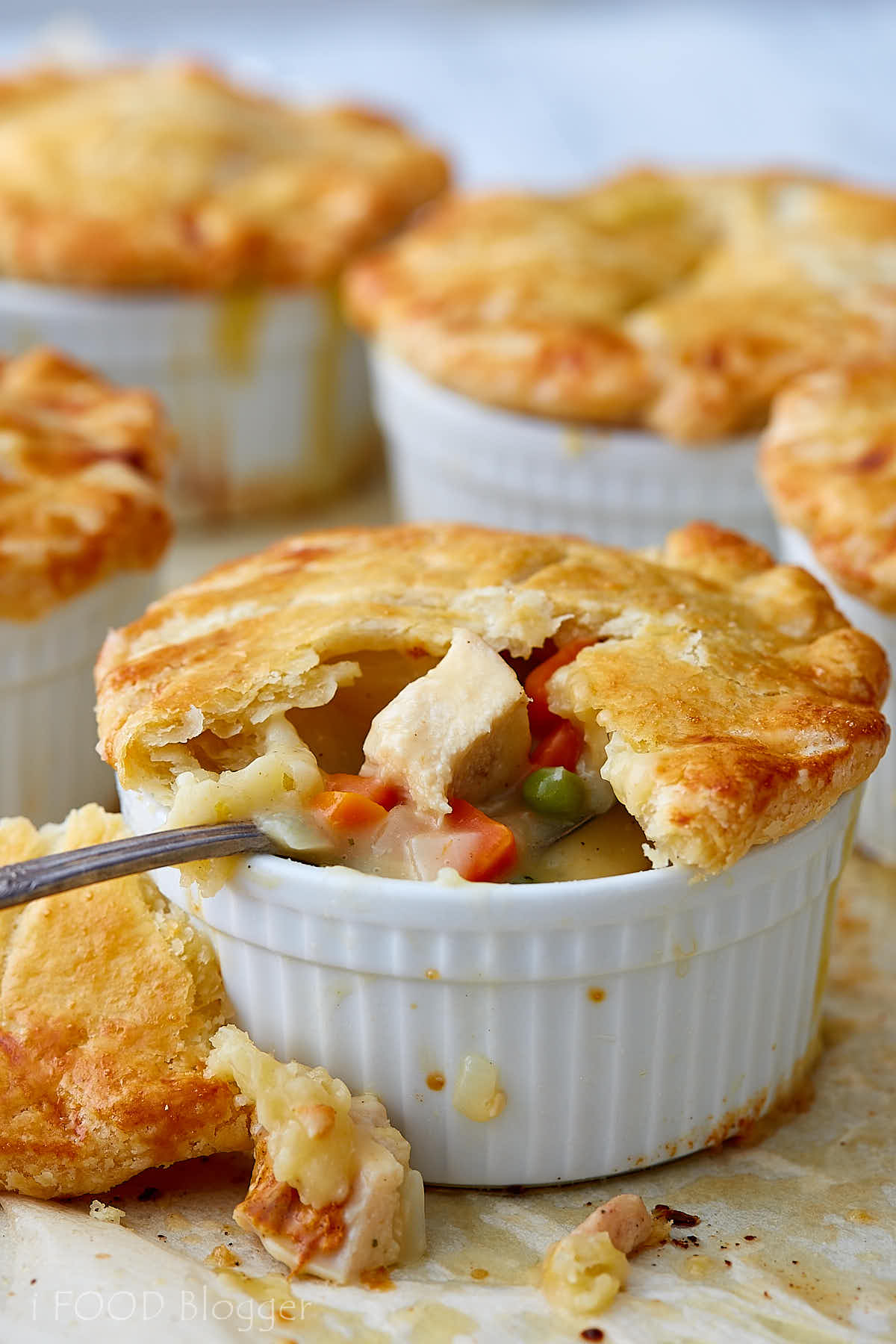 So, what's so special about this homemade chicken pot pie? It's these three things:
Ingredient ratios
Succulent chicken meat
A wonderful flaky crust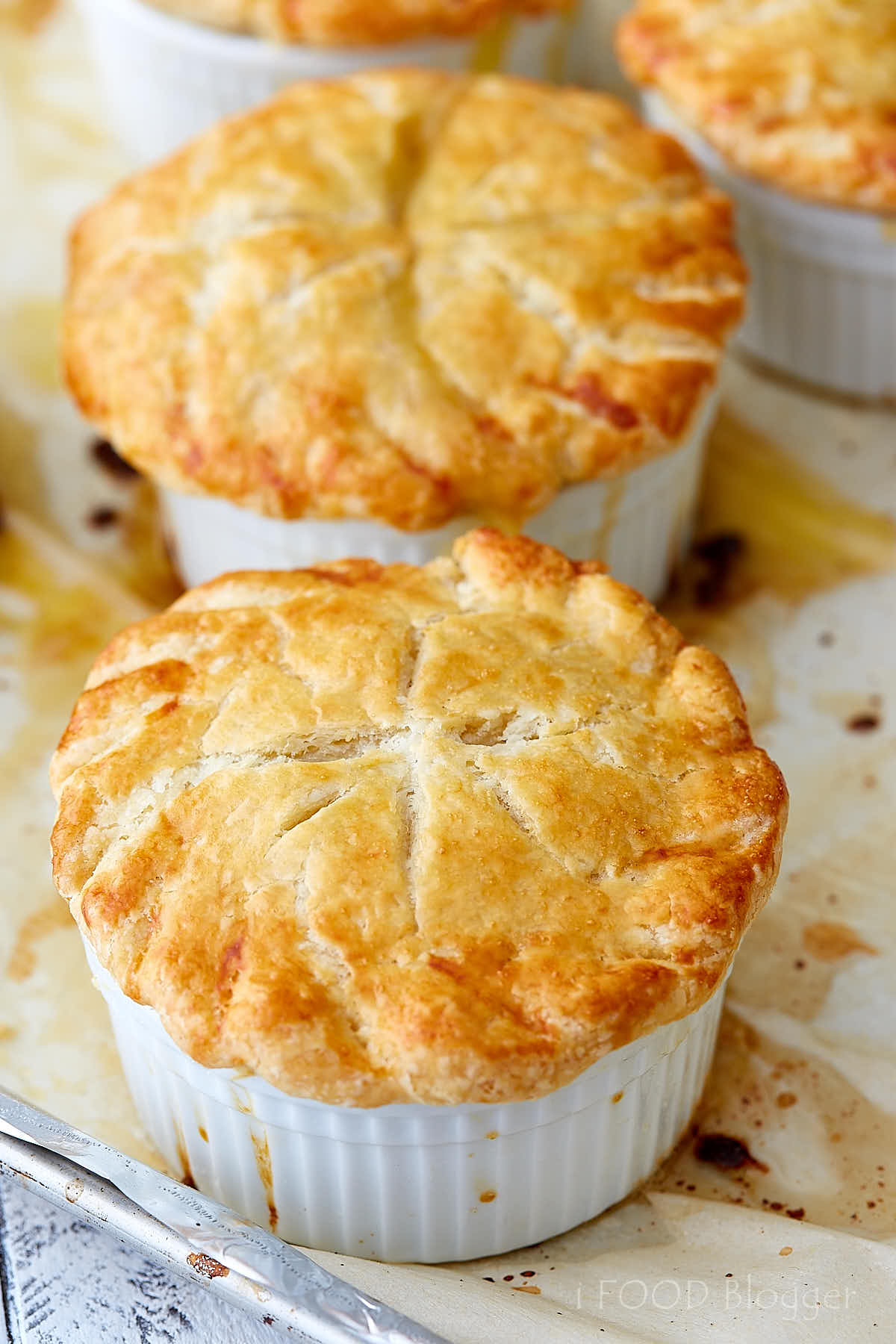 It's very easy to make a chicken pot pie. It's hard to make a great chicken pot pie where all ingredients just work together and nothing stands out and overpowers. In this recipe, all ingredients are in perfect balance and give you a wonderful, hearty and delicious filling.
Great chicken makes great chicken pot pie. You want to use juicy, perfectly cooked chicken meat. Dry chicken meat is a no go. All that gravy in the filling will not be able to make a dry, overcooked chicken taste good.
While you can use any chicken meat in you homemade chicken pot pit, I think perfectly cooked chicken breast works the best. Try using the chicken from this Tender and Moist Baked Chicken Breast recipe you will immediately see what I am talking about.
The secret to soft, flaky pie crust is keeping the butter very cold, not overworking the dough, and adding a little bit of vinegar. Vinegar prevents formation of gluten which makes the pie crust tough and dense.
Homemade Chicken Pot Pie
One serving is 1/8 of the large pie, or 1/2 a small pie cooked in a ramekin. If you are hungry, you may want to double up the servings.
Print
Pin
Rate
Cook Time:
1
hour
20
minutes
Total Time:
2
hours
45
minutes
Ingredients
For the filling:
6

Tbsp

unsalted butter

softened

1/4

cup

all-purpose flour

1

Tbsp

cornstarch

1/2

cup

milk

A small onion

finely chopped

A medium carrot

peeled and diced

1

celery stalk

diced

1

cup

condensed chicken broth

or 1 cup water plus 2 chicken bouillon cubes

1/2

medium size russet potato

peeled and diced

2

medium size baked chicken breasts

diced (link to the recipe is in the post)

1/2

cup

frozen peas

Salt to taste

Freshly ground black pepper to taste
For the pie pastry:
2

cups

all-purpose flour

1/2

tsp

kosher salt

1

cup

227 g cold unsalted butter, cut into cubes

1/4

cup

ice water

1

Tbsp

white vinegar

1

egg yolk plus 2 tsp milk

mixed well, for brushing
Instructions
To prepare the filling, combine 4 tablespoons of the softened butter with the flour in small bowl. Set aside.

In a separate bowl, dissolve the cornstarch in the milk. Set aside.

In a large saucepan, add two tablespoons of butter and saute the onion, carrot, and celery over medium-high heat for about 3 minutes.

Add the broth and the potatoes, and bring to a boil. Cover and simmer for about 10 minutes or until the vegetables are just tender.

Add the butter and flour mix and bring to a gentle boil, constantly stirring.

Pour in the milk and cornstarch mixture and bring to a boil. Add salt and pepper to taste. Stir in the chicken and peas. Cover and let cool.

To prepare the pie dough, in a food processor, combine the flour and salt. Add the butter and pulse a few times until the butter is the size of peas. Add the water and vinegar and pulse a few more times. It does not need to come to a ball. It will look like a big pile of crumbs, and that's what you want.

Remove the dough from the food processor and place on a large piece of Saran wrap. Twist the plastic to tighten the dough into a ball. Cut into two pieces, and flatten each piece into a disk. Cover with a plastic wrap and refrigerate for 1 hour.

Alternatively, twist the plastic wrap on both ends, as if you were wrapping a candy.

Cut the dough into 8 disks. This will make 4 smaller chicken pot pies that can be baked in ramekens.

Preheat the oven to 400F.

On a lightly floured work surface, roll out the two dough discs into two circles, one about 13 inches in diameter and the other about 10 inches in diameter. With a sharp knife, make a few slits in the second (10 inch) dough circle. Line a 9-inch pie dish with the larger dough circle. The dough should overhang the dish by about 1/2 inches.

If making smaller pot pies in 4 ramekins, roll out 4 disks into 8"-9" circles and 4 disks into 5"-6" circles respectively.

Spoon the chicken filling into the baking dish, or ramekins.

Cover with the second sheet of dough. Crimp the edges and tuck them in. Brush the top with egg yolk wash. If making single portion pot pies in ramekens, repeat the process four times.

Bake on the rack positioned in the middle of the oven for about 50 minutes or until the pastry is golden brown. Let rest for 15 minutes before serving.
Nutrition
Calories:
519
kcal
|
Carbohydrates:
32
g
|
Protein:
19
g
|
Fat:
34
g
|
Saturated Fat:
21
g
|
Cholesterol:
146
mg
|
Sodium:
302
mg
|
Potassium:
284
mg
|
Fiber:
1
g
|
Sugar:
1
g
|
Vitamin A:
22.7
%
|
Vitamin C:
8
%
|
Calcium:
4.8
%
|
Iron:
13.6
%
This post was updated on October 27, 2018