There is nothing like a freshly baked French baguette on a Sunday morning. Or any morning for that matter. Crusty and beautifully colored on the outside, buttery soft and chewy on the inside, with a tiny bit of butter – it's one of my favorite foods for breakfast. It smells of toasted nuts and has amazingly complex flavors, all considering the very basic ingredients that go into it.
I started baking baguettes about 5 years ago. My first attempts varied from total failures to so-so results. After about 2-3 months reading everything I could on the Internet and baking every or every other weekend I finally got what I considered acceptable results. Now, I am happy to admit, I am very pleased with my baguettes. Every so often I bake them for my coworkers who are my huge fans; some have been asking for a recipe and instructions on how I make my baguettes. So, here it is, my French baguette recipe with detailed instructions.
Over time I realized that the biggest problem of mine that led to my initial failures was the technique that I used. That and my lack of knowledge of nuances that were essential to baking a great baguette. I will share them here, hoping aspiring baguette bakers will find them helpful.
There are many French baguette recipes and techniques on the Internet, I've read a great deal of them, but in the end what influenced how I bake my baguettes was the technique used by Anis Bouabsa, winner of the 2008 Best Baguette in Paris contest. Note, I am not speaking about the recipe, it's not about the ingredients, its all about the technique. In his interview, Anis mentioned using baguette dough that has 75% hydration (meaning the ratio of water to flour), very little yeast, hardly kneaded, folded three times in one hour then placed in the fridge for 21 hours. He also added that baguettes are not fully risen when placed in the oven, it is the wet dough and the very, very hot oven (480F / 250C) that make baguettes get the volume.  I tried this method and got amazing results. Over time I slightly modified my technique, which also gives great results, and that's the one that I will be sharing.
The ingredients I use are King Arthur Flour all purpose flour, very commonly used for baguette making among home baking enthusiasts, water, yeast and salt. I also add a bit of honey. This is a big no-no for baguette purists, but that little hint of sweetness is what everyone I baked my baguettes for liked. So, why not? I use a slightly higher dough hydration percentage, 77%, finding that it gives me a softer crumb. I ferment dough overnight, about 10-12 hours, as this fits my schedule better, but sometimes I do 21-24 hour fermentation. Long fermentation is crucial for development of complex flavors. Without it baguettes are tasteless. Longer, 21-24 hour,  fermentation gives a slightly better complexity of flavors, but I generally find that a 12 hour fermentation results in a very tasty and flavorful baguette. I typically bake at 460F which produces a thinner crust, crunchy but not hard, as baking at 480F does for me.
Precision in measuring ingredients in baguette and bread baking is important and I recommend using a kitchen scale. Cups and tablespoons are not precise. This is especially true when you want to fine-tune your recipe. Say, you find that the dough is a little too wet for you work with and you want to drop hydration by 1-2%. This can be easily done using a kitchen scale, impossible when using cups and spoons. I have been using OXO Food Scale for the past 5-6 years in my kitchen. It's a workhorse – durable, accurate and I use it for various recipes, not just bread baking. It really helps me to produce repeatable results. Especially useful to me when I tweak recipes to my taste or create new ones.
The first step is to mix all ingredients in a bowl, and let sit for about 10 minutes, followed by 3 stretch-and-folds over a period of one hour, about every 20 minutes. In each stretch and fold iteration, pull one side of the dough and fold onto itself. Repeat with each of the renaming 3 sides. At the end of each iteration I typically pick up the dough ball and turn it up side down, which helps keep the dough surface tight.
Preferably, do this in a warm room to get yeast activity going, otherwise the dough will have a hard time rising in the fridge. I observe the surface of the dough before putting it in the fridge and look for tiny blisters and slight sour milk smell. If I see both, then the dough is ready to go in the fridge. If not, I let it sit at room temperature for another 1/2 to 1 hour. I usually do this in the evening so I have the dough ready for baking in the morning. Cover the bowl with a plastic wrap to prevent the surface of the dough from drying. By morning, the dough will have doubled in volume, this is what you are looking for. If not quite doubled, let it sit in warm place for 1-2 hours. Oven with turned on light is warm enough for this purpose.
In the morning, start preheating the oven to 480F, with a 14 x 16 inch baking stone on the top rack and a small bread pan with hot water and a rolled kitchen towel inside, on the lower rack. Position your baking stone such that short side is parallel to the door. I am using this baking stone I picked up on Amazon, and I absolutely love it. It's great for baking bread, baguettes and pizza. Water pan is needed for consistent steam release during baking to help the baguettes rise nicely in the oven (also referred to as oven spring) and prevent surface hardening.  The towel helps control steam release.
Take the dough out of the fridge and place on a lightly floured surface. Divide into 3 equal pieces, shape into rectangles and let relax for 15 minutes.
Stretch into rectangles and roll each rectangle as shown below. Start with the longer side, fold it inside the rectangle and seal the seam with your thumb. Do it tightly enough but being careful not degas the dough. Repeat two more times until you have a cylinder.
Seal the seams using your palm and stretch the cylinder to desired length by gently rolling it with your hands.
Cover with flour (a mix of regular flour and rice flower works best as rice flower does not absorb water too well and prevents sticking) and place on a baker's couche, seam side up. I don't have one and never really felt the need. I simply cover them with plastic, making sure there is some between the baguettes.
Then prop them with something like parchment paper or foil rolls from each side to ensure baguettes hold their shape. Let them sit for about 30-40 minutes at room temperature.
Remove plastic, turn them seam side down and dust off excess flour. Using a sharp knife or a razor blade, make three-4 cuts, in a gentle but firm motion.  Bakers call this scoring. If the baguettes keep sliding when making cuts, hold them with one hand at the top end and make cuts from top to bottom. Scoring baguettes helps them open up and nicely rise in the oven, or as bakers call it to have an oven spring.
I do all of this on self-made baguette shovel, a simple wood board about 18×18 inch in size. Once my baguettes are ready to bake, I simply slide them off the wood board and onto the baking stone in the oven. Be careful with opening your preheated oven, it will be hot and steamy, and may burn your face if you are too close when opening the door.
Once your baguettes are in the oven, reduce temperature to 460F. Bake for about 15 minutes, rotate and bake another 10-15 minutes, until deep golden brown. I keep the steam all the way through the baking. The helps the surface not to harden too much. Though, I know many bakers remove steam half-way, allowing baguettes get deeper colors and crispier crust. You may want to experiment and see which way you like better.
Enjoy!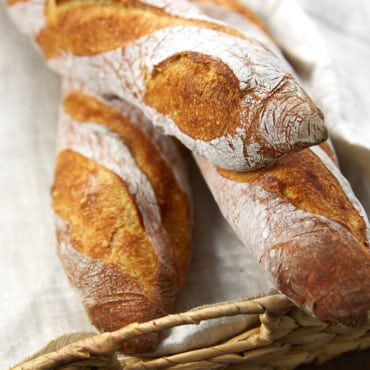 Ingredients
500

g

all purpose flour

King Arthur brand is recommended

385

g

water

10

g

salt

3

g

active dry yeast

2

Tbsp

honey
Instructions
Mix all ingredients in a bowl, let sit for 10 minutes

Over a period of one hour, do 3 sets of stretch and folds, flipping the dough upside down after each set

Cover the bowl with plastic wrap and place in refrigerator overnight for about 10-12 hours.

Turn the dough on a lightly floured work surface. Divide into 3 equal parts and shape into rectangles. Let rest for 15 minutes

Starting preheating oven to 480F, with the 14x16 inch baking stone on the top rack and a bread pan filled with hot water on the bottom rack

Stretch each dough rectangle slightly and fold into a cylinder, sealing the seams. Using your hands, roll the cylinders gently stretching them to desired length, about 14-15 inches

Place on a floured surface, seam side up, side by side. Cover with plastic wrap and prop from each side to ensure the baguettes hold their shape

Proof at room temperature for about 30-40 minutes

Remove plastic wrap, pull baguettes apart. Turn them seam side up and dust off excess flour. Using a sharp knife or a razor blade, make 3-4 scores on each baguette. When scoring, use a swift and firm motion to ensure nice and clean cuts

Open the oven, taking caution not to get burned by steam, and slide baguettes off onto baking stone. Close oven and reduce temperature to 460F

Bake for 15 minutes, rotate and continue baking for another 10-15 minutes, until deep golden brown